Wicklow Glacier Lakes (solo)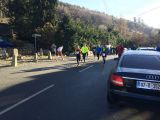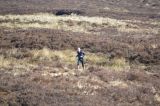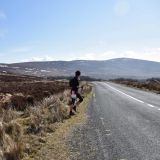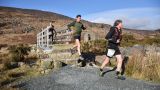 Authors
WGL - First Timer
28 March, 2018 - Gordon Place
A short course race report.....and my first so apologies in advance.
Had planned on running this last year but it ended up clashing with something else (thankfully now because I was barely able for it this year with a lot more training done), so was really looking forward to it. It would be the longest run yet.
I was travelling down with Padraig so pick up was at 7.15am. Alarm set then for 6.30 to get in a decent breakfast and all the rest. I usually leave nearly everything until the morning of a race but this time got everything ready, all the headings written down and stuck to the back of the compass, tailwind drinks made, breakfast and coffee ready to go, change of clothes packed, poles left at the door to give them a first try, thinking they'll surely be great for the climb over to Kelly's Lough, nicely stuffed drop bag ready for the hostel checkpoint - drink refill, plenty of chocolate, banana etc. And off to bed really early. What a nerd??
Didn't sleep a wink until about 5.30am. Then woke up to a text at 7.10am from Padraig to say he was on time so would be outside in 5 mins! Turns out I set the alarm for 6.30am... on Monday morning. Mad panic, heart racing, coffee and breakfast thrown in a bag to eat on the way and all gear thrown together. Luckily all of it was ready. Two pairs of runners thrown in, the old ones with the toe missing and about to disintegrate and the new ones that I'd only worn once and which felt like running in clogs on that occasion.
Thanks to Padraig we got down to the start in plenty of time, and in for a nice cup of tea. Decided I'd have to wear the new runners as wasn't sure the old would survive, and at the best would let in every stone and twig on the route. No fuss at the start due to all the great organization from Liam, James and the gang and we are shortly off.
Up the road in the new clogs and the arches are starting to really ache already, feeling frazzled and puffing hard already at a fairly slow pace. Already deciding that this is going to be an awful day and thinking of pulling the plug. Out on to the road and really struggling to keep up at a pace that should be fine, then start the trudge over to Lough Ouler. I really don't like this section but the forced walk on the soft ground and cooling water seemed to give the feet a rest and get the puffing under control. Then someone pulls alongside, powering up with their poles...Shite, the poles are still at the front door. Another bit of giving out to myself but starting to settle down and feel much better after a bad start to the day. Eventually reach the saddle and know there's that second bit to go but found a good track and back running now, the feet have woken up and shoes seem ok once the ground is soft. Over the top and sliding down to Lough Ouler, meet Barry half way down already on his way back up! Decide to go for the steepest climb out to get it over with quickly and back running again across to CP1, meeting John Barry on the way and then Lorcan just before the road, finishing his Leg 1 relay. Very nearly face plant just before crossing the road but manage to stay upright.
Up the trail now rather than the road, had been in two minds but the softer ground option decided things, more or less straight across road to cut the next corner as well, with Maike I think just behind and Paul Keville I think a bit ahead. We both cut straight across to the quarry and I see he goes high along the right hand side but I keep further right and lower. When we come out the other side of the crag I am slightly ahead with compass set for Firrib. Been up here a good few times and always in terrible weather. Just keep the head down and follow the compass and you are grand....... Sun is shining today so going to be handy.... and I can see a few people up ahead, then Eoin pops up behind so I'm definitely on the right track, no need for the compass.... Over the big hump and carry on following the people ahead with Eoin slightly to my right. Head down and keep going for what seems like just a few minutes and I can now see Firrib. No sign of Eoin now, that did kind of worry me... Hit the lake alongside the other two lads who'd been ahead.
Compass set for '3 lakes' and off I go straight into thigh deep mossy swamp. There's no one ahead and 5 mins later I start thinking something is up, this is not looking right, the valley is off to my left but it looks like the two lads are following me so maybe I'm ok. I tear off again. Another few minutes and this definitely isn't right......
I look back and can now see two lakes and a good few people heading into the valley. Somehow I've bypassed Firrib, hit the bigger of 3 lakes thinking it was Firrib and then carried on in the 'direction of 3 lakes'....... Don't ask me how I managed it or what I was thinking (or not thinking). The first two people I was following must of veered right to Firrib once they were over the hump and out of sight, and when I got over it, it was a different two coming away from Firrib that I carried on after thinking it was the others still going. Anyway, I can't go all the way back now, if I do, adding a few km will mean I probably won't make it around to the finish. I decide to try and finish out the distance and then see where I went wrong. Annoyed now, I tear down by the river to catch up again and make up the lost time, and pass a few on the way down to the hostel, it's getting hot now and I'm looking forward to the chocolate, banana and refill. Get to the hostel and there's no sign of the bag. Lorcan and the other brilliant volunteers dig up some chocolate buttons anyway and give me a water refill. How did Lorcan get here so fast!
Off I go again, realizing I'm a bit knackered after trying to make up time on the way down. Then I remember I wrote CP3 on the bag instead of CP2, being the start of leg 3 so no wonder it wasn't there! Another stupid mistake. I've a battered banana in my backpack so eat that on the way.
I meet Paul (I think) again and we start up the horrible climb to Art's Lough arriving at the same time. It's really warm now so a quick splash of water over the head and I head up to the right towards the snowy pass while he stays left. Hard to resist taking a slide back down in the snow but carry on knowing the navigation should now be dead handy and I will surely see Kelly's Lough as soon as I come around the other side. (another recce that didn't happen due to the snow). But it's not there, I am looking down in to the valley and can only see what looks like a river, and someone marching up it. I decide to contour around to the right until I can see the lake as they are still climbing. I'm still thinking they know something I don't and see something I can't. After a while, I glance up and I'm level with the lake way over on my left, I'm way further past it than I need to be. Why didn't I look across and up earlier! I shout to the other person but they think it's up further up. Fair enough but this will do me and I run across, dip my toe and make for the zig zags, staying higher on the left and eating a old trek bar I found in my bag pocket, god knows what date was on it. Hit the first zig and carry on left over to the forest, slipping and sliding on the wet rock and landing on my rear in the first stream. No damage done but hoping they can't see this carry on from CP3.
Into the carpark and all of a sudden feel absolutely shattered. And Lorcan is here with Mike, helping again! Grab another banana and the tailwind refill (which seems to be good stuff) from the bag now thinking 6 hours is the target. Walk/jogging all the way and tearing the undercarriage off myself in the gorse filled tunnel of love as the legs just wouldn't lift. More walk/jogging up the fire road towards the stairs and I can see someone behind jogging up the hill. Got to the steps and my thighs started really cramping every time I tried to lift a leg, so tried to lift only one until it was unbearable and then swapping, the person behind driving me on. Got to the top and running again, picking up a little bit of speed on the way down, lifting the legs just enough to keep the calf cramps away now, but trying to build a gap with whoever was following before it leveled out again on the home stretch. No sign of them looking back so thought I was in the clear, but then forgot about the WW detour turn until I could see the bridge and tourists off to my left, another mistake, so half rolled and fell straight across to the bridge and on to the upper lake dodging tourists all the way. Over to the upper lake, and back on to the tarmac and I'm totally banjaxed now, stupidly jump into the swamp at the first sign of the lower lake, forgetting it nearly touches the path slightly further on, and getting some seriously funny looks. At this stage it's very close to hitting 6 hours so it's one last burst through the tourists to get to the finish for bang on 5.59.
Feeling like it's been a great day, now that it's over! And presented with the nicest 99 I've ever had. And there's Lorcan again, where are these short cuts?? Mentioned to James about Lough Firrib and I'd check strava in case I had miraculously managed to run over it but no, missed it by a couple of hundred metres so DNF on that leg. A quick freezing wash in the river before heading off and was glad Padraig was doing the driving.
Fair play to James on the short course result rather than a straight DNF after getting around, some consolation. I think Barry was a bit hard on himself being within spitting distance of the upper lake but fair play, thems the rules. Was a really enjoyable day, will be back with all the lessons learned, including how to set an alarm, how to number drop bags and no matter how many times you say it, don't follow anyone! Roll on Stone Cross to Lug....
Thanks again to all the volunteers for a great day.
WGL-Take Three
27 March, 2018 - Graham K. Bushe
Well, would it be third time lucky? This was to be the first IMRA long distance race that I have attempted for a third time. With all my other long races, the second attempt has been slower than the first; With the exception of the Glacier Lakes [6:30, 5:20] However I was carrying an injury into the first attempt. So, with great expectations I set about seeing what further damage I could do to this one. The addition of a 20 minute time bonus due to my ageing legs (and the rest of me) gave me another bit of a lift. In 2017 I caught up with an injured Don Hannon just approaching Kelly's Lough. I zipped away from him (or so I thought) at the stile. But to my shock he was already at Ballinafuinseog Car park ahead of me grinning from cheek to cheek as only Don can. In early February this year I was out again, looking for a better route choice. I didn't get to try one of my plans due to the snow and weather conditions, but I did find one.
The weekends zipped by, as they do, and suddenly I was at the Glendalough Hotel. Liam and James have this one so well organised it feels like a group of friends just meeting up for a bit of a run in the hills. There's no panic, no fuss. Runners are signed in, allocated their number and at the appropriate time, briefed and released into the wild. But of course, there is so much more organizing going on and a mountain of work that has already been undertaken to get us to this point. Most of the Long-Distance races have cut-off times at the various checkpoints. I was operating under a different system for this race. My other task for the day, apart from getting around all the lakes alive and in one piece, was to manage the U-17 hurling team in their match in Kiltegan, throw-in at 5pm. (No pressure!)
In no time at all we are getting our briefing and then we're off! Well, those of us with a 20-minute time bonus at least. We set a fair enough pace at the start. I didn't really know how to play the head-start thing, so just went with the flow. At 9:40 (when the main body of runners would start), I was at 3km. I shouldn't have been expecting any more but at that time I just thought "It's not enough!" Anyway, we pressed ahead. Paul Mahon commented on the fact that it was 3 solo runners who led the group up the valley. I didn't dare look back. As we leave the road and cross the nice soggy ground heading towards Lough Oulter I get my first text. It's a "Good luck today" one from my wife who is left with all the soccer and other ferrying duties today (along with all the usual stuff). Over and town to the water's edge and back up again. Tough, but still going. Every time I have come around the side of Tonlagee towards the Wicklow Gap I have fallen, so why break tradition! This time my left leg disappears into a hole in front of a granite rock. I graze my knee but thankfully didn't over-extend it (too much) I hobble for a bit and try to get back into stride, which is difficult as I have lost any sight of a path and I am hopping over the heather with Paul now almost out of sight. In and out of CP1 with no fuss, all OK. Up to the top and out into the wilds to find Lough Firrib. All going well enough so far. I travel a bit out onto the open ground. Pull out my trusty slip on paper with times, bearings, distances- Oh yes I'm great! Set my compass and off I go, and go and go, but… hang on a minute, shouldn't I have seen it by now? I check my watch for distance and sure enough I should be there. Oh no, I'm not so great after all! Calm down, look around, look back. Work out where I am. I've missed it! Off I go again and there it is, looking like a large slush puppie. In my enthusiasm I zoom towards the lake with relief paying no heed to the bright green weed in front of me. No heed, that is, until I am up to my waist in it! By the time I have reached the three lakes I am behind by 10 minutes (well there's half my time bonus!) and before I have fully digested that I am passed by Bernard Fortune! The run down the valley is much the same, except this time I keep telling myself how long it is, so it feels a bit shorter. Through CP2, again no problems, but I know what awaits me as I turn the corner. Eventually I cross the river and starting the CLIMB. And it is here, exactly as it was last year that my adductors start to cramp. As I shuffle on, I catch up with Bernard, who is also having some cramping issues of his own. In what I can only describe as my zig-zag and sometimes crab-like hands and feet sideways movements I make it to the top. Not very graceful or athletic I know but it worked. Touch Art's Lough and head for Kelly's. New year, new plan, new route. In hindsight I don't think it suited me. I hit a low and was passed by 3 or more runners. Barry Drennan, Chris Dunne and Paul Tierney (I think) By now I have also received more texts… the soccer match starting late, someone needs a lift, someone else is bringing a few players, something about water bottles… and all I want to do is get to Kelly's lough. Which I eventually do. With a bit of a slope I get moving again and start to feel a bit better. I'm now something in the region of 20 minutes behind, but at last my reccie pays off and I come into CP3 with a bit of renewed hope. I will finish. Not my best time but in time for my cut-off! Start the next climb, but the last one! Up and up and up we go. Before the Devil's Steps I pass Paul. My phone rings- it's my wife. They are getting ready to leave, picking me up on the way to the match. "Are you nearly ready?" she asks. "Emm, nearly?" Is my guarded reply "only about 8k to go" "What? How much?" OK, so it was getting tight. About 4 steps up I feel a twinge in my right hamstrings, "This is not a good time" it passes, I'm relieved; for a second, that's when I realize it has passed - to my left leg! Then in a frenzy they all want in! my hammers, my quads, my glutes! I've pains going in so many different directions I don't know which way to stretch! "THIS IS REALLY N-O-T A GOOD TIME!" Paul is gone ahead again and I struggle up the rest of the climb. At least it's mostly down now. Well down until the upper lake. All goes well (as well as can be expected) I can't get back any ground on Paul, who is in fact pulling further ahead. Suddenly as I turn the bend at the end of the Wicklow Way detour I notice that Paul has taken a wrong turn over the bridge. He has realised this and is already heading back, but it gives me a spur. Strava informs me it is my new PR for Poulanass Descent, for which I would ultimately pay the price. Having touched the Upper Lake, I was once again overtaken by Paul as he zipped past and I trudged along, further affliction was to follow as Barry Drennan then sped past before I dipped into the lower lake. I found a last gasp to push for the finish as I thought I had glimpsed another runner closing in. Perhaps I was seeing things, maybe it was someone out for a leisurely jog, either way I wasn't taking any more chances. Up through the Monastic City and my joy to see Liam, James and lots of others there waiting to greet us over the line.
5:46, no new record for me, but Job Done! Another great day in the hills. Just a minute to say thanks and good-bye as I make my way up the road for my pick-up.
Well done to all my fellow runners, Solo and Relay Teams.
Thank you so much to Liam, James and all the volunteers. For all the work done; from weeks beforehand up to and including the days afterwards and of course the whole day itself. Events like this don't just happen.
(as for the match… let's just say that I'm not going to be 'Sought' by any of the big clubs… or any of the small clubs either! I probably would have been better staying up to my waist in Lough Firrib!)
Glacier lakes 2018
27 March, 2018 - Thomas Roche
The race was recommended to me as a self nav trek across the mountains. I like the idea of finding your own way through the mountains, so I signed up with my friend John Murray for this without hesitation. The recces were far and few between because of all the snow but I managed 2 (Turlough carpark to Ferrib and Glenmalure hostel to Kellys lough). The rest I could wing it on the day. I had never run over 30k in the mountains before but how hard could it be? I was about to find out!
On the morning of the race my main concern was food. I eat a lot when I'm mountain running so I was delighted when they said that we could have drop bags at CP2 and 3. I still packed a few cliff bars, bananas and a shit load of gels with me in my pack. My other concern was poles. Will I bring them or not? I decided to leave them behind, a decision that would haunt me later in the race (literally!).
I love the start of the IMRA races, lowkey, no fancy warm up or music just a "off you go lads". I took up position near the back of the pack on the way up St. Kevin's. The first climb is always a killer, and this was no different. I got out onto the road and met up with Ju Ju Jay until we turned off and took up our separate routes up Tonelagee. I took my first gel and a banana and tackled the tough long long climb up to the lake. The runners with poles were flying up the hill with ease which made me regret my decision not to bring them even more now. When I eventually reached the lake the drop down and climb back up from Lough Ouler was short but very very steep. Once over that we hugged Tonelagee until we spotted the carpark and headed straight down to cross the road through CP1 and up Turlough hill.
I was feeling good so I took a direct route up and ran the road sections. I met up with a another runner called Toni here and we chatted all the way up the road until we turned off the road for Ferrib. I lost him in the peat hags but met up with Jason Dowling, when I last checked (5 mins ago) Jason was about 500mtrs behind me. How did he catch up? We hit Ferrib together and continued to the 3 lakes, chatting as we went.
I went ahead of Jason again and hit the 3 lakes. Took another gel and crossed the marsh land towards Glenmalure I looked over my shoulder to see where Jason was and went straight into a bog hole, hip deep, much to the amusement of 2 other runners. I struggled to get out without losing my shoe but managed to crawl out. On the run into Glenmalure my stomach started doing somersaults and my legs started to get tired. I tried to eat a cliff bar which I usually like but it just tasted rancid. I was still making good time through the boggy descent into Glenmalure. looked to my left and there was Jason again – this guy is like the mountain magician, he just appears out of nowhere and disappears again. When we hit the forest track down to the hostel I took the trail closet to the river and Jason stayed on the forest trail. I had to concentrate on this part as my legs were really starting to tire and hurt. I finally reached CP2 where Jason (the magician) was already leaving, how? I got a water refill and grabbed a sambo hoping some real food would settle my stomach.
As I left the checkpoint, walking and eating, my running buddy John Murray caught up with me and we crossed the river together and headed up the steep incline towards Arts Lough. We were passed by some runners with poles. I was getting sick/envious of seeing people using poles at this stage. The sandwich had little effect on settling my stomach and it felt like it was getting worse. I was worrying too much about how much I wanted to throw up that I hadn't noticed that I had reached the top of the hill. It turns out an upset stomach has got some benefits. I reached the lough on my own as John had fallen a bit behind, so I powered on up the ramp towards Leohard passing a few lads as I went. On the last big climb Toni had caught up with me and we climbed on all fours up the steep incline. As soon as I reached the top I started to run, my legs were tired but felt numb, so no pain – happy days. I kept my elevation on the mountain until I seen Kellys lough and headed straight down to touch the water. I decided I needed another gel and quickly scoffed one down hoping my stomach wouldn't notice. Yea right! It almost came straight back up. The run down the brook was a nice break from all the climbing and descending and helped take me mind of how I sickly I felt. I hit the zig zags and tried to cut them short but veered left and lost them completely. How can anyone miss the zig zags? I had a quick look around red faced to make sure nobody seen my stupid error and soon found them again.
I reached checkpoint 3 and again got refills and a sambo, had a bit of banter with the lads and headed up the trail as I ate. I reached the tunnel of love and wondered what sadistic bastard would call this the tunnel of love, it was full of fallen gorse that just scratched the legs of you all the way up. Safe to say I wasn't feeling the love. I thought about another gel here, but my stomach just grumbled at the thought (I think it said "go on, I F*#kin dare ya"). As I made my way onto the Wicklow way I seen a guy with poles coming up from further down the way. I was determined not to let another runner with poles pass me, so I started to run up the drag towards the Devils Stairs, but it was like one of those horror movies or a dream where no matter how fast you run the killer is getting closer just by walking. Tap Tap, Tap, Tap, the sound of the poles was getting louder as he got closer, was I running backwards? I gave in and let the inevitable happen and he passed me. The climb up the Devils stairs to Mullacor was torture but it was the last climb, so it made it just about bearable. Up over the boardwalk and onto the forest track that leads into Glendalough. My descent on the forest track was slow and painful and I got confused at one turn which allowed someone to pass me. I took gamble on another forest track that I wasn't familiar with and hit the Upper lake sooner than expected.
I touched the water and headed toward the lower lake attracting some looks as I did. I was really feeling the efforts of the race now. I was almost dragging my feet weaving in and out of all the tourists like the walking dead as I ran down the path. I touched the lower lake and knew it wasn't far now. As I came out from the graveyard a lad caught up with me and went to pass but I put up a fight for about two strides and just quipped "are you looking for a sprint finish"? He said he was part of a relay, so I gladly let him finish ahead of me.
I wobbled across the finish line with a time of 6hrs and 37mins to a few cheers and handshakes had a few friendly chats with the other competitors before changing into something warm and thanking James, Liam and the other volunteers for their efforts over the last few weeks.
The Wicklow Glacier Lakes was a great event. 42k, almost 2000mtr elevation gain make it extremely difficult but a great day out in the hills with great people. The chats and the banter on the way around make the climbs a little less of a burden and the day even more enjoyable. Well done to all the competitors and of course the organisers for this great event.
Wicklow Glacier Lakes - Take 2
27 March, 2018 - Shane Lynch
This is my second time running this race. The first time I raced it, it was special just because of the challenge it poses, but this year, with the sun shining and the temperature just perfect for running, it was one of those memorable days in the hills!
Being an orienteer, this race plays to my strengths with plenty of running over heather and bog, and macro and micro routechoice that can make big time differences over the full length of the course.
This year having trained consistently for several months beforehand, I was going into the race in better shape than in 2016 and so decided I would set out with the front runners on the solo race. Running up St. Kevins way I realised that I was feeling good today and found myself at the front by the saddle above Lough Ouler. I decided then I would keep the tempo high and hope the wheels didn't come off later on.
I feel my route was better this time round. I felt I gained time (/didn't lose time) by not dropping height once I got on to the south east spur of Tonelagee, though lost time to Adrian up to the spur as he took a lower more runnable gradual line up to the spur. Fastest route down and out of Lough Ouler has to be same way, dropping and climbing from the lowest point of the saddle, though the grassy exit out of lake looks inviting it requires more climb than needed. This year, I remembered to take the second shortcut on the road up to Turlough hill this probably shaved a minute off compared to last time round. Once out on the road to the reservoir, I saw Colm ahead, he went above the quarry near the reservoir and I got ahead by contouring below it, though it would have been nice to have had him to follow to lead me into the mystery that is Lough Firrib. Every time, I run to it, it always seems impossibly high up and I have come to realise that a good rule of thumb is to head for the local high point!, (just north of the large re-entrant which I always inevitably seem to hit.) I found a nice wee trod down to the three lakes and upon exiting them I remembered what Killian Brennan had told me two years earlier that the running was good (better!) on a higher line east of the river, I slowly dropped height and eventully hit the river near where the trees start.
Heading up to Arts Lough I could manage to keep some sort of a power walk. I was starting to feel the fatigue at this stage but still decided I had enough strength to try climbing above the crags on the east of Clohernagh. This proved to be faster than my 2016 effort which took less climb in by contouring but the terrain was tussocky and progress was slow. I cut off this higher path just as the slope eased and contoured just above the steep ground and then Kelly's Lough became visible below. On the slope of the zig-zags, I took the left route option down to the carpark at Ballinafunshoge same as last time but this time was mindful not to drop too fast too soon and ultimately found a decent line through the stony ground to cross into the forest and onto the forest track for 100m to reach the road. Like 2016, I left the zig-zags at the first switch back.
Climbing up from the carpark to the saddle by Mullacor was a shuffle fest, two relay runners (Ben and Gael) breezed by me as if I was standing still and both would have had secured faster last leg splits had they not both made mistakes at different points, so I had them both breeze past me twice! On the devil's steps, I had to stop, hands on knees and just breathe, recoup, the group of tourists sat snacking there, must have thought I was a wimp having witnessed no doubt the previous two runners storm through! I would have looked like death. Gladly, the climb came to an end and I could let the legs free wheel down the hill to the upper lough. The last two km – more torture, but I was aware of the time and pushed as best my body could to the end and tried to muster a smile as I finished. Immensely satisfied, one of my best ever race performances!
Thanks to Liam, James and all the other volunteers for organising a smoothly run event. Thanks to Mike for making copious amounts of water promptly available at the transition points.
RESULTS
26 March, 2018 - James H Cahill
Results are Available at the following links -
Solo Results:
https://drive.google.com/file/d/1i5y7EjiIv3cCzuIejFIw3oF90_njI3vk/view?usp=sharing
Individual Ranked Leg Times:
https://drive.google.com/file/d/1FdaP8CGV1cP8binhrRt_92AvL1NIyRcx/view?usp=sharing
Handicap Race Results:
https://drive.google.com/file/d/1DpyoN3fOcjZ_BOineAP0NeGD3ZAXxsbs/view?usp=sharing