Glendalough Clover (Solo)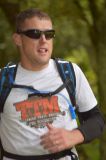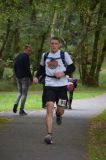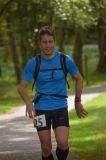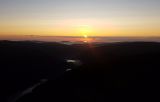 Authors
Graham K. Bushe
09 September, 2017
It's 5am Saturday and I'm making my way up to Glendalough for the last of the long distance championship races, the Clover. With three done, I'm wondering what the day has in store. Soon, I catch up with 2 cars ahead and then another 2 join in behind and I'm thinking there's only one place we could all be heading at this crazy hour of the morning. We get to the car park in good time but there is a bit of a problem with the barrier, it's locked. Registration and kit check is expertly done and I hand over the car keys, remembering that I have borrowed my wife's car. A plain black key with no identifying mark, I guess they will work it out by a process of elimination. I don't have too long to worry about it as we get the race instructions and are led to the start line. The mist sitting on the upper lake creates a great background, so we all gather for a photo or two. A few quick Hello's to other runners and then we're off. Trying to get into a nice rhythm, keeping close to the front solo runners, without chasing the relay teams unnecessarily. Look out for the bibs! I had my mud claws on for leg 1 after a reccie two weeks before. As we turned, the views were spectacular, the low mist making the Wicklow hills look like islands, and the glow of the morning Sun reflected in the sea beyond. Where else would I be? As we start to descend I decide to step off the board walk figuring the soft ground would be better to run on. All going great, for about 10 strides, and then, Bang! Completely out of the blue, I hit the ground. No slip, no stumble, no trip no warning - Just down. My right foot had found a hole! I realized the ground wasn't that soft after all. Winded, I picked myself up and have a quick assessment. Sore left leg and right ribs, but gotta keep going. Embarrassed, I glance around to see if anyone has noticed my stupid tumble. I take a few deep breaths and hobble off, staying carefully on the sleepers. At least it's downhill for a good bit and I hope to get into a bit of a steady pace, but the thought of having to retire also crosses my mind. Past the start finish and out St Kevin's way, sore but still moving. Meeting everyone before or after the turning point is interesting, like getting regular race updates. Who am I chasing and who is chasing me! Tired and sore, I complete leg 1. I had managed to find one small muddy patch on the way down thereby justifying my plan to change footwear. Off with the mud claws and wet socks; out come the peregrines. What I hadn't planned for was the sore ribs, which made pulling on socks difficult and as for tying laces... Eventually I got going again. Leg 2 being longer with many ups and downs but nothing huge. The plan, Walk up, run down - nice and easy. Thankfully the leg was feeling a bit better. Unfortunately though, every time I transitioned from walking to running I was really feeling it across my chest. Running without breathing is proving a bit difficult. Reaching the lake I tell myself I'm half way. I also realize that I have company close on my heels. Soon enough, I am reeled in as Billy Reed and Dale Mathers pass me by. They are closely followed by George Snee who is also soon out of sight. Eventually I get to the changeover point, only one leg to go, and I'm well aware of the climb ahead! In terms of distance travelled so far it's fairly close to the Wicklow way solo but my time is much quicker. This gives some consolation, added to the fact that I only have to get to Glenmallure and back- Only! I walk up past the waterfall, and keep walking. I eventually decide I'm being a bit too soft on myself. I jog-walk to the top. I decide to run as much of the descent as I can. I pass Billy who seems to be cramping a bit. I ask if he's ok and he waves me past. I remember this section always being longer than I think, but eventually I reach the inn where I see Zsolt and with renewed hope I turn for home. But it is short lived as I see Billy is still close behind followed by Dale, Silvano, George and Dan. Oh, the pressure! I push hard, nearly there, one last long climb. I tackle the devil's steps with a hint of a cramp threatening. In the distance I see a relay runner and I focus on catching her. It's Renata. As I catch up with her she tells me that I am third, but I can't believe it. Keep pushing! I need to hold the rail going down the steps and can barely move when I get to the bottom. I am relieved to remember the finish line is close and not down at the hotel. Out onto the last stretch, I can see the tent. A great welcome from those gathered at the finish line, the photo tells the story of how I was feeling. A Tough race, but fantastic! After a rest I remember the car and wonder where it's parked. Thankfully it is in the space almost nearest the finish. A huge Thanks to Adrian, Greg and all the volunteers for a super day. The organization, from early pre race planning all the way through to the finish and after was fantastic.
Superb day out
08 September, 2017 - Rory Campbell
A race abroad wasn't on the cards this year. The Glendalough Clover solo (80k) would have to do. It surpassed. That Saturday morning, running up out of the mist, into a sunrise, framed by dark and golden peaks, underlined by a misty blanket in the valley, explained why we do this. Sublime.
A very early start was helped by getting a lift with Hungarian-Santry resident Zsolt. A quick efficient check-in in the darkness at the upper car park was followed by a photo op by the mist covered lake in eerie morning dawn.
The race was made up of 4 sections, with base camp by the upper lake. First the spinc, then St. Kevin's way via the waterfall to Turlough hill car park. Back to base. (1st leg of relay). Then Wicklow way to the far beach on Lough Dan and back (2nd leg of relay). Finally the slog over to Glenmalure and back. (3rd relay leg).
I started at a steady pace. My son Annraoi was running a little ahead. It was his first mountain run as part of a relay team called The Scary boys with his pal Pierre (2nd leg) (both 20yr olds) and seasoned (20yrs+++) imra vet Paul Morrisey (3rd leg). The dawn show continued all the way around the spinc. Gavin (Scott Byrne) and Zsolt (Szomju) were lead solo runners. Paul Mahon (Glenmalure Goats) and Caoimhin MacMaolain (Yukon) were lead relay runners. Turning around at Wicklow gap was an opportunity to meet all the runners on the course. What a great idea this course is! Annraoi was close behind at the top of the waterfall. The time when the Da was to let his son win was well in the past (some might argue (a bit harshly) that I was never that type of Da!).
Back to base. Annraoi, it turned out, blew up on the descent and was wandering around Glendalough graveyard thinking about going for a lie down with the old monks. Ah, who can forget their first bonk!
I set off to Lough Dan with Swiss runner Dirk Hamburger (Yukon) and his fabulous ultra running dog. I caught John Moran (on his second mountain run ever) (Plamorouse) on the ascent up paddock hill. No sign of anyone else at this stage. I caught Zsolt on the Lough Dan road. We met a very strong Cormac O'Ceallaigh (Glenmalure Goats) and Gavin. What a beach that is on Lough Dan…soft sand, empty deckchair, blue skies, palm(?) trees. Unfortunately no Pina Coladas on offer. Quick dip of the head into the lake and off again. Leaving the beach we met Pierre (Scary Boys) and solo runners Graham Bushe, Billy Reid and Dale Mathers. Also met John who was really flying at this stage.
My exuberance of running ahead of Zsolt going up the hill from Lough Dan was dampened by Pierre dancing past me. Clearly he had his anti-gravitational device switched on. (Although he'd gone wrong for a bit…extra 500m up the hill and back after Paddock hill descent…he went on to complete leg 2 in an amazing time…20mins ahead of nearest competitor). Again it was great to meet all the other runners. Friendly greetings from everyone. Was nice to see some familiar faces: Zoran, JuJu and all the others.
I still felt good arriving at base after leg 2. I knew it was going to be a painful trek up to Lugduff. It met expectations. Nice descent, apart from a bit of a slip on the slabs…met a strong Hugh McLindon (Glenmalure Goats) and Gavin (finally looking a bit tired but a good 20mins+ ahead). Met Paul (Scary boys) holding a map! Looked in good form but a bit sheepish…he had decided(?) to extend leg3 by heading an additional 10mins up towards Shay Elliot). I arrived at "the lodge", quick pint or two (I wish) and a chat. Then back to hit the final ascent of the day. Knowing this route really helps...it's long and tedious in parts and you have to break it up into sections in your head. Some 10mins from the lodge I met Zsolt, Graham and Billy (In that order and ~100m apart). Met David Rouse (Plamorouse…ok, I get part of the name) enjoying the fast descent.
The steep slabs were alters of pain. Much bemusement from some walkers looking at my facial expression. High five with Zoran at Lugduff and all the way down. I knew 2nd place was safe … Had planned a good controlled run down…but some leg cramping and spasms ruined the look somewhat.
Great reception at base. Handshake with the fresh looking winner Gavin (after 20mins recovery). A few minutes later saw Graham take third followed a few minutes later by Zsolt and Billy.
Great runs from all 48 people on the day. It's a tough course to run. However the spectacular views and that amazing weather (especially in the morning) was such a balm.
The race was superbly organised. The tagging system was super. The aid stations at the checkpoint were excellent…in just the right places…and the volunteers were super friendly and encouraging. Clearly a lot of organisation and work went into this race (from the race instructions booklet to the online course detail to the course markings to the detailed results being published etc. etc.). I want to thank all the people who put this together and made the day just great. It's my new favourite race!
Now check out the amazing photos of Glendalough on the imra event site but also on the imra facebook page. And put this event in the calendar for next year!
Richard Church
05 September, 2017
An early start dragged me out of bed at 4.30 and on the road by 5 with a flask of tea - my new must have at races. The car temperarture was telling me 4 degrees coming over the Wicklow Gap so I knew it would be a cold start but the starry skies promised a good day. Slight hiccup at the start as the car park barriers were closed but the valet parking from the volunteers was much appreciated. Then we were off up the miners track towards the crags and I was reminded of previous early alpine mountain starts, following your head lamp beam. Everyone around me was taking it easy and my head was wondering about the day ahead so not much chatter. Talk from others about how folk were getting on in the UTMB or the Kerry Way Ultra. We turned over the bridge back towards Spinc and wow - what a view - sun rise over the sea with Wicklow Head looking like an Island in the Mist. Dropped back down the boardwalk steps worrying about tripping and turn for the run to the monastery and out round St Kevins Way. Paul Mahon is setting the relay pace with Gordon Place close behind.
The sun hits the valley heading out to the Wicklow Gap and its going to be a good day. I knew I'd be okay for the first couple of Legs to 55km but had not run longer than that before so needed to keep something there for the last leg. Two great benefits of the clover race structure was the return to a central hub and seeing the other runners on the out and in legs which meant great encouragement all around was being given. I had a couple of small trips on the rocky descent from Wicklow Gap which were enough to keep the brain focussed. Back past the Glendalough Hotel as the stall holders were setting up for the day. The path from the hotel to the Upper Lake was crowded with tourists later and we had to run it four times. Into transition at the end of Leg 1 and it was breakfast time - more tea needed. Martina was revving to go with her relay leg and I knew she would catch me within a few km. I was about 15th so happy enough at this stage.
Then it was out towards Oldbridge and the need to walk the steeper sections kicked in. As the morning warmed up the cooler sections through the trees were appreciated. I passed out a couple of runners on the ascent to Paddock Hill and then Martina came racing past on the descent. I'd recceed this leg and remembered a water tap after Paddock Hill for a refill. Pulling into Lough Dan and Cormac was on the relay return but Gavin Scott Byrne on the solo wasn't far behind and he was motoring away. The top of Lough Dan is a beautiful area and the views took the mind off how the legs were starting to feel. Back on the return and a passed another couple of soloists and began to get into a steady running rhythm. I had John Mollohan in my sights but he was there until the end and I couldn't quite close the gap.
Into transition at the end of leg 2 and I was glad we didn't have to run the path from the lower car park again. It was lunch and time for a cheese sandwich - a tip from Maike on the Seven Sevens. John left the transition area so out I went for the grind up Mullacor. I had expected to walk this but managed to get into a run-walk-run routine. Hugh came flying into sight down the track to complete their teams relay first and Gavin went past me close to the top of Mullacor. The run down to Glenmalure was fine and great that there was very little technical ground at this stage in the race. Graham Bushe was past with a great smile and high five at about half way up the climb to take third. By the transition at Glenmalure Inn I'd moved upto 11th but wasn't going to catch anyone else so I just focussed on not losing any places. Made the mistake of having some fizzy coke at the transition which the stomach couldn't take, but then got back into the grind back up the track. By the top it was getting colder and cloudier and I wondered when the forecasted rain would be coming in but my race was nearly over and I would beat it. The two lady soloists headed past me on their way down to Glenmalure and were still looking strong. I looked at my watch and realised I still had an hour to beat my target of 10 hours and just the descent to do. The legs were now stiff planks but the run down was straightforward, past the waterfall, slalom the tourists ("I think there must be a race on") and into the finish. I'd done it, my first 80k in 9.30 and I could still walk. Congrats to the race winnners and a huge thanks again to Adrian, Greg and all the volunteers. Bring on the next one.