Kippure Handicap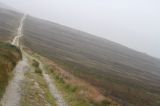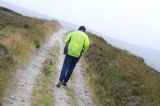 Authors
Handicapped by The Handicapper
23 July, 2017 - Jeff Fitzsimons
When you only run one race in the league, are coming back after a serious leave of absence from running as Barry called it in his report and get stuck with a start time only 6 minutes ahead of the last starters it's easy to feel hard done by.
When the aforementioned two fast lads pass you just before the summit and you find yourself the last man to the summit, racing yourself down a rainy, windy, shag all visibility, bogfest, you question your sanity. You question your grip. You question if your laces are tied tight enough to retain your shoe in the bog holes of Kippure. You question your the waterproofing of your jacket. You question your intelligence for turning up on this of all nights. You question the chances of you having anything left for that hoor of a road once the bog ends.
But most of all you question why your leave of abscence from this glorious pursuit was so long.
Kippure Karnage
20 July, 2017 - Barry Murray
24hrs earlier I was roasting my balls off, not literally, figuratively of course. Now, 1 day later, here we were up in the featherbeds with sideways rain and a cold wind !
Yet another spice to add to the IMRA variety . I had never done this handicap thing before nor ever run the Kippure route. So was just looking forward to the novelty. It was hard to know the number of runners as everyone was stuck in their cars waiting for their start times to come around.
The first went off at 7.00pm. The last, that being myself and Graham Bushe, went off at 7.50. I was thinking the idea being that we all came in close towards the end, with the last of us at least having a good few bodies to aim for, with the first off, having the incentive to cross the line first.
But that wasn't to be. Maybe the times were a little too spread out (ahem, handicapper Bell) but as myself and Graham headed off, we had nobody in the distance. Conditions as I mentioned were very different to the previous Wednesday evening Leinster leagues. No balminess, no singlet's and no midgies this time either. Sideways rain, poor visibility and boggy wet underfoot.
Still, no matter what the conditions and what the event; it's just nice to be in the outdoors running up a hill or mountain. I went a bit ahead of Graham in the first 1-2km and then thought I would be hunting packs. But it wasn't until close to the summit of Kippure that I caught my first, Jeff WWS , who is only returning to running following a leave of absence !
A well marked course but still difficult to find the right line. Misty and rainy at the top and the overall league winner, Michael McCarthy was at the summit turnaround. On the descent I was again thinking I would catch up with loads. But not to be. I actually went adrift and off line before I had to pick up the markers again. Turns out a few others went adrift as it was easy in the poor visibility to just veer off course.
A nice soft boggy bouncy descent. I'd say it would be lovely in the dry and clear visibility as you could fly down it. As I tried to pick up the pace, my foot disappeared down a gulley and I fell flat on my face. A soft fall and this happened two more times. By the time I had reached the very bottom of the descent, I finally caught a few runners. A little river to hop over and then I knew we had the trail back to the finish.
Out of the blue, came Graham right up on my shoulder. I actually got a jolt and realised there was something to race for ! So I sprinted off. I got about 200m ahead of him, and then started to blow a bit myself. With the mist down , I could not see the finish. So I couldn't actually pace myself. Picked it up a bit and crossed the line maybe 5th or 6th last !
Everyone else was back in the cars getting changed. I took shelter behind first aider Feno's nice VW and within 2mins.. The rain stopped. A few minutes later, the sky started to clear and the sun started to shine through !
Nice to see the top 3 medals not going to the usual heads so well done to the early starters for staying ahead. Tricky enough race to organise in the conditions so fair play to all the gang.
If there is something in nature you don't understand, the chances are it works in a far more sophisticated way that you thought.
Kip, pure tough!!
20 July, 2017 - Graham K. Bushe
At 6:10 I arrive home from work, find my 2 boys, (one reading, the other watching an old Man U v Chelsea game on DVD) and remind them they should be getting ready for the race. Neither responded enthusiastically. "Pre-reg, pre-pay. You're going!" sometime later we're in the car heading into the misty weather. At the junction with the Old Military Road I turn left as per Sat Nav but against my instinct. I reluctantly obeyed for a while only to meet James Cahill going the opposite direction confirming my suspicions. Eventually, having found a safe place to turn, we arrived at race start. But it's not like the usual race start. 7:20 with 10 mins to spare before the junior race and a handful of runners are waiting at the start line, others already out - hidden in the mist on the mountain. That Mountain! The last time I was on Kippure was the Stone Cross to Lug. Not one of my finest hours (or 10 hours for that fact) Well, here we were again. More mist. More Rain. And soon enough it's just Barry and me waiting for the off at 7:50! How did that happen? He's finished well ahead of me in the last 4 league races. Then we're off and instantly he has put his foot down, or at least I have, as I try to keep up. I then meet Kevin and Adam, my 2 sons, already finishing! I tell them the keys are in the van, thinking they are going to have a long wait. Barry's pace is relentless (Strava would later tell me that my first Km was 3:47) By the start of the climb he is a bit ahead and I'm trying to hold on; there isn't another runner in sight. Then I start to meet some of the descending runners. Thankfully the route is well marked as I pick my way up. As I reach the turn I eventually see another runner Jeff and we begin to make our way down. I now realize that I can't see anyone ahead of me; and bang on cue, my inner compass is leading me down the hill, the one that seems to always drift a bit to the right. Luckily (but more because I encounter difficult terrain) I notice my drift and correct my route down. I am amazed to see Barry again as he recovers from drifting too far left. I wonder if I can get my inner compass re-calibrated? So now the chase is on! But, try as I might, I cannot shorten the gap. Then I fall, roll, bounce-up and continue. Go some more, fall again, stumble up and continue. In the distance I see Barry's head disappear suddenly and I guess he has had a fall too. This is like a 2 man race. The last time I ran the handicap I had lots of runners around me at this stage. I hope to close in and, seeing a bit of a dip, try to jump across. Unfortunately, I don't quite make it and my foot sinks into the bog not giving me enough time to recover and I go sprawling again! Each landing getting harder and taking longer to recover from. As I get to the road I decide to have a go and ask the body for a last push. I leveled with Barry and may have given him a bit of a shock, And just like that, he is off again. I would like to say it was more like 70m he gained over the run to the finish (not 200m) but it might as well have been a kilometer. I did manage to pass one or two other runners, but it looked like nearly everyone had gone. What a night! The boys were waiting patiently for me in the car (well they had no choice really)
A HUGE Thanks to Paul and his crew of volunteers who braved awful conditions to allow us mad folk spend another unforgettable night in the mountains.