Bray Head - End of League BBQ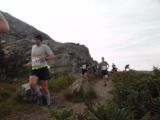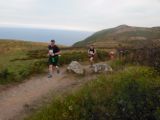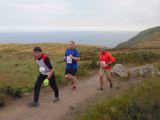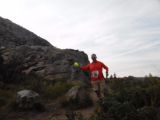 Authors
the end
13 July, 2017 - Barry Murray
I thought having M40 after my name was enough of a reminder of my age until I lined up at the start of this race. More whipper snappers than you could shake a stick at and who wanted to fly off at the start.
But a perfect setting for the end of league , a balmy evening and no midgies to deal with for a change. From signing up on a tractors lane in the mist last Sunday in Nephin to a "function room" in the Martello Hotel, variety with IMRA keeps on going.
With a clearer head this time, I was up for going full gas in this race. We had overall league places up for grabs and scores to settle. Like I've said before, these IMRA races keep on teaching you and if you are willing to learn, you can benefit. One of these aspects is the head. What you say to yourself and how you think, can dictate your race.
My head usually always says "start easy and build into the race". That's what suits me best and that's what I am most confident doing. But like all things, you never know until you try. And sometimes, you need to challenge your own thinking and break your own rules. After all, it's probably the head that governs how you run more than anything else, if you think about it.
So I told my head that I'm not going to start easy. Full throttle from the start and bate myself up that first hill. Then just try to hold on and recover on the slight downhill running bits. It's such a short race that if you want to do well, then really this is the only option. It seemed old croney Mikey had the same idea as he went off more like a headless chicken then I did. We had whipper snappers all over the place too… then well known fast guys like Des, Niall Lynch and Michael McCarthy who was going for the overall league prize.
The hill is a gold old steep sharp ball busting climb. I managed to cling on to Mikey… with Warren Swords who went off fast just ahead of me too. Up to the cross, a touch, and I knew I could open up the legs on the slight downhill. Hopped over the fence and caught back up with Mikey. We then caught up with a young whipper snapper and I decided to put him to good use and just got a little shelter on the gradual climb up.
Just before the turnaround point I decided to overtake him and could hear Mikey breathing down my neck. We crawled up the the mini summit and Mikey just went round me as we hurtled down the single track. I knew I was up front proper this time as I had Niall Lynch in sight too. Myself and Mikey then pegged it back towards the cross swerving in and out of the oncoming traffic. I knew I had one more chance of getting ahead of him on the final little drag back up to the cross. So I passed him and felt like I was gaining a few yards on him as we pushed ourselves up that final little climb. We caught up with young Issoac at this stage who has done well at this race and is suited to the sharper routes.
The descent is where the gloves have to come off. I was ahead at the first bit. Issoac hit a tree and stumbled as myself and Mikey scooted by him. Myslf and Mikey were breathing like horses as we plunged down through the trees. Mikey is a slightly bigger horse then me and took a few leaps by me. We caught Des Kennedy who has trotting down the descent with sore feet. I then just lost a few yards on Mikey as I ran down the steps, knew that it was too hard to catch back up with him before the finish. A great ding dong battle and really it's what IMRA races are all about.
I managed to beat most of my competition (yes, Warren, remember ;-) and John Bell (bragging rights confirmed ;-) and even mister consistent Bernard, which shows he is human after all !
Great to see everyone enjoying the cold bath after and a big crowd for the BBQ. The laptop was still hungover from the Connaught Champs so the results were tricky to do to say the least. But fair play to Karen and Miriam for sorting it and reminding me I am M40 ;-)
Would have liked to talk to more at the BBQ but as comes with age, I wanted to turn the volume down . We might have to have a poll for the end of league venue next year !
A brilliant league and so well organised every time. Hats off. More mini running festivals to come. Stay tuned.
Warren Swords
13 July, 2017
Final race of Leinster league and Bray was a fitting finale.
My approach to the race was to go out hard and hang on for the last 5.6km. My old nemesis' Barry and Mikey have left me for dust this season but what the hell, one last hurrah.
Went off hard and was on the heels of the lads all the way to summit. Touched the cross and my legs were burning but was right behind Barry. So far so good. Onto the short downhill and struggled to get the legs turning, felt I was trudging through bog. Thoughts quickly turned to whether I'd make it back home!
The gap started to widen as I suffered for the early pace. Legs eventually came back at the turnaround and suddenly I was back in the race and hunt for places. Made up a couple of places and Mikey came back into view. He was slowing on the last climb and look catchable. Whilst I hurdle the fence on way out, I tip toed around it and put in one last effort before the descent.
Made one place up before finishing. Delighted to set a PB for the course despite a mixed season. Dip in the sea and pints afterwards were a delight.
Should mention that before the race, Barry reminded me of our close battle last year. I couldn't recall the result and asked him who win between us. Barry said it was myself to which a fellow runner suggested I knew exactly what the outcome but wanted to hear it from Barry!
Great league.
Adjectives for the Bray race & BBQ...
12 July, 2017 - Alan Ayling
The weather? - Pleasant
The race? - Tough
The climb? - Relentless
The pace? - Ferocious
The descent? - Gnarly
The laptop? - Bollixed
The swim? - Delightful
The getting back to the shore through that rocky bit? - Tortuous
The queue? - Tedious
The food? - Tasty
The portions? - Moderate
The value? - Decent
The music? - Unnecessary
The company? - Exemplary
The league? - Over :-(