Carrick Mountain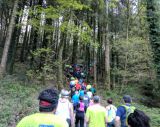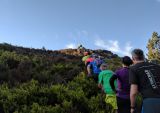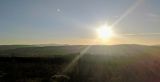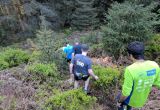 Authors
Peter O'Farrell
04 May, 2017
No results up yet so apologies for not mentioning many other people apart from those I saw..
Damien, Jessie and crew put on a great race down in Glenealy. On a lovely sunny evening we gave it socks, and other items of clothing, up the ridiculously steep downhill MTB track. It just keeps going, as did Iosac Coleman who was making it look effortless up ahead as the rest of us toiled against gravity, age, too much belly, not enough leggies…. all sorts of excuses really.
Finally we emerged onto the more open mountain and followed the excellently marked course, and Iosac, around a merry dance of dusty singletrack. As per usual I never really had a notion of where I was on a course new to me and only the occasional beep of my watch counting off the kilometres gave any inkling that the current pain would eventually come to an end.
Plenty of vocal marshall encouragement on the mini-peaks kept the spirits up and on the only flat bit I sensed the youthful Iosac might be getting bored with the lack of exciting up or downness of the relentless flatness and made a big effort to get past. Woohoo, I said. In the lead. Deadly. Keep 'er lit!
Flies in the ointment at this stage (about 4k in) included :
• Iosac, snapping at my heels
• Niall Lynch, surely hovering about close there somewhere
• The big effort
• The one actual fly I swallowed
Still though, I was in the lead and surely the others would be content to leave me there?
We turned left and back up into a riotously overgrown section of gorse. Whilst I am sure it was a pleasant path last year this year it grabbed my legs and dug all the running out leaving a shuffling walk/run thing in it's place. To add insult to injury Iosac skipped past me into the lead again just before the final mini summit of the evening, and marshall point Martina.
Onto the last descent and despite plenty of girding of lions yet more of my illusions came tumbling to earth. I had fancied myself as being Ok at descending but Iosac wasn't getting any closer and then Niall came flying past me. I mean like he was Bernard Fortune or that boulder in Indiana Jones. Flying. The contrast between their running styles was cool to watch. It was just as well that I took some interest and pleasure in watching their battle for the win as I wasn't catching them and even took a wee tumble near the bottom trying to keep up. Boo!
Niall has the fast feet of the experienced road runner and Iosac was taking the high risk long bounding steps and trying to go down the course as if he was actually on a downhill mountain bike. Great to watch and on the limited evidence of last night, fast feet was the preferred technique. Now there is also the possibility that Iosac and myself were simply getting a bit tired and Niall has timed his effort and his run to victory perfectly. We will need to see their reports to be sure, to be sure.
Afterwards there was a great buzz around the finish line. Everyone had really enjoyed the course and the well organised race (thanks again Damien and team) and then back at the pub Jessie had made plenty of sambos and cakes to feed the masses and raise a few bob for Croi and Holles St. The age group winners all look as if they need to bring passport proof along next week, crème dé Carrick is working a treat..
Great race, great night and thanks to John Shiels for dropping me home. G'wan the car pooling.
Carrick - no pain no gain
04 May, 2017 - Mick Hanney
A lovely summery evening for this Leinster League race. Got their early and the registration in neat writing was done in a jiffy by the well-oiled machine Damien had in place for the event.
Carrick mountain is a daily companion to me on my commute via Glenealy to and from work. It is a hill I keep promising to run more on as it has a lot of trails to offer – as witnessed in previous IMRA events here. A longer winter league option again is perhaps a future offering given the variety of tracks here.
A nice relaxed warm up jog then a chat with some of the runners including the great Martin Francis, out for an evening run, not racing unfortunately. Interesting to see many of the previous weekends long distance racers from Ballyhoura (John Barry et al) and further afield towing the line to race again this evening. Fair play to their energy and recovery abilities. Kudos too to Becky Quinn on her fine run at the weekend in Spain for the European Masters and back again for the next IMRA race. It is great to see the enthusiasm for the Wednesday races.
Off we went up to fire-road with a sprint as everyone knew the run would be short-lived as we turned to face the cliff-like initial climb. Funnelling onto the narrow track the pace dropped to a trot or a walk unless you were in the lead bunch that were single file ahead of us on the hill. A Ballyhoura marathon wasn't holding Alan Ayling back by the looks of things as his orange t-shirt lit up in the distance. Damn these guys who can run marathons and short hard hill races 3 days apart :-)
I was intent on trying to run (ok jog) the climb as long as possible. Not easy. Stayed the climb mainly alongside John Ahern and a couple of others I didn't recognise. I wasn't too far behind Warren Swords, who was probably tired from his Highland Fling exploits, but not tired enough it seems as once it levelled out I didn't see him anymore (a great descent he had).
The main climb achieved, it was a slalom through the single track tree section before we broke for the summit (which isn't actually the real Carrick Summit AFAIK – that is encased in trees elsewhere if the map is to be believed).
The section on the far side of the hill was uneventful and felt slow to me, but I couldn't go faster with the overgrowth gorse giving little visibility of foot-placement. Still apart from Brian McGuckin, no one else was passing me so not too bad.
As we broached the high-point on the return leg I was aware of nearby runners. I was also aware of my damned lace opening up. I did a quick risk-assessment of the loosening and figured it would hold up on the descent but truth be told I probably held back speed-wise to ensure I didn't step on errant lace. Not that I could see Brian who had disappeared ahead, fair play to him.
Down and down I went, not gaining but not being passed by anyone. Judging by the strava details later it looks like Garrett Little was gaining fast. Luckily I hit the bottom and held pace to the finish line just behind Gavin Byrne, who by his own admission was having an off day. John Ahern finished fast behind and was probably gaining on me approaching the finish. Garrett wasn't far behind either, as was a fast finishing Becky Quinn, first lady home.
From strava I can see that Caomhin MacMaolain and Rob Costello had fine runs amongst the runners ahead of me.
By the laws of Strava I appear to have naming rights for the Carrick climb – as I must have created it originally. Decided to give it a more appropriate 'no pain no gain' naming in light of the pain suffered by competitors. If anyone has more appropriate names I'm all ears.
Thanks Damien and team for a great event. Damien gets kudos for being perhaps the most enthusiastic of race directors out there which is great to see. The marking was first class and the marshalling and the encouragement on the hill was super.