Maurice Mullins Half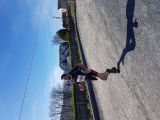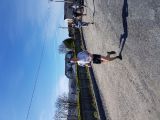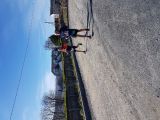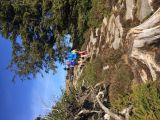 Authors
Maurice Mullins in the Sun
28 March, 2017 - Barry Murray
Tree's, plants and flowers get their energy from the sun as you know. So I had my own solar panels up as I accompanied some of my Italian visitors to the Ultra sign in. The last year I remember the weather being that good was 2012 and what it difference it makes to the day. IMRA events are always well organised but blue skies and a warm sun just highlights everything that's good about them.
After racing the ultra 3 times and donning my ultra shoes this year, I was quite content to be hanging out in the sun before heading out to Ballinstoe woods. No changing in the car, putting on base layers or worrying about what rain jacket to wear. A singlet day it was and it always gives me a sense of minimalism which simplifies things.
As we all took off up the fireroad towards Djouce , all I was thinking was how normally fatigued my legs are after running the first half of the ultra. Up onto the sleeper tracks and to be able to bounce up them was a pleasure. The views for the day were picturesque. I had about 6-7 runners ahead of me at this early stage.
I wasn't worried about positioning at this stage as all I wanted to do was get into a steady state zone. It's the perfect race for "speed endurance"… with endurance weighing more in this case. I knew this would suit me so I was waiting until Crone Woods before I thought about racing.
Conditions were perfect for running, just a few slippy patches around djouce and descending down off it. Coming down around powerscourt is where you can really open the legs and again it was so nice to be able to actually have a spring in my step.
Into Crone Woods and a few of us all came together…. Damian, Greg Bryne, Donal Coffey and myself. A sip of water and I was off. The lads followed and the race was starting to take place with us all being essentially in 3rd position. I started to gradually pick up the pace a bit and it was just Damian who stayed with me as we climbed up out of Glencree woods. Over to curtlestown and we started to pass some of the leading ultra guys. This is where it starts to really hurt in the ultra. I know exactly how it feels. I always cursed the trail guys bouncing by me, looking fairly clean, not carrying much, and running about twice as fast as me. So the lads no doubt were cursing me this year !
Up curtlestown is a real slog. I had plenty of gas left so I was just keeping a constant trot all the way up. Damian was right behind me, sometimes walking and dropping back, then catching back up. As we went up Prince Willy's seat I could see 2nd place Alex Gray ahead. We caught and passed him just as we started the descent into the valley. We all ramped up the pace here and myself and Damian were neck and neck. I knew there was one last climb up onto the road and this is where I felt my "ultra" legs would actually help me. I kept my pace up this road and Damian dropped back.
Last bit of road section down to the GAA pitch and I was happy to finish 2nd and not crawl across the line as per the usual Ultra ! With Dave having already come in 3rd twice I was happy he picked up the win with a solid race finishing a few mins ahead.. Damian who was beaten me in all the winter league races so far this year came in just behind me in 3rd. Great times from some of the ladies too with the first two coming in the top 10 overall.
A great day out for everyone. It's so nice for all the marshals and spectators to be able to enjoy the day out too. The trail is a doable course for most and a nice intro to trail running. The ultra is a challenge that has a sting in its tail as it hurts more than you expect. Like I said, the weather highlights the quality of IMRA events and this was well deserved for astute race organisation by Dermot and customer friendly Lillian. Well done all.
Maurice Mullins Trail Race 2017
27 March, 2017 - David Power
Wicklow Way IMRA Race 2017
1st place, 1hr 56m https://www.strava.com/activities/914178843
Third time lucky on the Wicklow Way. Today I was happy for loads of reasons. One, the warm sun was shining. Two, I got to run in the mountains. Three, I love racing and had a good race. Four, my ankle injury is history - first race in 4 months. Five, I met some nice people who speak my lingo. Six, I came out on top. Seven, my nutrition plan worked. Eight, the Waterford Greenway officially opened – Kilmac has never been as busy.
IMRA races are great for the social, friendly atmosphere, combined with tough mountain routes and the spectacular scenery we get to run through. The Wicklow Way Trail, renamed after pioneer Maurice Mullins for Skerries is a 26km race from Ballinastoe in Wicklow to Glencullen in Dublin. You climb over 4-5 valleys in that time (800m+) – up Djouce mountain, over the Dargle Valley, past Powerscourt Waterfall, down Crone Woods (halfway), around Curtlestown with a final push up Prince William's Seat and then downhill into Glencullen Valley.
This year I was apprehensive, as it was my first race since December, when I sprained my ankle. I missed the cross-country and duathlon season, so was keen to get back racing.
I'd been 3rd in 2013 and 2016 – behind clubmate Brian Furey on both occasions. I knew Brian wasn't racing but you're never sure who'll show up. Mourne runners from Co. Down or young bucks from UCD. None showed thankfully.
From the start, I was ahead. Passing ultra-runners who already had 2hrs in their legs makes you feel good and fresh, but also a bit shy as you're "only doing 26km", not 52km.
Friendly faces on the trail, plus encouragement from other runners. Beautiful views all round. Snow-capped peaks on Djouce & Kippure in the distance. Contrasted by sun overhead, bluey skies and calm seas behind Bray & Greystones. It was a stunning place to be. I was jealous of the hikers, who had time to stop & take it all in.
My mind wandered. I was comfortably ahead after 5km on Djouce shoulder, but by halfway at Crone Woods, a handy triathlete, Andy Gray, was only 100m back. So I got into gear – I figured I was stronger on the climbs than the descents. I pushed up those steep climbs and built a lead, passing Ultra runners along the way. I tried to visualise chasing an imaginary runner ahead - Brian Furey since he was my nemesis before.
My nutrition plan worked well. Since I met Barry Murray last year, I've adapted what and when I eat. I trusted my belief that a fat based diet works. A simple breakfast of scrambled eggs, bacon, ½ avocado and crackers with coffee. Tasted good. No food or water in the build-up.
Race nutrition was light – just 2 dates with nut butter in my pocket, plus ½ banana and water at the food stop halfway. I felt strong and didn't crave gets, bars or drinks. I'm glad it worked. Fat adaptation can work – thanks Barry.
Race finish was lovely in Star of Erin GAA Club, followed by nice pints in Johnny Foxes Pub. Talking to people who've run UTMB and plan 20hr races in northern Italy or around the Lake District. It got me thinking - 26km is just a warm up. What's next?