Annagh Hill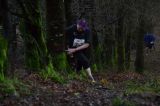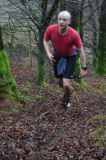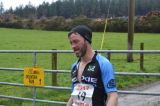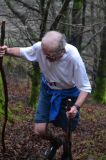 Authors
Annagh - The Return
28 March, 2017 - Liam Cannon
I'm a little late with my report and I'm adding it to four previous entries, but I decided I'd try to write accounts of at least some of my races this year. I can distinctly recall saying to myself during the race that this would have to be the first one I write, because people need to know about it.
This year was my second outing at Annagh and, knowing what was in store, I approached it with more trepidation than would be normal for me before an IMRA race. Last year, on the first stretch of the course where one can break into a gallop, I took a tumble and ended up with two nice bloody knees. And add to this that I found it, in general, the most challenging IMRA course I'd ran, by a country mile.
Sitting on the DART en route to Greystones, to connect with my lift for the day, the rain poured down and added to the already significant sense of forboding. My lift to Annagh was Mr Andrew Hanney, brother of Race Director Mick. Sometimes you "luck out" with carpooling and today was one of those days - A soundtrack of Thin Lizzy and Soundgarden was a welcome surprise and helped me get in a more relaxed mood pre-race.
Starting off at a nice easy pace, I was almost immediately surprised by the zig-zagging route up the hill, which replaced the interminable slog along the wall from previous years. I daresay I found this part of the route a little easier than last year. I ran where I felt I could and hiked the remainder and soon made the summit.
It was somewhere around this point that I gave my knees a good clatterin' last year and I was mindful of avoiding a repeat of this. Thankfully his year, they survived the course intact. It is indicative, I think of the challenging nature of the Annagh course that this relatively level stretch of the course is still not without its challenges. Runners need to navigate their way around two large puddles at this point which, in truth, are more like mini lakes. All part of the fun.
Soon after this comes a treacherously slippy descent. Recalling it from last year, I had told a few Annagh debutantes that it's so so bad that you'd be as well to just slide down it. I'd forgotten quite how literally true that statement actually was. I remember remarking to a fellow Gaeilgeoir IMRA runner at this point "S'é seo an spraoi" - "this is the fun part."
The Sisyphian struggle back up the hill at this juncture is the part of the Annagh experience which was emblazoned on my mind from last year. Situated where it is along the course, after numerous other energy-sapping challenges, it can be a cause for wailing and gnashing of teeth, even among battle-hardened veterans. I kept it going slow and steady all the way, grabbing the trees alongside so as not to fall backwards. I made the summit and thought "phew... that's the worst of it out of the way."
After more assorted rocky and muddy terrain, I was back at mini- Loch Dan and Loch Tay again and feeling that the end was in sight. I noticed a big bunch of frog spawn in one of these mini-lakes. It's great when an IMRA run covers ones fitness needs and also doubles as an education in naturalism.
The thought of galloping back down the side of Annagh towards the finish entered my mind more than once over the course of the race and, when it came, I was not disappointed. My running technique has improved with a few years experience, but how recklessly fast I'll run down steep inclines is largely dependent on how fired up and in the mood I feel. At Annagh this year, I felt very much in the mood and I went for it. I clattered down the zig-zags about as fast as I possibly could have, dug deep to sprint the final stretch and finished the race feeling kind of euphoric. I tend to finish any race around the middle of the field and I don't see myself being top-level any day soon, but I'm happy when I run a race well within my own capabilities. I felt I'd done as well as I could and had really enjoyed a race I'd approached with some degree of dread.
Annagh is a race deserving of its slightly notorious status. It is undoubtedly one of the toughest, if not the very toughest IMRA race. But then none of us do this stuff because it's easy, do we?
Annagh Hill
13 March, 2017 - Barry Murray
Maybe we should call it "The Beast of Annagh Hill"... or sometime to that affect. It's probably one of the most technical races around. Mick is right in saying "not for beginners" , although its a shame it doesn't get more numbers. Having said that, I've been racing mounting/trail races for over 10yrs, and I still nearly killed myself a couple of times.
It ain't that far away either if that's what puts people off. Down the motorway in no time and then it's a short drive into bandit country.
I was really looking forward to this race because of its difficulty, the fact I took a wrong turn last year and missed the finish, and how the longer "distance" suits me better.
However, and its what I love about the IMRA races , I got taught a few more lessons. Being a good runner, is only one skill needed if you want to do well at these type of races. You also need to be a good climber, descender, but a good steep climber and descender also, then a good plodder on soft ground, a good trail, rock, wood and leaf runner, a good jumper, a good crawler, maybe a good navigator.... probably a few more skills to add this list too.
Point is, you may do well on one course one week, then not so well the following week on another course. Annagh Hill probably tests you to most on all those skills. So it really allows you to pick out your strengths and weaknesses.
A proper soft day out too so conditions were very wet underfoot. I have inov8 trail talons on. First mistake. Really you need sometime like x-talons or mudflows for a course like this. Maybe another skill you need to have - shoe choice. I wanted to stick to my usual ploy of starting "sub threshold" and then building into the race. I probably even started a little too fast was Bernard was behind me on the first climb. My club mate Torben was off leading at the front so he was off on a fast pace which I thought might hurt him later.
The race literally has no easy bit. Every single step needs attention. So you can't really get into a groove of any consistent pacing. I'm better when I can get into some sort of groove and maintain the pace. Others are actually better at more up and down pacing. Up over the first summit and Bernard was just ahead of me with Pat Foley, Torben and English Andy. I have big heavy feet behind me on the mucky trail section along the fence. The first big puddle and I followed Andy around it. John Bell took the wiser option and went through it and came out ahead of us. Onto the the descent of death.... and I was slipping with my not so grippy trail shoes. Alan Ailing then bounced down by me. This sort of course suits him with his good steep climbing and descending skills. Maybe from the mountain biking ! I was still crawling down and young Bell, Peter skipped by me.
Out onto the fire trail at the bottom and I wanted to turn over the legs to gain back a few places. By the time I got to the bottom of the big climb, and I could see all those ahead of me lined out... Pat, Bernard, Torben, John, Alan, Andy and Peter. The hill is real killer, You almost feel like falling backwards sometimes its so steep. I slowly passed Peter and gradually started to close in on Torben and Alan and Andy.
Finally off the climb and its another slow gradual mucky plod back up to the fence line. I had Andy just ahead of me and Alan a few more yards ahead. Torben had moved on into the mist. Again, I usually feel good on the back end of races but not for this one. The climbing and terrain were not allowing me to get into a consistent run. Mick mentioned that there were big puddles that he wasn't sure of the depth. Well I found out for him as I fell into the big pool by the barbed wire fence and fell in up to my waist. Couple of seconds lost but no big deal. Alan fell the other way and cut his hand badly on the barbed wire so I got off lightly. I did eventually catch and pass Andy just as we were approaching the last big descent.
Onto that last downhill and I knew I wasn't going to be able to fly down like a mad man. Andy did though, fair play to him, and he flew by me on the rocky descent. At this stage I just wanted to finish in one piece. I did think if there was another 1-2km of fire trail that I could catch Andy and maybe Alan but there was only a few hundred metres to the finish.
Crossed the line and we all had fairly muddy grins on our faces. Great course and a real tester. Hats off to Bernard for taking to win. John Bell and Alan Ayling were men of the match I think. Like I said, a race like this tells you what kind of runner you are and puts manners on you. Fair play to Mick to keeping this one on the calendar. All wannabe mountain runners need to do it !
Roll on Maulin....
A race director perspective
12 March, 2017 - Mick Hanney
c 60 runners took part in this years Annagh hill race. The event has been on the calendar a no. of times over the years and it evolved into the route that was ran last year which was largely the same this year. I've race directed before and got comments around the events being too traily, so the 2016+ Annagh was designed to be the opposite of that. To be a real challenge with a lot of offroad running, tough hills, fast descents and some muddy fun. Its designed for the experienced runner. That message was adhered to for the most part. There was at least one runner I think making an IMRA debut yesterday. They'll remember it for good or bad!
Low cloud, mild conditions and light rain starting off but the rain largely cleared for registration at the Gap pub. We are lucky to have ready access to the pub so close to the start/finish line.
The previous day Andy Trafford and Keith O'Shea had been out on the hill for a few hours marking the course. Keith marshalled on the course too, then demarked.
Registration ran smoothly enough, then the race was set off pretty much on time and the non-running volunteers had the luxury of being able to adjourn back to the pub to relax as winning time was expected to be around the hour mark.
So we had some very relaxed volunteers which is no bad thing.
Bernard Fortune was first to appear unchalleged onto the fire road for the finish. He was followed home by John Bell and Pat Foley in close succession having had a hard fought race back along the ridge.
First lady home again this year was Becky Quinn. Full results will post soon enough I hope.
More race reports from those on the hill would be welcome. Some great performances in todays race. John Bell's 2nd place in particular. Andy Trafford was near top 5 which was brilliant, especially considering the ground he covered on the hill the previous day. Local knowledge obviously paying dividends. Some of the veterans showed us how to dig in in tough conditions. Jane Porter and Caitlin Bent, hats off to you. Jane was telling me she took a diversion and managed to do another descent and ascent to add to her race (note to self to look at that for next year).
There was great banter and buzz back at the finish line and at the pub afterwards. The muddy legs at the finish line said it all.
Those that I spoke to were tired but happy with the tough challenge the hill presents. Thanks to the brother Andrew for his photos and video he posted on the IMRA facebook page which shows the difficulty of the hill at the back of the course. Its a comparatively short climb that but when gradients are greater than 20% and the ground is slippy it is hard to get traction and you'll do whatever necessary (grab a stick, or a tree, or use your hands on front of you) if it helps.
Thanks to everyone for taking part, those who volunteered to help and all for contributing to a great day.
Return to The Hill
12 March, 2017 - John Bell
The morning started off as per usual with Peter arriving late to collect me and I still wasn't ready. One day he'll be on time and I'll be ready. We got going at 10:20 and a check on Google showed it only takes 45 minutes heading down the N11 from Greystones I thought it took longer than that, but no and we even had time for coffee pit stop.
Arrived down in plenty of time for registration,which was in The Gap Pub on a pool table. The race start was a short jog across to the forest. Cloud was low so we didn't have full view of what lay ahead, but memories were fresh from last year. Mick gave his pre-race briefing with a few words of caution on the challenges we'd face. There are plenty, on what is not an average league course.
Off we went and initially the pace was ok along the forest track for the first couple hundred meters. No one sprinting off like you often see. On the first climb of the day the pace, or should I say the effort, picked up. This year we didn't go up The Wall of Pain, but instead followed the zigzag rocky track, meaning some small step jogging was possible. I was going at a slow but steady pace in about 10th place. Bernard Fortune went past giving a few words of encouragement that there was plenty of time to make up places later on. Reached the top and onto the undulating track along the ridge and The Plunge Pools. Alan Ayling went past setting a good pace so I latched on and got going. We soon joined Barry Murray. At one of the ponds I found a more direct line that didn't involve wading, where I managed to pass Alan and Barry and set off in pursuit of the runner ahead. Next up was the Fall along the Wall, which involves a semi controlled fall, saloming down through the leaves, mud and rocks. I took it at a good pace and picked up a couple of places. Out onto the forest track I was now behind Bernard Fortune in second. We continued down the forest track to the next challenge, the Leg Burner. Walking with hands on knees was the only option here, trying to not slip too much on the mud. I was feeling the heat here and Pat Foley went past and set after Bernard. Finally, I reached the top and gradually got the legs turning over again and a bit of oxygen in the lungs. I got into a good rhythm not far behind the leaders but they still gradually stretched their lead. Up onto the ridge track I meandering my way around the ponds avoiding a plunge. At this stage I had lost sight of the leaders in the light fog, but I was looking forward to the final decent. It was back down the zigzags on a rocky track, which is quite technical but fast, just the way I like it. A split second glance ahead and I spotted Pat ahead and thought I could close the gap here. At the bottom and out onto the forest road I was right behind Pat. My legs felt ok so I pushed on and I just had enough to get past and keep it going to the finish, managing to split the Wexford one-two. Bernard had a comfortable win starting his warm down by the time I crossed the line.
Afterwards it was back to The Gap Pub for a pizza and prize giving. The IMRA crowd are masters at scrubbing up, with very little sign of the sweat, mud and blood covering from minutes before.
Thank you again to Mick and his team of excellent volunteers.
Alan Ayling
11 March, 2017
Today, 11th March 2017, saw a welcome return of IMRA to the notorious Annagh Hill and convincing wins for Bernard Fortune and Becky Quinn.
I say notorious, because Annagh Hill has a bit of a reputation. And deservedly so. At a mere 454 m, it is lower than Tibradden, Sugarloaf, Derrybawn or Brockagh East. Yet it packs one hell of a punch. Or two.
The old and rightly dreaded initial climb by the wall has been replaced as it was on private land and access would have had to be sought. The replacement was a climb of the final descent, the so-called "Enduro Falls", named after an unfortunate fall suffered by Eoin Keith during the first running of the Annagh race in 2011. 300 metres of flat fire road and a traffic cone marked the right turn in to the climb, which was pretty vicious, but benign when compared to the old wall climb. Eventual winner Bernard began his move through the field from his traditional mid-pack start during this section, apparently suffering just that little bit less than the rest of us.
The climb eventually spits you out onto the ridge and the need to walk is finally replaced by the ability to run – for now. A couple of km of fast undulating trail along the ridge, punctuated by man-eating puddles, it's delightful. John Bell began his move along here with a nifty line around a puddle, a charge that would see him gain a very respectable second place by the end. The ridge line segues into a rather muddy descent, then a sudden turn to the right and all the normal rules go out the window. Running becomes survival, the slippy beech leaf-covered descent is something you love or hate. The sort of stuff the other winter league routes can only aspire to – the stuff of the purists. If you aren't wearing Mudclaws you wish you were.
Sadly all good things must come to an end and you are deposited onto a fire road, a few hundred metres of quick gradual descent and flat, then left into more beech leaves and what looks initially like an almost friendly climb. It lies. It rapidly becomes the uphill equivalent of what we were sent down a few minutes before. It's steep – mercilessly so, but also lacks grip, so your feet slip all over the place. Race director Mick Hanney told me this section was suggested by Bernard Fortune a couple of years ago; Bernard put it to good use today, finally beginning to pull away from Pat Foley, John Bell and local Andy Trafford. Some runners picked up sticks to use as walking poles (no one runs up this thing), some were seen grabbing trees for assistance. Finally it tops out and all earthly happiness is realised in the form of flat ground.
A long gradual climb follows, back through the point we turned off down the mental descent. The field is well stretched out by this stage. After what seems like endless but runnable climbing, the ridge line is attained, the puddles negotiated (well, apparently there were some unplanned depth tests) and runners are rewarded with the incredible descent of Enduro Falls. It's not as nuts as the beech leaf descent earlier, but much longer, and FAST – as fast as you dare. A final 300 metres on the fire road brings matters to a close. John had a go at taking second place from Pat at the end of the descent and won out in the battle for leg speed on the fire road. Bernard was already comfortably home. Becky closed out the women's race a few minutes later.
The Gap pub - a delightul spot – hosted the prizegiving and the traditional post-race craic.
Thank you Mick and volunteers for another super day on Annagh Hill. This really could be a championship race!