Trials for Europeans and Youths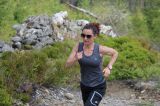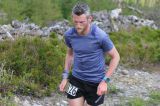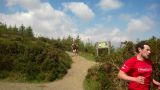 Authors
Trial Results
28 May, 2016 - Gerry Brady
INTERNATIONAL YOUTH CUP TRIAL
The trial race for the Youths was held on an uphill course along the Wicklow Way from Crone Wood. On a beautiful calm and warm day, Alex Hunter (Ratoath AC) and Caelainn McQuaid (Omagh Harriers) ran themselves onto the Irish teams for the International Youth Cup.
McQuaid made the journey from Omagh worthwhile with a 26 seconds win over Dundrum South Dublin's Aisling King with Eva Roche (St. Laurence O'Toole) coming through for third. Close behind her was Lara Gillespie (Blackrock AC) who won the British and Irish trial in 2015 and Aoife Colleran (DSD). Gillespie was too young for selection in 2015 for the British and Irish junior championships and is unfortunately too young for the Youths this year - she has many international selections ahead of her.
The boy's race was an equally competitive affair with six runners bunched close together at Ride Rock. Some of these runners were competing in their first mountain race and when they reached the open mountain and looked right to see the summit of Maulin it must have looked like Everest! Iosac Coleman had lost ground on the leading group on the Wicklow Way but he came through strongly on the climb to the summit to take third just over one minute behind the winner. Jack McCullough (Dunleer AC) ran well for fourth position.
YOUTHS GIRLS (1999-2000)
1. Caelainn McQuaid (Omagh Harriers) 16:59
2. Aisling King (DSD) 17:25
3. Eva Roche (St. Laurence O'Toole) 17:30
4. Lara Gillespie (Blackrock AC) 17:39 (2001)
5. Aoife Colleran (DSD) 17:49
6. Elaine Shannon (Kilmurray Ilbrickane North) 18:39
7. Caoimhe May (Celbridge AC) 18:54
8. Ruby Barlow (DSD) 20:04
YOUTHS BOYS (1999-2000)
1. Alex Hunter (Ratoath AC) 22:59
2. Cian McDonald (Ballyroan Abbeyleix) 23:22
3. Iosac Coleman () 24:09
4. Jack McCullough (Dunleer AC) 24:33
5. Conor Halpin (Blackrock AC) 25:56
6. Brendan McKey (Dromore AC) 26:54
7. Ciaran Quinn (Ratoath AC) 27:09
8. David O'Connor (St. Laurence O'Toole) 27:37
9. Shane Ferris (Celbridge AC) 28:07
10. Finn McGrath (DSD) 31:40
11. Cian May (Celbridge AC) dnf
EUROPEAN CHAMPIONSHIPS TRIAL
The junior and senior trials for the European championships were ran on a short lap with a very tough climb and fast descent. The runners alternated from a hard struggle to keep running to three minute kilometre pace. Heide Murray travelled over from the Lake District and made her declaration for Ireland worthwhile when the Northern Ireland born athlete won the junior women's race. Paul O'Donnell (DSD) had an excellent debut on the mountains when he ran with the leading men early on. However the effort took its toll and he gradually slowed in the second half of the race but still held on for a convincing win. He now has a week to recover for an attempt to win the Irish schools steeplechase title. The DSD duo of Mark Molloy and Ruadhan O'Grada ran together early on before Molloy pulled away.
Sonya McConnon (DSD) built on her good run in the Wicklow Way relay to win the senior women's race from Emma Donlon (Metro St. Brigid's). She opened a gap early on and gradually extended it over the gruelling three lap race. The senior men had five laps and Brian MacMahon (Clonliffe) led from start to finish. Seamus Lynch (Newcastle AC) and James Kevan (Clonliffe) held him to around 20 seconds for most of the race before the gap opened more on the last lap. Mark Ryan (Rathfarnham) was making his comeback race after an extended period off through injury. He had the hardest of races with Andrew Annett (North Belfast) and Brian Furey (Rathfarnham) on his heels for the five laps but he held on for fourth.
JUNIOR WOMEN
1. Heidi Murray (Lancaster & Morecambe) 16:28
JUNIOR MEN
1. Paul O'Donnell (DSD) 30:14
2. Mark Molloy (DSD) 30:51
3. Ruadhan O'Grada (DSD) 33:15
SENIOR WOMEN
1. Sonya McConnon (DSD) 33:20
2. Emma Donlon (Metro St. Brigid's) 35:55
3. Judith Poynton 40:56
4. Helen Weir (North Belfast) 42:32
SENIOR MEN
1. Brian MacMahon (Clonliffe) 45:30
2. Seamus Lynch (Newcastle AC) 46:05
3. James Kevan (Clonliffe) 46:11
4. Mark Ryan (Rathfarnham WSAF) 46:42
5. Brian Furey (Rathfarnham WSAF) 47:13
6. Andrew Annett (North Belfast Harriers) 48:24
7. Alban Coughlan (Crusaders AC) 49:54
8. Naoise O'Gibne () 55:36
9. Gerard Maloney (St. Paul's) 55:37
10. John Buckley () 58:09
11. Lorcan Fagan () 61:13