Stone Cross to Lug Solo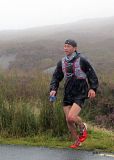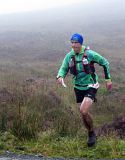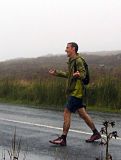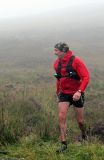 Authors
Andre Van Barneveld
06 September, 2016
Stone Cross to Lugnaquilla Race Report
After completing the first 3 races in the IMRA long distance champs this year, I was determined to complete the last one on the 3rd of September, the Stone X to Lug race. The race I had enjoyed most this year was the glacier lakes race for the combination of challenging terrain mixed with the navigational options so I expected Stone X to Lug to be similar to that.
One thing that had bitten me badly in previous races was the lack of recces to learn the route before race day so I went on a few longer runs on the route to make sure I knew the way. I had struggled for a long time after the 130km Wicklow Way race but was just coming right in time for this one, still worried about my right Achilles which was still twice the size it should be but as it turned out, all that was no issue on race day.
The forecast for the day was terrible, pretty much hurricane winds and torrential rain forecast but I was surprised to wake up to a nice enough morning, I was delighted as my use of a compass isn't great, but by the time we lined up for the start it began to rain.
The start was very low key which is always good to keep nerves down and we all took off towards the first summit, Seechon and on to Corrig. Heading along from Corrig, I looked behind me to see my mate Andy not far behind so I slowed to run with him and from then on we ran the whole way together.
Leg one to the Sally Gap went without a hitch, through the check-point in just under an hour and 45 minutes and we set off up to Carrigvoher summit. The weather had by now turned quite nasty, visibility was about 20 to 40 metres and it started getting quite cold. Andy had a laminated map with all the directions notes on it from each summit so I left my maps and compass in my pack and just went with Andy's route choices, probably a good thing or I might still be up there now, at one point I was about to head down the way we had come up without realising, I was very thankful for Andy's sense of direction!!
At the top of Mullaghcleevaun, I was so cold I couldn't feel my hands and was worried that if this continued I may have to retire at check point 2 to avoid hypothermia, was feeling quite unwell with the cold but luckily, with a change of hats, I came right in the next section to the top of Tonelagee as we got out of the wind again.
We had done really well up to this point avoiding most of the worst peat-hags but had cost ourselves quite a bit of time having to keep checking the navigation and correcting the direction. Check point 2 in around 4 hours and 40 minutes, about half an hour behind my target had the conditions been better but good enough for the day that was in it. Next came the long slog up Turlough and on to Conavalla. We decided to keep taking fairly direct routes, choosing to descend and climb a little more rather than try and follow the ridges around. We lost a bit of time here and there before finding Table Track but once on that it was easy navigation to the top of Lug and to the finish.
Coming down off Lug we dropped below the cloud again and it warmed to the point that the hat, gloves and jacket came off now, stunning views over the valley, spectacular way to finish this race.
All in all the run itself went very well for me, I probably went a little easier pace then I would have gone on my own but running with Andy had probably saved me several kms (and an hour plus in time) through his navigation. We had both fallen several times, gone into peat hags up over our knees, done around 53.5km and near 2500 metres of ascent running mostly on heather and bog but absolutely loved the experience.
Somehow on leg 2 we had passed a few others and 2 runners had dropped out at check point 2 so we had finished joint 3rd place in 8 hours 15 minutes which was a huge bonus. The navigation and conditions had really determined the results on the day, super run from Barry Hartnett to finish first in just over 7 hours!! And Liam Vines in second in just over 7 and a half hours, and all that completed the course or part of it, was a tough ultra in tough conditions. Thanks to Torben, Tanya and all that helped out, that was a huge sacrifice to be out there for us from 7am to 7pm in terrible weather, super job done by all.
4 out of 4 long distance champs races completed, by my calculation should put me into 2nd place for the IMRA LD champs and first over 40 so delighted with the result in my first year of ultras, can't wait for more.
https://connect.garmin.com/modern/activity/1336428511
Graham K. Bushe
04 September, 2016
Well, that's it. 4 out of 4 Long Distance Championship races completed. It's hard to believe that SCL 2015 was my first ever Ultra. But what a difference the weather makes...
Recently, I was on a recce with some of the lovely folk from IMRA. I was asked how I was feeling since the Wicklow Way Solo back in June. To which I truthfully replied "Great! The bubble never burst." My good pal Liam turned, looked at me, and said "It will". Just that, 2 simple words.
Today was that day; except this was no bubble and not a simple 'pop' it was more like a Blow-out on the tyre of a monster truck!
The race started in the normal IMRA fashion, friendly chat, instructions from Torben (RD) and we were on our way. Quite interesting start though, almost (though not quite) like a sow bicycle race- no mad dash for the lead (with the exception of 1 relay runner). For me leg 1 went quite well. Despite the rain, visibility was quite good as far as Kippure (the opposite of last year) but it came in fast and thick just as I was leaving the peat hags on my ascent. I found the fence and touched the trig point with Liam. In 2015 I hadn't done my homework and made a mess of my descent from Kippure, this year was much better. Feeling great coming into CP1, I grabbed my drop-bag and kept going, but for some strange reason decided to pocket my food rather than put it in my back-pack. The weather created more than its fair share of navigation difficulties for me. (I had actually recced Leg 1 in heavy mist, but legs 2 & 3 in good weather.) I was therefore using the map and compass quite a lot. No harm in that, until I realised that my pocketed rations were gone! (NOTE: use separate pockets) I was constantly correcting my route and felt like I was adding on unnecessary distance (not god for the head) and my stomach began to growl. I ploughed on though, but losing a little pace all the time. As I came off Mullaghclevaughan I picked up the pace again and was flying but unfortunately drifted off to the right. Tired and hungry I started the now extra-long climb up Stony Top. That's when it all eventually caught up on me. My body just said "That's it, I'm done for today, I want to go asleep... NOW!" I was barely able to stand. Normally when I run out of steam, a bit of a walk helps. This time even walking was a no no. 2 steps, rest, then another 2. At one point I was on my knees and elbows, my body begging to sleep, I closed my eyes for a couple of seconds. It felt good, then I started to feel dizzy. Not good, so I decided that somehow I was going to have to get to checkpoint 2. And in the back of my mind, though it was pushing forwards strongly, was the knowledge that I had Stony Top, and then Tonelagee to get over first! Don't ask me where I found it, but somehow I managed to get over. I tried to push on again on the descent to the car park, but just couldn't. It was game over.
I dragged into checkpoint 2 and went in desperate search for my drop bag. When I turned around I was met with a concerned look on Torben's face. Would you like some Coke? And have a sit in the car. I did, and wolfed down my tried and trusted Trail Mix (from Tesco) and a gel. Within minutes I felt human again. Like the boxer almost defeated, ready for one last round! When the RD gives you a whole bag of jellies, rather than just a handful, it should tell you something... Leg 3 seemed to go fairly well, though I'm never quite happy with my descent from the Communications Hut last year ending up beside Lough Firrib, this year thankfully not as far out but I did manage to throw in an extra little summit for good measure. However the spirits were high when I met Table Track at the sign-post. All the way to Lug feeling good. Last year I descended a bit too far right, alongside the warning signs. I made a conscious effort to find the path and wheeled off to the left at about a 45 degree angle, and there it was. Superb all the way to the finish. This year... just at the crucial moment the mist was at its heaviest, I decided to go in search for the path higher up. I found it and pushed for home. Down, down, down I went then I was into an expanse of sticky wet peat. Across and up I went not remembering a climb like this last year. I stopped and looked at the map, thankfully the mist lifted. But then I realized that I was happily making my way up Slievemaan (maybe it's an omen for Tipperary's hurlers. Will Croke Park be blasting out 'The Valley of Slievenamon'?) At least it remained clear and I tacked my way across the valley and back to the track finally finding the path I was supposed to be on and continued running to the end.
What a day. 10hrs 02minutes, so much for shaving time off last year. But like I said, what a difference the weather makes, and wrong turns, and lack of food. Today's achievement, for me, was pushing through that tough spot and somehow managing to keep going.
Well done to all the runners today, a tough race in challenging conditions.
And a huge thanks to Torben, Tanya, David and everyone who helped out, once again giving us all an experience we are unlikely to forget for some time.
Graham
PS I'd like to look back over the route I took (for a good old laugh), but sadly my watch couldn't cope with the conditions, despite its claim to be waterproof. I suppose it didn't say Irish weather proof :)