West Dublin Peaks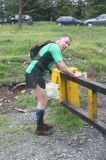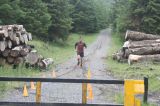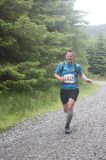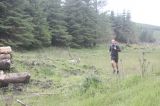 Authors
Paul Joyce
18 June, 2016
IMRA are the best sports organisation around. I hadn't ran a race in a few years (but the itch is always there to be scratched), sat at home browsing last night and chanced the West Dublin Peaks race... I could buy 2016 membership online, and hope for entry from a spare voucher...? Within minutes I had several offers, on the forum and via email, thanks for the help guys! Now I needed trail runners that had been festering in a long forgotten kit bag. Would I go with the 2007 Mudclaws (good grip but still need to scrape bits of Mount Leinster 2008 from them), or the discarded NB Minimus (still reeking of Eau du Circuit of Avonbeg 2010)? In the end I chose stench over "leave no trace", which made for slips in the mud, and ouchies on the small fireroad, but no-one seemed to complain about any smell so I think I got away with it.
Reg was a cinch- the hard work by Ken (and his team) being done out of sight, we turned up and everything was made easy. A good briefing, which finished with a suggestion that it was now 10:00 so we could go- "can we go?", "ye can go", and off we went. Soon off the fireroad onto a forest ride that several seemed to be taking as a shortcut. When in doubt, do what those in front of you are doing, and we soon ended up in a mass of cut trees. Some battled through, I figured my ample girth would be better served by retreating and regrouping... soon out of the forest and onto the open side of Seehan. The ground wasn't too bad, but it couldn't be described as dry. I walked from an early stage for the uphills, and revelled in chasing time on the downhills. Touch the trig (was Seehan the pillar surrounded on all sides by a moat that ensured wet feet from the get-go?), and on to Corrig. Fun running down, but any saddle today was going to sap the energy from legs. Touch the mound, and on then to Seefingan. Personally I enjoyed the downhill here more than I've enjoyed any downhill in years- you could let go without fear or falling.Up to the mound, and then on to retrace steps, and onto Kippure.
The road to Kippure was a dance, a dance where you partnered with peat stacks, and the steps were route choice. I'm sure most runners managed to pirouette with grace and form, but my dance was an end-of-night knee-trembler in the hope of a drunken shift before going home, soundtracked with the squelch and suck of heavy feet sinking deep and often. Still, thats why we are here early on a Saturday instead of still in bed. Its life-affirming and reminds us of the muck from whence we came. It was a long slog to the the Kippure trig point, but now we had route choice back to Corrig... how far to drop, what distance to risk across wet ground? I was lucky in that I could spy others route choice, and this coupled with a trusted bearing meant I took an optimal route to Corrig. A few battles with terrain and stacks, but distance saved by taking a contour (Garmin says 19.9k overall route, perhaps others did better?). The legs were feeling it by this stage, and all hope of chasing those ahead had long since gone, in favour of just getting home. Corrig and Seehan were mounted again with a lot of walking, before the drop down to the finish.
Delighted to have once again dipped my (triathletes/OW swimmers) feet into the hill running scene again, its always a blast. I'd say it was good to catch up with so many people again, except that might be mistaken for a race report, and there was very little catching up being done during my race ;) Thanks to Ken for such seamless organisation, to Eoin, Miriam, and the rest of your helpers for keeping the show on the road, to James for donating a voucher, and to the multitude of kids standing on timber piles at the finish to remind us its not always safety first, sometimes adventure is more important!