Sorrell Hill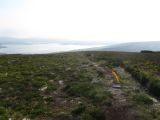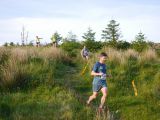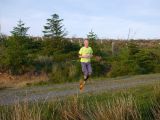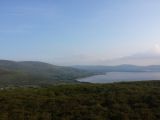 Authors
Charging for passengers?
03 July, 2016 - Brian O Murchu
I had been threatening to tailgate Mikey Fry all year, and it wasn't until Sorrell Hill that I was in good enough shape to do it. Although I almost lost my pacesetter early on with Mikey going head first over the fence up the first ridge. To answer Mikey's question of why did nobody laugh? At that stage the two of us had a gap on the field (with Des already almost out of sight ahead).
We shortly had a second fence to navigate but this one going through the middle with the wires held open by Jason D. There was no incident on the second fence, and once we were on the downhill section off the first ridge the ground was noticeable dry. Previously when I've done this race, the line one picked on this section made a big difference as it was v wet in places, but not this year.
As we were facing a headwind, I decided to stick to my pacesetter. A group of 4 went past us in a wave. I thought me and Mikey would make that group 6, but not so. I was happy to let them go as we still had the steep climb up Sorrell Hill to come. When we were half-way up the steep section I tried to pass Mikey, but he was having none of it and speeded up. It was like there was an invisible elastic band between us, without more than a meter separating us from the start line to the summit. I tried to run alongside Mikey for a bit to put him under some pressure. It didn't seem to work, so I tried some psychology and suggested to him that he should charge for passengers....
Still climbing on the steep section, Niall Lynch & Mark Sheridan both went by us in another wave at speed on the steep section as if it was flat. Niall went on to catch and pass the earlier group of 4 to finish in 2nd place.
Once we got to the summit, the elastic band between me and Mikey was broken and he disappeared out of sight ahead on the descent. Then Warren caught and passed me. Having done so well to the summit, I was starting to get disheartened by the descent. Another runner then caught and passed me:( With this being an out-and-back course, a number of runners ascending gave me a cheer as I came the opposite way which helped boost my spirits. Once off the steep descent, I was able to get going again, catching and passing one runner. As we got back to the first fence I wondered if Mikey would use the same method of head-first over the fence...if he did I'd have a chance of catching him. Unfortunately for me, he didn't and stayed ahead to the end. Coming down off the ridge there is some fantastic views of the lakes surrounded by hills...if one has the chance to glance up.
I quite like the last fireroad section, as it is really fast and finished for the first time in the top 10 at a LL race since 2012 -only in Olympic years! Although I feel I'm getting worse at the descents instead of better....
Heat.....
09 June, 2016 - Mikey Fry
Ok is it possible to fall over the first fence well I tripped/fell/dived/snotted/face first into the ground and I didn't her any laughter from behind what's wrong with you people it was very funny....