World Long-Distance Championships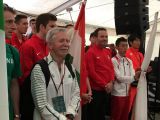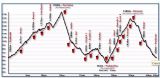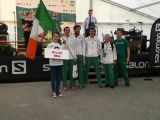 Authors
Dark Side Of The Mind - The World Long Distance Mountain Running Champs
14 July, 2016 - Ian Bailey
'You lock the door and throw away the key, there's someone in my head but it's not me'
Pink Floyd - Brain Damage.
Cramp hit instantly, a searing jolt up my calf with none of the familiar tickly warning shots. Leaping high over the slippery jumble of wet rocks provided safety and speed but the repetitive jolts had extended my muscles too far. The German I'd been tearing towards eased away and my mind went into instant overdrive. I'm just 16km into a 42km race, there's at least 1400m of climb and 2600m of descent still to endure. If I back off and simply manage my physical state then I may be able to finish the course but this is the World Champs, I'm representing much more than just myself and it's been an epic journey just to toe the start line. There can be no let up, the World's best mountain runners are biting at my heels and I've invested too much in this, too many hours slogging through the mire of a Mournes Winter. Adjusting my gait I find a half skip that maintains momentum without further physical damage and try not to contemplate the suffering still to come.
Just twelve months ago I was a short course mountain runner, pretty rapid on unimaginably steep terrain but largely unproven on any distance over seven miles. An unplanned sequence of events last season triggered a transformation familiar to many ageing athletes, I discovered an aptitude for the longer stuff and a liking for the protracted suffering of extended physical efforts as opposed to the horror of leg tearing, lung burning half hour sprints. Twenty plus miles of mountain running requires a different approach, still constantly pushing hard but paying much greater heed to signs of physical degradation and playing off the odds of slower initial speeds to guarantee longer term survival. This thoughtful, chess like approach to racing appeals greatly, it seems a more civilized way to suffer and so my pre-season race plans were devised around a totally different set of goals to previous years.
Half measures aren't really in my make-up. Having decided to focus on stamina based events I naturally sought out the race that would provide the greatest challenge. The pinnacle of mountain running is the World Championships and so initial tentative contact was made with the Irish federation to ascertain what the selection criteria would be for the Long Distance Mountain Champs in 2016. The upshot of that found me piling in the miles and battling serious injury over a stuttering, mentally draining but ultimately adequate Winter training block. I've chronicled my unspectacular Wicklow Way Ultra attempt elsewhere. It was an arduous and frustrating experience with a steep learning curve that ultimately saw me meet the Worlds selection requirements by just one minute in 250. Duly chastened by my first ever Ultra I set about guaranteeing that Slovenia would be more positive.
Subsequent training surpassed all expectations, particularly an eight week spell that saw me banging out multiple sub one-hour Slieve Donard repeats for fun, the fastest ever Mourne Skyline, a 3:34 Seven Sevens and all with minimal recovery time between epic mountain sessions and necessary tempo efforts. I rounded off the block with a couple of races to check progress and duly broke my own Slieve Donard race record whilst comfortably defending the most prestigious of titles. A late hamstring pull caused last minute concern but the enforced rest was probably beneficial. I felt physically prepared and whilst obviously lacking pedigree over 26 miles I wasn't overawed by the task ahead or the gathering of so many truly World Class athletes.
The arduous journey to Bohinj, Slovenia took its toll with the final ninety minutes of impossibly narrow and twisting mountain roads compounding the nerve fraying madness of Italian motorways en-route from Milan. It culminated in a vomiting child and a cramping arse muscle but this suffering was countered by the spectacular Alpine environment and the excitement of exploring a new country. The timing of the Worlds, during a pre-planned holiday had presented a unique opportunity to drag my family along. I was unsure whether the distraction would be a positive calming influence or would rob me of focus but having them there was a real joy and hopefully Anna and the boys were proud seeing me sporting the Ireland jersey. The rest of the Irish lads arrived through the Thursday and so we gathered together on Friday to talk tactics and compare eating habits. Although the usual Irish self-depracation was well in evidence as we mercilessly played down our chances I knew that we had a really talented squad. Brian MacMahon, Eoin Lennon and Dan Doherty all have International experience in abundance and an enviable set of top class results in an extremely varied range of distances and terrains. Having competed against Dan and Eoin before and followed Brian's results I knew that I'd have my work cut out living with their abilities but evidently we had a very balanced squad and nobody could predict what order we'd finish in. A Friday evening train journey to the race arena in Podbrdo allowed us a bit of time to scope out the finish area and stare up at the dauntingly steep surrounding cliffs as we guessed which of the distant ridges would form part of the Gorski marathon route. The opening ceremony was predictably entertaining being paraded in front of the crowd accompanied by local school children and a repeat loop of 'we are the champions'. Formalities done we scoffed the available pasta and headed for bed, the familiar mix of excitement and trepidation multiplied several-fold by the unknown nature of the course and the stellar talent of the opposition.
Race morning passed quickly, a 5am jog in already rising temperatures was a portent of the heat to come but I slipped into the standard routine and my automatic pilot landed me on the start line with a few minutes to spare. The opening to the race was a confused affair with a mile long jog through the village behind a pace car. The comfortable speed was a welcoming introduction but the additional unplanned distance certainly wasn't. As we passed under the huge inflatable barrier and over the timing beam the flags dropped and the car tore away, it was time to get down to business, months of prep over and no longer any hiding. This was it, the World Championships, no excuses and no bullshit, just 120 of the best mountain runners in existence and a course that was deemed near impossible by local inhabitants when the Maraton Gorski was originally dreamt up.
The route itself can be summed up fairly simply. Full marathon distance, from the start a continuous 15km climb gains 1250 metres of altitude before dropping about 1500m to the lowest point at kilometer 27. Immediately kicking up again very steeply for another 1250 metre height gain over just 7km it then finishes with an eyeballs out 8km downhill sprint, quads screaming and feet burning, desperately seeking sight of the finish line and the relief of a dip in the river.
I was dreading the first climb. I knew the gradient was too shallow and suspected the tracks too runnable to suit me. I settled into a rhythm aiming to stay close enough to the front third of the race whilst hopefully not burning myself out for later efforts. Initially going well it struck me that my pace would be tearing any Irish races to pieces but instead I saw the first forty runners gradually pulling away, lead by race favourite, team USA's Andy Wacker, the differences between National and International competition perfectly encapsulated in one clear demonstration. Just ahead of me Dan was plugging away with Eoin gaining distance and Brian long gone, he clearly had a slightly less tempered race plan than my own.
This initial effort lasted ninety minutes and passed through some of the most stunning scenery and enjoyable terrain I've ever experienced. My body felt good and I was comfortably gaining altitude through the lower slopes before picking up places in the steep scree of the last kilometer. I'd long dropped Dan who was clearly having a torrid time, form deserting him at the most inopportune moment. He'll be back in international duty again soon enough, defending his top 20 World Ultra distance ranking in October. As the final rock strewn rise degenerated into loose switchbacks I passed Eoin, a friendly word and push on the back greatly welcomed, I can't imagine athletes in other sports often being so warm spirited. There was no sense of relief at topping out that first mountain, just a satisfaction that I'd got it right, my body felt strong and as I sprinted down the technical and broken initial track I picked up a couple more places, no indications of the sharp pain that was so imminent.
As previously mentioned, that initial burst of cramp was a real shock. My body had given no indications that it was suffering and yet just a hundred minutes into a 270 minute race I was in real trouble. A couple of minutes of a shuffling half-step relieved the pressure on the screaming muscles but the mental anguish wouldn't dissipate so easily. This wasn't part of the plan; I'd paced well and am usually comfortable running these distances and elevations in training. Perhaps the continual nature of the climb had pushed me further than anticipated and was compounded by the immediate repeated impact of the tricky descent. I shoved a salt capsule into my mouth and awkwardly forced down a gel, no mean feat when skipping over such unpredictable terrain. Shortly after this I was met by the unwelcome sight of Brian heading back towards me having abandoned the race. His ambitious early pace, dualling with the front runners on the huge first ascent had emptied his legs beyond redemption. Suddenly I found myself as the leading Irish runner, a thought that would have definitely buoyed me under better circumstances.
Missing out on the opportunity to pre-scope a course can be a serious disadvantage. Mentally it's extremely tough not knowing what awaits you around every corner and whilst I'd memorised the course profile it lacked sufficient detail for me to be truly confident. I knew that this descent contained a short rise at some point but was completely unprepared for the length and degree of height re-gain. Without fully recovered legs I crawled through this section, my mental state darkening as I slipped a few places, praying for the recommencing of the downhill. The heat was beginning to play a part by now; sapping and oppressive every time we left the sanctity of the forests. I'd joked with Dan prior to the race about the point of feed stations on downhills and why a 26 mile course had a full eighteen stops but with the fear of cramp and genuine prospect of chronic dehydration I was using every single one. As an inevitable by-product of this re-hydrating I was hit by another unpleasant sensation, I was desperate to wee. Dan had enlightened me about the 'on-the-go' technique sometimes employed during his crazy distance races. Simply lifting your shorts a bit and maintaining stride whilst relieving yourself may be easy to the initiated but I wear knee length compression shorts and didn't want to piss down my leg so decided to suffer on. I had actually trained for this scenario, forcing myself not to go for hours during Mournes epics. The devil is in the detail!
After seemingly hours but actually only a handful of minutes the route descended again and my tough spell finally passed in time for me to speed through the low point where I grabbed a bottle off Brian and another off Team Ireland manager and all round gentleman Leo Mahon. I was surprised to see Andy Wacker there, illness forcing his retirement, but unsurprised to see him smiling through his disappointment, I've never seen him not smiling! The second climb wasted no time in kicking up to a 20% gradient and I glugged back some caffeine drink whilst settling into a rhythm. Although I was now coping well I was disappointed at feeling sluggish. This type of steep terrain is my speciality and would normally see me gaining time and places, even in such esteemed company. I realised that all was still not well with my body and sank into survival mode, backing off to prevent blowing up. With nothing to entertain me but the incessant grind my mind rapidly darkened again. It's at times like this that you really explore the inner workings of your psyche, drawing from more primal reserves to keep moving. I have blurred memories of this epic ascent, a singing marshal, kind words from a Slovenian athlete, having to pull on fixed ropes as the trail was so steep and surprise at being passed by some top drawer athletes who I'd assumed were already ahead. Rising beyond the tree line I finally saw the summit ridge laid out before me with about twenty athletes within striking distance. I can recall shock at still being in touch with so many despite already having three and a half hours of running completed, I'd expected the field to fracture much more. In better circumstances I'd have reveled in the task of chasing them down but the truth is that by that point the result was arbitrary to me; I just craved the relief of the summit. A huge and vocal crowd at the top encouraged me to throw caution to the wind on the final descent and I duly responded, lifting my head from its stooped position and focusing on the narrow strip of rocky track ahead. As with the previous descent I began well, immediately gaining a place but unfortunately another facet of that previous descent then took hold with the worst bout of cramp yet. This time finding a comfortable stride proved near impossible and I had to ease off and simply see it through whilst frustratingly losing more distance and time. As before, the contracting muscles ceased their most noticeable complaints after a few minutes and I was able to focus on the task of finishing with a bit of pace and pride. This last drop proved to be a highlight as although the cramp had robbed me of the chance to gain many places I was absolutely flying for the last five kilometers. I passed a Ukranian after a short tousle and then flew past a Japanese athlete as if they weren't moving before fixing my gaze on the Dane about 200m ahead. I was rapidly eating into his lead and having scoped this final kilometre I knew I'd be able to pass him shortly before the finish but a familiar tension was brewing in my calves and faced with the prospect of having to limp over the finish I gave up the doomed chase in order to finish in the style this race and my waiting family deserved.
Sprinting down the picturesque final slope, adjacent to the Alpine stream and beautiful ornate water wheel towards an animated crowd lacked the emotion it deserved. I was mentally and physically drained and craving the relief of the finish overrode any other feelings. It was only after a few blissful minutes pouring water on my head, sat in the river and chatting to family and fellow athletes that the pride and satisfaction began to blossom. I'd finished the race in 39th place, first Irish finisher at 4:24:33. It had been a monumental effort, exploring my physical and mental capabilities way beyond expectation for a course with those statistics. I'd anticipated a tough day but am more than capable of covering 26 miles and 2800m of ascent and descent without ever requiring that degree of soul searching and gut wrenching. Eoin crossed the line just under five minutes after me in 43rd place; he too had suffered exceptionally, particularly given his undoubted and proven talent over greater distances than the Gorski Marathon route.
I didn't hang around long beyond a few thankyous and handshakes, we had a family holiday to commence and I had plenty of time to digest and analyse the race in the lengthy drive to Lake Garda where a chilled Belgian beer and a chilled Belgian friend awaited.
So what's the verdict? Overall I'm pretty delighted, 39th is a big improvement on 81st at my last World Long Distance Champs in Colorado two years ago. Even more satisfying is the fact that this was only my second ever marathon distance race and experience and miles in the legs count for a lot over longer distances. I was only four minutes off the top 30 and twelve minutes off the top 20 in amongst some very classy athletes and I feel that with a bit more specific training I should be in that World's top 20, not bad for a 38 year old who's only been mountain running for five! We spent the next three weeks enjoying the best of Italy during which I trained hard and discovered the only way to counteract that drained feeling is a constant flow of electrolytes rather than excess fluids to get past the sluggishness and unlock the underlying fitness. I'll store that knowledge for next time.
Representing internationally is always a great experience and one that I'm immensely proud to do. I came to mountain running relatively recently and so reaching this level and being offered these opportunities is slightly bemusing at times. Knowing the sacrifices I make in terms of diet and lifestyle whilst dragging out the motivation to train endlessly in often trying conditions makes me eternally appreciative that there are other like-minded people doing the same thing. Without fellow athletes to compete against I'd never have the chance to push myself so hard and explore my own weaknesses so thoroughly. The dark side of the mind is a difficult place to dwell but visiting occasionally is a powerful drug, enticing you to seek the next challenge and further discover the limits of your capabilities. I can fully understand why athletes are compelled to continually push further and harder in search of their breaking points, who knows where it will take me next?
Huge thanks to my fellow Irish athletes Dan Doherty, Brian MacMahon and Eoin Lennon as well as our excellent team manager Leo Mahon who made the Worlds such an enjoyable experience. Thanks also to Gerry Brady and all at IMRA as well as the organizers of the Gorski Marathon and the WMRA. It was an excellent event, really professionally run and as ever the World Federation looked after us well. Time now to get back to the Mournes and prep for a big record attempt.
Bailey leads Lennon home
18 June, 2016 - Gerry Brady
Bailey leads Lennon home
The WMRA long-distance championships were held over a gruelling 42 km course with 2,800m climb and descent in Slovenia in mid-June. Torrential rain the nights before the race combined with thunder changed underfoot conditions and made a very difficult race more difficult. The race was extended by five kilometres compared with when the race was last held here in 2011 resulting in longer winning times of 22 minutes for men and 27 minutes for women.
The Irish team comprised Brian MacMahon, Eoin Lennon, Ian Bailey, and Dan Doherty. With the first 15 km uphill it was no surprise to have the leader Andy Wacker (USA) pass through the 7 km checkpoint in 79 minutes. What was surprising was his lead of two minutes which eventually took its toll as he dropped back through the field. Leading Irishman was Brian MacMahon in 85 minutes and 16th position. This was only 84 seconds behind the eventual winner. Brian was followed by Ian Bailey in 1:29:44 (32nd), Eoin Lennon in 1:30:45 (39th) and Dan Doherty in 1:32:13 (44th). At that stage Ireland were 8th in the team placings and a good result looked likely with all four runners within 15% of the leaders.
The long first climb was followed by an equally long descent. Unfortunately for the Irish Dan Doherty and later Brian MacMahon pulled out and only two runners passed through the 28 km checkpoint. Ian Bailey was in 33rd and Eoin Lennon in 44th and they held those positions to the finish. Up front Alessandra Rambaldini (ITA) came through for victory from his teammate Marco de Gasperi (ITA) and local Mitja Kosovelj. Annie Conway (GB) came through very late to snatch victory from long-time leader Antonella Confortola (ITA) with local Lucija Krkoc in bronze.
Individual Men
1. Alessandra Rambaldini (ITA) 3:44:52
2. Marco de Gasperi (ITA) 3:46:12
3. Mitja Kosovelj (SLO) 3:46:33
39. Ian Bailey 4:24:35
43. Eoin Lennon 4:29:30
Team Men
1. Italy 11:32:19
2. Great Britain 11:37:43
3. Germany 11:56:57
Individual Women
1. Annie Conway (UK) 4:29:01
2. Antonella Confortola (ITA) 4:29:58
3. Lucija Krkoc (SLO) 4:30:43
Team Women
1. Italy 13:48:18
2. Slovenia 13:59:51
3. Great Britain 14:04:02
MEN (top 10)
1, RAMBALDINI Alessandro, ITA, 1:23:36, 2:17:09, 3:18:20, 3:44:52
2, DE GASPERI Marco, ITA, 1:21:08, 2:13:08, 3:18:06, 3:46:12
3, KOSOVELJ Mitja, SLO, 1:21:07, 2:12:10, 3:18:39, 3:46:33
4, OWENS Tom, GBR, 1:23:33, 2:15:37, 3:22:06, 3:49:34
5, HOFFMANN Benedikt, GER, 1:21:36, 2:15:52, 3:20:29, 3:50:42
6, LIGHTFOOT Ricky, GBR, 1:23:40, 2:18:17, 3:25:53, 3:53:30
7, SWIERC Marcin, POL, 1:27:28, 2:20:49, 3:26:47, 3:53:32
8, NAEGELE Lukas, GER, 1:23:29, 2:17:10, 3:24:42, 3:53:48
9, DAVIES Andrew, GBR, 1:23:29, 2:17:10, 3:24:10, 3:54:39
10, JANATA Milan, CZE, 1:25:32, 2:21:08, 3:25:46, 3:54:43
39, BAILEY Ian, IRL, 1:29:44, 2:29:03, 3:51:34, 4:24:35
43, LENNON Eoin, IRL, 1:30:45, 2:34:35, 3:57:05, 4:29:30
72, MACMAHON Brian, IRL, 1:25:00
73, DOHERTY Dan, IRL, 1:32:13
WOMEN (top 10)
1, CONWAY Annie, GBR, 1:38:34, 2:43:14, 3:57:10, 4:29:01
2, CONFORTOLA Antonella, ITA, 1:34:51, 2:39:03, 3:54:07, 4:29:58
3, KRKOC Lucija, SLO, 1:36:44, 2:39:03, 3:58:00, 4:30:43
4, IACHEMET Francesca, ITA, 1:41:23, 2:45:14, 4:04:39, 4:37:37
5, GRIFFIONEN Nicolette, RSA, 1:43:01, 2:50:00, 4:06:55, 4:39:16
6, FREITAG Karin, AUT, 1:39:02, 2:46:41, 4:01:36, 4:39:54
7, ZIPSER Katharina, AUT, 1:41:03, 2:47:21, 4:03:37, 4:40:09
8, KIMMEL Megan, USA, 1:35:27, 2:41:22, 4:02:59, 4:40:28
9, CARDONE Debora, ITA, 1:39:51, 2:42:53, 4:08:45, 4:40:43
10, BRATINA Jana, SLO, 1:40:43, 2:45:15, 4:06:22, 4:40:47