Carrauntoohil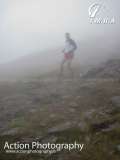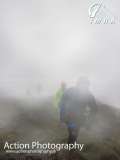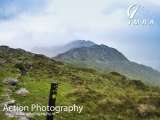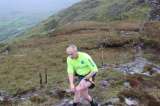 Authors
Brendan Lawlor
11 June, 2015
Eagle eyed readers will notice that Mick Kellet made his final trip up his beloved Carrauntoohil at this race , taken there by his loving son Derek. The highest point in Ireland was a very fitting resting place for Mick's wild mountain spirit - remember this remarkable man any time you visit that cross. May he rest in peace
Mick Hanney
03 June, 2015
Arrived down in the Bridia valley in good time to a rapidly filling car park. The weather was looking decidedly iffy and the journey across from west-Cork where I overnighted was one of sun and showers in equal measure with the reeks not visible behind cloud. Not the best conditions for a championship race but you take what you get.
The race registration appeared to have quite a few new-to-IMRA runners doing a first time registration. Not the most ideal race to be doing your first hill race.
As we gathered at the start line there was a light breeze and a bit of a shower. Most people opted to start the rain with their jacket on, which was the right call.
After a minutes silence to remember those that IMRA lost during the year we set off steadily up the Kerry way. Diarmuid, Jason and co. led away and they were soon dots on the hill to the rest of us, inching our way along on soft ground. It was evident from the early running that the underfoot conditions were going to be wet whatever about the weather.
We progressed to the stile on the Kerry way and turn right up along the fence to face the first sign of low lying cloud on the hill as we faced up towards Curraghmore. Along the fence line there were patches of wet and deep vacuum-like bog.
The higher we trudged the stronger the wind gusted and it was becoming evident that we were in for a tough day. Visibility reduced and rain started to fall, first in a light shower, but it got progressively heavier and horizontal. At one point in the journey the rain felt like hail as its cold stung the skin. As I walked/jogged I tried to put on my buff and gloves, from my bumbag. Not easy when the wind is trying to pull them away from you and the fingers are getting progressively numb, but felt better with them on.
It was difficult to make out the shadowy figures around on the climb up. John Dempsey and Sam Scriven were in close attendance. With others unknown a bunch of us stayed roughly together all the way up past Curraghmore and towards Caher. All the while the visibility reduced to between 20 and 30 meters. The wind was spiralling around a bit, it was hard to figure out its true direction.
At one point on the climb up I was wondering if they would consider turning us back before the main peak. Secretly I was probably hoping the course would be shortened, but no chance! During the climb I notice Barry Moore jog past climbing well to move ahead in the gloom. I wouldn't see Barry again until the finish line after he had a good day in the hills.
Onwards and upwards towards Caher and the wind gusted stronger. I lost ground to my group on the way over to Carrauntoohil as I erred on the careful side taking slower lines along the wet rocky path. Grip wasn't the best either in these conditions, so there was a bit of slip and sliding going on. Quite a few walkers on the hill despite the conditions. They must have thought we were bonkers. They were right.
Shadowy figures started to appear heading back in the opposite direction. Was that Jason? Diarmuid. Tom? Bernard. After that the figures were more blurry with the odd exception, Alan Ayling running well.
Turning around at Carrauntoohil's reinstated cross and shouted the race no. to the cowering marshalls (fair play to them, as at least we were moving to stay warm). Now back towards Caher.
Along this section I found myself running in a mini-group with Ger Griffin, Jenny McCauley and John Dempsey. It was around the cairns of Curraghmore, in bad visibility that our group collectively veered too left and ended up on unfamiliar ground. Between the jigs and the reels we lost a few mins before a check on the compass brought us back to higher ground and the familiar path. We had travelled a bit on a parallel single track below the main track, so its good to know there is another path there that roughly does the same job.
The descent started to get fun now as one could let oneself go. The fence was a relief to see for everyone I guess as from here on out it can be one's handrail back to the finish line. Shadowy figures were still emerging and I saw Sam Scriven in the near distance and managed to close a gap approaching the Kerry way stile. I knew runners were close behind including Jenny and Ger. On the zigzags down I managed to get past Sam but he was biding his time before easily getting past me on a section where my lack of grip let me down again. Crossed the line mere seconds after Sam and was very happy to have gotten down in one piece without major issues. My slowest of 4 carrauntoohil races but given the conditions I can't complain. Happy enough with how things went and can look forward to another time, hopefully with better weather to contend with. Thanks to Vivian, Dermot, Nora and the summit marshalls in particular for their work on the day to make the race happen. Well done to Diarmuid on the win and to everyone else for finishing what was a most challenging yet strangely rewarding race. And on a final note it was great to see Mick Kellett remembered in the results.
My report of the days events
02 June, 2015 - Jason Kehoe
OLD RIVALS
The rain started about 5mins from the start and a last minute decision to go for a long sleeve top was the right choice for the conditions that the mountain would throw at us. Myself and Diarmaid Collins (East Cork A/C adventure racer) took off on a fast start up along the Kerry Way. The last time we raced head to head was in 2010, 5 years ago, on the Wicklow Trail race. That year Diarmaid made a strong finish up the last big climb to win that race and myself in 2nd. It was to be the same result this year but the race played out differently. I had quite a good climb given the conditions and made the most of the rough terrain to secure a gap and lose Diarmaid and the rest of the field in the mist. Running in the mist on your own is tough as it's hard to know if you are doing enough work to maintain your lead. On some parts the wind and rain had me walking on even the relatively flatter sections as it was so strong. Before I knew it I was running along the familiar ridge but even questioned my route a few times as I could only see a few meters ahead of me. On the exposed ridge I couldn't help but worry about strong gusts and the sheer drops to the left of me.
KING OF THE MOUNTAINS
I arrived in 1st place to the summit and our brave summit marshals were huddled under a wind beaten tarp and I shouted that I had arrived through the gale. I secured a time of around 55:25 to the summit which would go towards my score for the KOM title which is based on time accumulation to the summit across three races (Carrauntoohil, Mweelrea and Lugnaquilla). On the way back I met Diarmaid, Bernard Fortune and Tom Blackburn who were only 17 seconds behind me. This gave me a bit of a fright so I put the foot down and heard later on that I put nearly a 2 minute lead in on my climb back up to Cahir. I was feeling very good except for the scramble section up Cahir where I was brought to a crawl..literally, luckily I don't mind crawling! I was trying hard to focus on keeping left coming off Cahir as I nearly went wrong here the year I won in 2011.
DESPAIR
Before I knew it however I lost the faint trail and the terrain was unfamiliar and way too steep to be the right route. I began to panic. I tried to veer left but I found myself in a fight with gravity and was being sucked downhill across slippery rock. I had about 3 tumbles over large slabs of rock and was having premonitions of a serious injury about to happen. I decided to bite the bullet and stop running to try regain my composure. I couldn't understand why it was so hard to contour along the terrain, I actually shook my head vigorously in case something was wrong with the equilibrium in my head. I checked the map and decided to just head due south and hope to hit the fence line which would take me off the mountain. This all took a good 2-3 minutes to do and I was shouting at myself in anger knowing that my lead was gone at this stage, I nearly quit then and there, I was in a bad place to be honest.
THE CHASE
After about 3 minutes of contouring, the fence appeared through the mist and I could have screamed in joy. Shouting at myself to spur me on I doubled my efforts knowing I had nothing to lose and everything to gain, I reminded myself that anything can happen in a mountain race and never give up. Up ahead I saw a murky figure which morphed into Tom through the mist. I closed in on him and gave him a start as I passed and crashed into the fence beside him in my frenzied rush. I pushed on and saw Bernard a minute later. I closed this gap quickly and asked if anyone else was ahead, but Bernard was mumbling something about broken ribs, later it would become clear he was talking about a very bad fall Tom had on his ribs, Bernard (the complete gent!) actually stopped and started to carry Tom off the mountain until Tom sent him on his way reassuring him that he would be ok. I pushed on hoping I would see Diarmaid soon. Bernard and Tom (miraculously) got a second wind and kept me within sight. We came out of the mist and hit the Kerry way. I felt I could hold them off but Tom made a dramatic comeback passing Bernard and closing in on me. I had a big fall just before the final stile, smashing my knee and hands into the gravel, but sprang up as soon as gravity and momentum would allow me. I struggled to cross the style and we rounded the zig zags and crossed the finish line within a few seconds of each other. Diarmaid Collins was waiting for me at the finish line full of apologies for taking the win. He was very surprised he was 1st across the line. That's mountain racing for you!
My congrats to Diarmaid for winning such a prestigious race, it's a very sought after title to add to your CV and only a handful of previous winners over the last 29 years since John Lenihans domination of the race.
I'm pretty tender today and have plenty of scrapes and bruises for my troubles. There's 6 weeks until round 3 on Mweelrea in Connaught, lets hope I don't go wrong this year too...sigh!"