Fraughen Rock Glen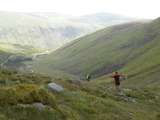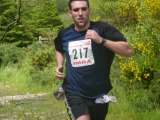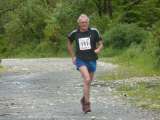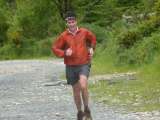 Authors
Fraughen Rock Glen 2014
08 June, 2014 - Mick Hanney
Heavy rain overnight and torrential showers early morning made me think twice about this one. In the end I manned up and headed to Glenmalure to be greeted by dots of blue sky peaking out from behind dark clouds. It wasn't clear what the weather gods had in store for us. In the end it would be quite mixed.
Having arrived early I walked out the initial stretch of the trail behind the derelict tower. It was holding a lot of water and the single track beyond it was like an overgrown garden waiting to be pruned. It would be slow going through there up and down.
A small but loyal crowd assembled for the race. A sub-group had headed off on an early start. Without much ado we were given the 1, 2, 3 and (not even a go) (Zoran paused waiting for the Go :-) ) from John. In a change from previous year on year strategy Bernard was straight to the front. He led the runners through the rain soaked single track and zig zags through the trees, bushes, rocks and roots that marked the trail which was the 'short-cut' to the fire-road into Fraughen Rock Glen.
Straight away the rain started to come down heavy. I had stowed my jacket into its waist belt and as I ran and got wetter and wetter I wondered about changing into the jacket but conditions were mild so I ran happily wet. Bernard had stretched out an early lead followed by Zoran then me. My 3rd place didn't last long as just before the climb up the waterfall another runner, then another went past.
We were now into sodden ground country. Nearly every step was a boggy puddle. To mix it up there was the odd big rock and branch for the fun of it. So going was slow on the climb. A troop of boy scouts were out for a hike so the single file trail was a wee bit congested at times. I wondered how far the kids would be brought. I hoped for their sake not much further.
The ground levelled off a bit above the crashing waterfall and some running was again possible through the watery ground, with difficulty. Ahead I could see the lead runners in the distance heading into the mist of low clouds which marked our direction towards our Lug turning point.
The next climb(s) were slow going for me. On with the jacket while I was striding. I was surprised not to be overtaken. My surprise was short lived as I topped out on the plateau towards Lug when Alan Ayling and Barry Moore emerged from the mist having taken a slightly different route from yours truly. The wind in our faces now meant progress towards the mist-hidden cairn was slow. The slight rise in the ground was all we had to tell us we were heading towards the summit.
Saw Zoran running towards us on the way back. A couple of early starters too. Visibility was down a lot, probably to 20 metres. No sign of Bernard but anyone could easily be missed in the fog. Alan touched the cairn before me. A quick hello to the summit marshall (a lonely duty in these conditions!) and the downhill chase began. Barry was hot on my heels. Dermot Murphy wasn't too far behind.
I had a decent bearing in my head of where we should be turning on the way back. It coincided with Alan's lead and the oncoming runners emerging from the mist on their ascent.
I found the descent quite testing. My runners grip was fairly useless in the rain soaked boggy ground so I ended up being very tentative. Alan was disappearing off and I couldn't do much about it. Another runner who I found out later was a Swedish chap bounded past me and struck out to catch Alan. He would eventually get 2nd place, so kudos there!
My progress down was pathetically slow with the slip sliding around and not helped by taking a bad line towards the waterfall (too near the water) ending up crossing crappy ground left from previous Coillte clearing and generally wasting time into the bargain. My pace was so slow I again was surprised not to be passed. Where was everyone?
Onto the fire road I managed to pick the pace up. Tommy was marshalling the junction into the tricky single track and I have Tommy to thank for shouting at me as I proceeded to run past him on the fire road. The jungle like single track was yet another slow part of the race for me. Jarred my ankle at one stage and was happy to be out of it in relatively one piece. Down the muddy path behind the the derelict ruin and onto the fire road with moments only to run.
Barry Moore made a valiant attempt to chase me down on the fire road but the finish line volunteer shouts were enough to make me raise my pace to stay my place by a massive second :-) If they had stayed quite Barry might have crept past.
Thanks John, Tommy & co for helping today. A great race in trying conditions. A nice bite to eat and banter back in the Glenmalure lodge made for the end of a perfect event.
Congrats to Bernard on a fine win. Great form being shown by Bernard this year.
A great finish by Niamh O'Ceallaigh (in practically a dead-heat with Dermot Murphy) saw her win the ladies 1st prize.
Fraughen Rock Glen – Maike's LC adventure no 3
08 June, 2014 - Maike Jürgens
The shortest of the LC races this year so I was not too worried about it at the start (happily ignoring the fact I was four teeth poorer and it was my first proper run in about 2.5 weeks). We set off at 11.30 for the early start, conditions were fine, reasonably warm but not hot, calm, no really low clouds visible. James Cahill had kindly marked the shortcut through the goarse-bushes-low-hanging-trees and of course, I took a wrong turn (or rather not-turn) right at the start. Well, maybe it was safer to people who are not as keen on going up steep slopes. Back on the fireroad we met a big group of walkers who were quite impressed by our running (I am impressed by their stamina on being out in the hills for much longer than you would be running the whole thing). At the end of the fireroad was the waterfall, it was more of a scramble up than a run but it all worked fine. Then the map said "cross two rivers and follow the third in some sort of horseshoe and at the end turn rightish and you will hit the top of Lugnaquilla". Ah right. Well, there were rivers and sort-of-rivers so I was quickly confused by how many I had actually crossed but Justin with his followers was not far ahead so I caught up with them and we made our way around the horseshoe crossing a few more rivers. Some fantastic views to be enjoyed here with the cloud leaping over some cliffs. Approaching the steep group before hitting the flat area around the stop I all of a sudden felt the fact I had not run much and just had to stop. A few min on I started again and very slowly made my way onto the ridge fighting the will to stop again. I stopped to put on an extra layer but of course, the arms were inside out and it was all windy and wet so it took ages to get one arm in and then the other. A good bit more walking and it was flat so I started running again the tiredness forgotten. But it was getting mistier and mistier, I could see about 10 m in front of me. Oh boy, how am I going to find the top? Ah, two runners to my right, purposefully running sort of the direction I was heading. All right. Oh there, a few more runners. And, oops, there is the top. A shout from the cold-looking summit marshall, I tell him my number and turn around to work out how to get back down. First time, I seriously have to navigate in the mist when I know it would not just lift again like the times before. Ok, get the bearing right and follow the compass. Works well for a few 100 m, I meet a few other runners but then the trail and footsteps are not quite going the way my compass points. So I veer right a little. Peeking over to the left, there are cliffs. Oh, well. Take it point by point and find a way further down the hill, all I know is I have to turn left. I can see some really steep ground right ahead. Get the map out, work out were you are and find your way. As I take out the map, the mist lifts magically and I can see all my surroundings all the way down to the waterfall (to my left and a bit further left than planned). Off I go and see a very bright hat further down. So I am not the only one taking this way. The cliffs further down are not as bad as expected, a few you can climb down, others are easy enough to run around and soon enough I have the river to my right and even find a trail that goes sort of all the way to the waterfall. I can't really convince myself to try and run down any of it so I just walk. Or climb. Or scramble. Back down at the fireroad I have to retie my laces (second time today). Some weird shouting screaming behind me – oh, it's just James. He easily runs past me, I try and keep up but it just isn't in it today. A good bit down the road it is time for a happy-runner-photo-session and off I go down the shortcut. Easier to follow this time with "footsteps" in the mud. And back at the finish. A lovely day out, I was very happy I didn't get lost and hence a delighted finisher ☺. Thanks to all the volunteers and John Condon as RD.
Climb and Descent Times
08 June, 2014 - Kyle Heron
Congratulations to everyone that made it round today's course! Impressive stuff! Below are the times for the Climb and the Descent!
Climb
1 Bernard Fortune 46.42
2 Zoran Skrba 48.58
3 Andrew Quin 51.08
4 Aidan Murphy 51.12
5 Alan Ayling 52.13
6 Mick Hanney 52.14
7 Barry Moore 52.18
8 Ruairi Short 53.50
9 Dermot Murphy 54.10
10 Richard Leahy 55.46
11 Richard Nunan 57.38
12 Laurence Colleran 57.45
13 Niamh O'Ceallaigh 58.25
14 Donnchadh Cullinan 58.26
15 Kenneth McCarthy 63.38
16 John Moore 63.39
17 Aidan Blighe 63.41
18 James Curran 63.45
19 Joe Lalor 66.37
20 Henrik Pettersson 69.18
21 James Cahill 70.56
22 James Curran 71.30
23 Justin Rea 71.38
24 Helen Dixon 71.40
25 Maike Jurgens 77.25
26 Laurence Briody 78.34
27 Fergie Mohan 80.36
28 Gordon Douglas 84.41
Descent
1 Bernard Fortune 25.11
2 Alan Ayling 26.42
3 Andrew Quin 26.56
4 Zoran Skrba 29.24
5 Barry Moore 29.36
6 Mick Hanney 29.39
7 Niamh O'Ceallaigh 29.57
8 Brian McGuckin 30.17
9 Aidan Blighe 33.53
10 Dermot Murphy 34.12
11 John Moore 34.43
12 Laurence Colleran 35.02
13 Aidan Murphy 36.02
14 Richard Nunan 36.33
15 Kenneth McCarthy 36.53
16 Donnchadh Cullinan 38.12
17 Richard Leahy 39.40
18 Joe Lalor 41.54
19 Laurence Briody 43.21
20 James Cahill 46.38
21 James Curran 47.30
22 Helen Dixon 48.26
23 Justin Rea 48.28
24 Fergie Mohan 52.04
25 Henrik Pettersson 53.46
26 Ruairi Short 66.35
27 Maike Jurgens 68.40
28 Gordon Douglas 70.43
Video
08 June, 2014 - James H Cahill
Short video of the lowlights of my expedition up Fraughen Rock Glen: http://youtu.be/96g1sIquprM