Galtymore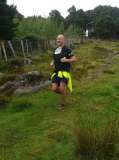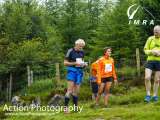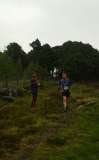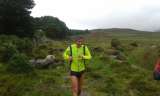 Authors
Maike Jürgens
11 August, 2014
galtymore and a day that didnt know what it wanted
We set off around 10 o'clock from Dublin with four of us in the car. The weather was not looking brilliantly but pretty all right for a run in the hills. That was to change. We met a few showers all the way to Galtymore and at other times it looked liked we would need factor 50 sun cream. When we arrived at registration we waited 10 minutes to get out of the car and register. Once registered it was about 20 minutes to the start enough but not plenty of time to get ready. Just in case I packed a long sleeve and a light jacket and stuffed my buff in a pocket at the last minute. At the start there was a flying camera device (will we get to see a mountain running movie?) which sounded like a whole swarm of bees. It was roasting at the start so everyone took one layer off. Eventually, we set off towards Cush and, surprise, surprise, it started raining about 10 minutes into the race. Of course, my jacket was safely packed away but I realised pretty quickly that I was better off putting it on. It was getting chilly quite quickly. I felt great going up Cush after a bit of a slowish start with heavy feeling legs. Near the top there seemed to be some sort of confusion going on and it turned out one of the juniors was seeking shelter. I left my foil blanket just in case (first time use after carrying it for about 20 races so it was all worth it in the end) and went over the top of Cush and down the hill. The stop to search for my foil blanket had made my legs feel really wobbly and I wondered how I would make it all the way up Galtymore. The views of the fast moving clouds were amazing though, I hope I ll never forget what it looked like, a bit like magic. Once climbing again I felt quite well and caught up with a bunch of people (=psychological boost). On top of Galtybeg it was crazy windy, I felt like I got blown all over the place. On the way down, I met the first few runners and then the odd runner (or group of runner) coming off Galtymore - a nice conformation I was going the right way. Touch the trig point and turn around to go back. I followed John Condon for a few meters but then got a fit because of the wind and figured there was no way I was going to run down this hill. So I walked. A bit further down, I was running again, then figured that my lace was getting loose (I think that wasn't really happening but I retied it anyway - takes ages when you cannot move your fingers). I met John Barry along the way and we made our way up Galtybeg. Crazy that you can almost spring up the hill with the wind in your back. John took a different line of Galtybeg and got me really confused, I was struggling with the wind and my brain wasn't confident enough to just stick with the route in my head (which was perfectly fine). So I took the compass out for confirmation and followed the bearing. And got pretty scared on the downhill with the wind, the rocks and not on the trail (the trail was to my right so I was not in any danger really of going too far right but my brain did not consciously take that in). Thankfully, James Cahill, looking like a fairytale gnome with the buff on his head, appeared in the mist to my right and got me to the trail and plateau that I was hoping to find. Off he went down the hill after making me feel less scared and I thought he was gone for good. To my surprise, I could keep up with him on the downhill, when usually, he would just get away from me really quickly then. So I stuck with him through the bog and started feeling more normal again after being quite cold for most of the race (how could the fast guys do all this in a singlet?). Up the hill I pulled away from James. At the top of Cush, there was a group of hikers taking pictures (I first thought they were volunteers ...). Down the hill I knew I had to work to stay ahead of James. I could see Joe Lalor and John Barry down the hill and just ran towards them (that soft bog was a delight although it made me fall). I was surprised to catch Joe and tried to catch with John but he finished just ahead of me. Happy to be back at the finish and delighted to get some food, I had felt really hungry since the last hill. Thankfully, everyone made it back to the finish eventually, with the weather that day (it wouldnt stop raining for the duration of the race but was beautiful weather for as long as we were in the pub). Thanks to Vivian and all volunteers for a nice day out.
Sam Scriven
11 August, 2014
The annual race up to Galtymore saw the final round of both the Irish Championship and Munster Championship going down to the wire. Following a very wet night the satellite photos predicted heavy but intermittent showers. Runners were hunched up in cars looking circumspectly out of fogged windows, wondering what to wear or whether to register. In the end sixty one turned up dry at the start line. Could all those showers have passed? Unlikely.
I love Galtymore. I've been up it four times and had gales and sideways rain three out of the four. The climbs are to be endured but the fast steep soggy downhills are among my favourites. And you get five of them! If you've enough gas in the tank to last the distance then the toughest parts of this race are arguably the climb up to Cush and then the back-breaker up to Galtybeag. After that it gets easier ;-)
Twice before I've found my heart going 180 by the first fence so this year I took it a touch easier. Crossing over the stile a good 15 or 16 were stretching out ahead of me. In the distance Rob Cleary had a sizeable lead already. The rain had just started so I pulled on my new LL windproof, preferred to a heavier waterproof jacket. The ascent of Cush was a powerwalk. No major movement in terms of position on the climb, but I made a few places going down Cush and had Dermot Murphy ahead of me as we approached the saddle. The ground was very wet, the wind stiff and the rain heavy by now. Dermot dropped waist deep in a boggy pool at one stage, so I took a wide berth and passed him shortly after. He wasn't long overtaking me again on the climb to Galtybeag. I'm no match for him on the climbs. As the slope got steeper and steeper, my focus was on steady progress, lift the legs high, breath deep and blow hard. The wind was fierce by now. It was an awesome sight looking up at murky figures all in a line battling the mountain. It might have been hailstones at this point, I didn't care. Up and up. Head down, keep going. One or two might lose heart at the false summit, I was fooled there before. Some time later I emerged onto the track at the summit of Galtybeag, and took mental note of the obvious blue tuft of sheep's wool on the track. The wind was a proper gale by now, blowing you off your course. I wasn't far behind Dermot and John Bell who lost some time battling to get a jacket on. Down the mountain to the next saddle and the wind eased and eased until in the lee of Galtymore there was dead calm. I mean 'you could hear a pin drop' dead calm. I was with John here, climbing steadily again, Dermot had briefly disappeared. I commented that we could expect the leaders any minute, and sure enough Rob Cleary and Paul Tierney bounced passed us, followed by Jason with Bernard in hot pursuit. The gradient increased, and the wind was again fever pitch. I was back to a familiar trudge, John pulled ahead, Dermot converged from the left after taking a different line and we hit the trig point together.
After the turn the initial descent is tricky and technical with lots of rocks. Lower down I took a line right of the worn track and made quicker progress in the slushy but grassier ground. Climbing again the wind was howling at my back, blowing my jacket almost over my head, but pushing me forward and giving a surprise and welcome respite to catch my breath. Across the summit of Galtybeag again, 7 of 10 legs done. John ahead. This is a key moment in the race, particularly when deep in cloud. Drop off the track too early or too sharply and you will inevitably descend too far into the valley, keep straight and you could end up at the lake or forest, and all such outcomes equally bad. Wait for the blue woolly tuft, then drop off to the left, off down the really steep descent, quick feet and hope for the best. Shortly after some visibility opened up and I could see a couple of runners ahead and soon after the lie of the land became clear, the slope slighter less steep and you could really open out. Joyous descending. A fall here and you'd probably just do a roll and carry on with no loss of momentum. Back up Cush. Not as painful as I remember, a few runners in my sights as we approached the summit. Try to summon up some energy for the final descent. And down again, the ground racing beneath me, feet as quick as possible, mind clear. The weather still not clear enough to be 100% on whether your line is right, but hey time is precious now. I made three places in this section. Then it finally cleared and its go go go as fast as you can until the end. Over the stile and I was just behind Anthony Cornforth and had John Bell breathing down my neck. Sprint finish! First John overtook me, then he passed Anthony, then I managed to get past Anthony. I wasn't giving this one up. 150m to go and I passed John, and then at last the finish line. Phewww!! What a race. Delighted. It went well for me. I was lucky with footwear and gear choice, even the weather! The cloud cleared twice just when I needed it. My time was 20 seconds quicker than last year. My place the same, 9th. But so much more satisfying for the conditions.
Congratulations to Bernard on becoming Irish Champion. A long time in coming and richly deserved. Hard luck on those who missed out, but well done for fighting the good fight. An epic day to finish the Championship. Thanks to Vivian and all the volunteers and to Mike for the spin down from Dublin. See you next year :-)
Short Video
11 August, 2014 - James H Cahill
Short video of the Galtymore race : http://youtu.be/uCztQ740wag