Nav challenge 1 - Crone Capers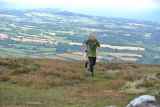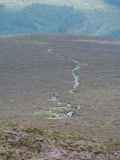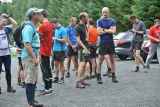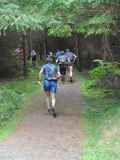 Authors
John Bell
27 August, 2013
Having first tried and really enjoyed two of the Nav races last year, I planned to give them a go again this year. There were a few changes this year, with a short course option that tempted a few more people to give the navigation a go, and a good turnout of over 50 competitors in total. The electronic / SI controls and pre-printed maps were an excellent addition and free route choice added to the challenge (last year you had to visit each control point in a set order).
After Gavan gave the pre-race instructions and Vivian handed us our maps we were off. Most of the bunch tore off towards the nearest / 1st Control Point (No. 158, path junction about 500m away), rather than taking the time to study the map and decide on a route. The free route choice made it more challenging in that you had to decide what order to pick off the control points, but rather than taking my time to study the map and make a properly informed decision I joined the main bunch running up the forest path while trying to study the map as we went along without tripping up.
By the time I reached the first control point I decided to go for a clockwise route. The field split at this point. Continuing to the 2nd control point (157, path junction at a distance of +c.1.5km – very roughly estimated from the maps) I was with two others runners and by the time we reached the second control point I saw another 2 runners arriving from a different angle. I continued up a path onto the east ridge of Maulin. From here the choice was either going for the next control point at the top of Maulin, which meant a sharp climb of about 180m over 1.5km or heading down hill to the Dargle River. I went for the downhill option with the intention of picking up Maulin on the return. I wasn't 100% sure this was the best option but just went for it. The route to Control Point 3 (151, river junction +c. 1.8km) was along a reasonable track left of the river.
From here to the 4th Control Point (155, Coffin Stone to the northwest of Djouce + c.2.5km) I went for the most direct route following a stream up steep and rough ground trying to stick to animal tracks a much as possible. At this point I could see 3 or 4 others close behind. It was pot luck if you found an animal track or ended up struggling through ferns and heather. I seemed to find most of the latter, which meant walking most of it. Angus Tyner quickly caught and passed me and must have found some good tracks as he seemed to be running more. Maybe I was just slower. As I got further up the mountain the ground conditions improved and I was back running again across nice dry bog, continuing up to Coffin Stone, which was easily found in the perfect weather conditions.
From here my next target was the 5th Control Point (150, Tonduff + c.3.6km) and I chose the route up and over War Hill rather than contouring around the hill. With the mountains being so dry and following a track nearly the whole way it was perfect for running – no sinking knee deep in bog. Coming down of War Hill I could see a dot of runners approaching on the anti-clockwise route leading all the way to Tonduff meaning navigation wasn't a problem. At this stage the field was fairly spread out and Angus had been slowly but surely opening a gap and disappeared out of slight. Again I had no problem finding the control point at the summit of Tonduff.
Continuing on to the final / 6th Control Point (153, Maulin + c. 2.7km), I saw Philip Brennan and one other runner approaching Tonduff. Philip shouted a word of encouragement, something like 'don't get lost'. Maybe that was wishful thinking on his behalf? I took a fairly direct route from Tonduff across bog where I managed a slow run until I reached the path leading up to Maulin, the last bit of uphill, where I managed to keep running for the most part.
From Maulin to the finish (+ c. 2.5km) I thought I knew the route fairly well having run the Maulin Winter League and without checking the map I headed off down toward the zigzags leading into Crone Wood. At this stage I was fairly tired and missed the turn off onto the zigzags and continued heading towards the Dargle (no red and white tape this time!). I blame Philip for that one. I fairly quickly realised my mistake and had to turn around and back up the track before cutting a corner toward the zigzags scrambling across a gully and dense scrub. Once I reached the path it was a quick downhill to the finish.
Having used the SI / electronic control cards meant we were give instant results with splits between each control, and it was interesting comparing with others. After chatting to some of the other runners on their route choices I'm still wondering was there a better route. Either way the route I took was really enjoyable and took to parts of the hills I would otherwise never see. My splits are below:
Start to 158 = 03:22
- 157 = 08:27
-151 = 17:48
-155 = 33:33
-150 = 29:42
-153 = 19:56
-Finish = 14:55
Total = 127:43
A big thanks to Gareth for planning the course and Gavan and his crew of volunteers for a really enjoyable event.
Angus Tyner
27 August, 2013
My 2nd Nav challenge race. My previous one I didn't finish as the race was longer than expected and I had a deadline to be home. This time I had no time constraints. I got a lift with Terry, and there were a good few other Setanta members as well among the 50 or so that ran.
IMRA went more electronic today with the use of Sportident and we were supplied with waterproof maps. As a regular orienteer I'm no stranger to this and its great to compare splits with the other competitors and see other route choices.
The weather seemed set fair, not too hot, dry. Cloudy but it seemed high. I decided to go without water. 16K and 1,000m climb and I reckoned 150 minutes. Didn't know beforehand that it was free route and get the 6 checkpoints in any order. This needed more planning after the off was given by Gavan.
As I walked slowly up the path, the single question to jump out at me was the route to Tonduff and I quickly realised that the optimum route brought one via Maulin. This was certainly a key route choice.
From that it was a matter of clockwise or anti-clockwise and I chose clockwise to go uphill from stream junction to saddle between Djouce and War Hill. I'm relatively slow over rough downhill, preferring to go up it instead and this leg showed no path and seemed to me to be the roughest part of the circuit.
By time I made these decisions I was left for dead and I was bringing up the rear! Everyone else had run off!! There was a long line ahead up the hill towards first checkpoint and I just walked as was no point in running and then queuing! And there was a long way to go as well! I punched at 4:18, almost a minute down on John Bell! Could have left it till last but was nice not to have to fine navigate at end when tired. The troop of runners divided here between left and right.
Next was the other track junction. I didn't want to follow everyone downhill along track so for the sake of trying something different I cut through wood. I didn't really care if it was a slower option providing I didn't come to halt. I climbed gradually. With a lot of brashings it was not quick, so I didn't gain, but I didn't loose much time either. I reached the track the checkpoint was on and led a few others to the checkpoint. Time for this leg 8:59, 32 seconds slower than John.
I left this checkpoint uphill with Philip Brennan and Paul Smyth ahead. We had to go over the east shoulder of Maulin and again it was tempting to take Maulin now, but I stuck to my guns. Philip and Paul I think took a slightly quicker path the other side of a wall to get to the Wicklow Way path and the descent to the Dargle. Philip pulled away on downhill and I could see John Bell at the bottom following the Dargle. I tried to cut the corner through the bracken. It was fine for first half but it was denser and tangled near the river so didn't gain. Philip had gone to other side of river and seemed to be traveling well but John was on my side and also making progress. I kept on north side following John and found a path. Philip ran out of path and I passed him and he came over to my side. The checkpoint on river junction was visible from far away. Just a case of trying to find a reasonable route in. Leg took 17:49. Just one second slower than John, so a total of 89 seconds down on John at this stage.
I saw John leaving, but he was slow moving away and I very quickly gained back the 89 seconds on him as we started the long trek to the coffin stone. It was a matter of following river, but not too close as the going was much worse at the river. This was mainly heather with only the odd occasion to break into a run if one hit a deer/sheep path. The heather got more difficult towards head of valley and I cut away to right to try get better running. Once on the plateau the going was much better. This leg took 29:32 and I put a significant gap on Philip and John on this leg.
Once I got within sight of Coffin stone I felt I was clearly in the lead with those going clockwise and the going was much quicker with the vegetation being short. Waking up the SI unit at Coffin Stone confirmed this :) I avoided climb by going to west side of War Hill. It wasn't fast and there were a few swallow holes to avoid. I kept going gradually downhill towards the top of Glensoulan valley. It was here that the first of the anti-clockwise runners appeared with Daniel first and moving fast! While still descending I could see the white Trinity top of Stuart like a beacon at top of Tonduff and leading down from Stuart, I could see the route to ascend Tonduff. I didn't know where Philip or John were at this stage. Tried to keep a run while ascending but had to slow to walk at times. I had to keep reminding myself that although it felt like I was ahead the runners going anti clockwise were in same race. At the top I hesitated a little at the first cairn which is South Tonduff until I looked at map to see where the checkpoint actually was. The leg took 28:20 and with the heights of Tonduff and the Coffin Stone the same, the times for this leg in either direction are probably comparable.
One checkpoint to go, feeling quite good, but still another summit. First there was peat hags off Tonduff and try to pick up path that goes along the ridge and keep running but also preserving ankles. I caught a glimpse of Philip who ascended Tonduff further east than me. He had a good bit to go so I had good margin. My progress was reasonable trying to pick least line of resistance through the bog. I did find some taller heather at one stage as I had veered too much to left. I corrected and found the main path to Maulin and stayed on it. It didn't need much walking to reach the summit of Maulin. 18:27 for this leg
From here it was a steep decent towards wood, but it was grassy and smooth. Run along top of wood and try pick up zig zags to the steep path beside the stream. I remember taking this route during my aborted Nav challenge I mentioned at beginning. I took it carefully. Ankle preservation takes priority, even more so when tired and if I was passed I was not going to race. I reached the road at bottom and opened up for the last 500m or so, all the time checking for others coming from other directions and wondering who may have reached finish ahead of me. 12:30 from top of Maulin. Quite surprised to hear I was 2nd home with Only Dan a full 10 minutes ahead, but no surprise there considering his running form.
My GPS quit with about 30 seconds to go :) Covered 15km 780m climb
See route here
http://connect.garmin.com/player/364892596
Thanks to Gavan, Gareth, Pat the SI guru, Gareth and other helpers.
Start to 158; 04:18
-157; 08:59
-151; 17:49
-155; 29:32
-150; 28:20
-153; 18:27
-Finish; 12:50
Total, 119:55