European & Youths Trial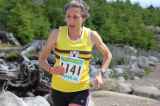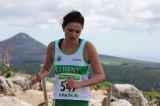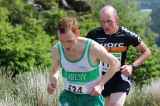 Authors
Gerry Brady
15 June, 2013
In ideal running conditions a small turnout enjoyed fast times on the uphill only race from Crone Wood to Djouce. The senior men did a little extra by descending off Djouce to the finish where the boardwalk starts on the Wicklow Way. Ian Conroy and Colm Mullen ran together for much of the race before Conroy broke away on the final climb up Djouce. Mullen competed for Ireland in the 2007 European championships and he was making a welcome return to fitness. Des Kennedy who has been dominating the 2012/2013 IMRA season ran solidly in third position and put himself in contention for selection for Snowdon.
Kate Cronin has been the discovery of 2013 and she ran an excellent 37:39 to the finish at the top of Djouce summit. Gladys Ganiel used her 2:40:56 marathon strength to keep company with Cronin in Crone Wood before losing ground on the open mountain.
School exams meant a small turnout among the juniors and youths. Shane Maguire ran well to win the junior race just ahead of British and Irish under 18 silver medalist Killian Mooney who was enjoying life again after his Leaving Certificate exams. Maguire came down and trained on the course beforehand and his preparations helped. Cillian O'Donovan made the trip from Kerry worthwhile by winning the youths race. He ran 8:54 for 3000m in 2012 before an injury hit winter. A recent 16:25 for 5000m signalled a comeback. Joseph Lyons chased him all the way in second position.
Senior men
1. Ian Conroy (Raheny) 35:45 - 534
2. Colm Mullen (Sli Cualann) 36:30 - 140
3. Des Kennedy (Raheny) 37:19 - 177
4. Brian Furey (Rathfarnham) 38:30 - 365
5. Andrew Annett (Mourne Runners) 38:50 - 144
6. Rob Cleary (Clonliffe) 39:37 - 1161
7. Stephen Cleary (Clonliffe) 40:21 – 1160
8. Robert Malseed (Mayo AC) 41:09 - 1142
Senior women
1. Kate Cronin (Raheny) 37:39 - 288
2. Gladys Ganiel (North Belfast) 39:39 - 1141
3. Maria O'Sullivan (Raheny) 47:50 - 547
Junior men
1. Shane Maguire (Monaghan Town Runners) 37:17 - 1138
2. Killian Mooney (DSD) 37:29 - 1143
Youths men
1. Cillian O'Donovan (Iveragh) 24:58 - 1137
2. Joseph Lyons (Tallaght AC) 26:10 - 1112