Ticknock Winter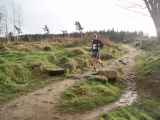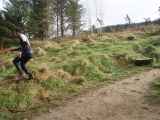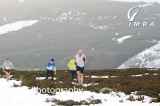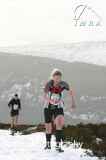 Authors
Brian O Murchu
26 January, 2013
"Classic conditions for Ticknock"
With the filming of Dragons Den taking place at Taylors Three Rock, race registration and post race prize giving was relocated to Lamb Doyle's. The later proved to be very hospitable providing a special deal on Irish Coffee and hot whiskey for IRMA runners in addition to contributing a 40EUR spot prize during the post race presentation.
As for the race itself, with snow pictures posted on IMRA Facebook all week from runners out on Ticknock, it seemed certain the race was going to be a snow-fest until the weather turned on Friday evening with lots of rain. The roads up to Ticknock car park on the day were fine and so was the initial part of the course. The course-marker announced that there still was snow and lots of it on the course along with icy puddles, and only one main icy patch to watch out for near the end.
The second IMRA race of 2013 proved to be just as popular as Howth Winter with over 200 entrants, with the race started by Race Director Rachel Cinnsealach. There were reports that some runners were taking scenic detours, but what wasn't in doubt was the snow, mud and puddles was making this race a real slog-fest, which was reflected in the race times. The top two finishers were close together with Peter O'Farrell taking the honours ahead of Robert Scanlon. In the womens race Kate Cronin came home first ahead of Rachel Burgess. Iosac Colman was just edged out by Robin Mooney in the Junior course.
There was three visitors to the first aid station, although I am sure I saw more than three people with bloody cuts at the finish... The next winter league race at Annacurra is in two weeks time, leaving next weekend a training week. Anyone going for a recce Saturday?
Peter O'Farrell
26 January, 2013
Fair play to Rachel and her merry band of frozen but very capable volunteers on some amazing work today. Registration was flawless, marking was old school, carpooling worked and everyone I chatted with could all agree we had had an experience to remember up on the 3 rock. The icing on the cake was the insane efficiency of having the race results up on the website before Rachel called them out in the pub.
Time moves on and Lamb Doyles put on a good show with some choice post race offers and a generous spot prize to boot after some dragons had ransacked our previous den. Time had eventually robbed IMRA of it's previous president Dermot Murphy and all the best of good luck to the new incumbent Richard Nunan. The account of his relentless rise to the throne is well worth a pint and will resonate with many involved in volunteer committees ;)
The new secretary Eoin ultra Keith has a funny way of saying hello; in a kind of left handed compliment you kmow you in with a chance of going well if the greeting is along the lines of " oh no, not you too! " The mere fact he managed to come first M40 only a few days after winning the Art O'Neill challenge and 20 days after smashing the Irish 48 and 72 hour records shows the amazing range and recovery of the man. Apparently it's all about compromise Gerry..
208 imra runners were all very happy to find a dry sky above and content to follow the early pace behind our ultra hero that I hope was faster then his 72 hour pace as it was quick enough for nearly all. Marathon man Barry Minnock soon set a quicker tempo but was to ultimately foiled by the conditions, some ponies and the risk of damaging his chances in important races to come.
25mm of water had fallen on Leapardstown overnight and the going for the horsie racing was described as heavy on de wireless. Music to my ears, as what I lack in speed I make up for in slowness and today would be all about slowness in the conditions. The description for 3 rock could have included heavy although for strict accuracy wet, very wet, snow, drifting snow, ice, icebath puddles, ponies and mountain bikes would have had a mention also. In fairness the rain probably washed away a lot of the snow and of the 9.74km we travelled over only about 800m where you had to snowplough.
For many folk with a 9 in their age a first IMRA race of the season can bring the (very) public and sometimes unwelcome recognition of their new age group, so well done Joe Lalor on a good start to the new year and new decade. Amother man opening a new decade with a bang was Ben Mooney. Ben had such an amazing run he came from about 120m down at the top of the climb (looking at John Shiel's super photos) to have the best descent of the day and roar into the lead of the race by the bottom of the last climb of the day. Thankfully (for me!) a wee climb up to the red shed allowed one last desperate all out assault and I just managed to hold off a very fast finishing Rob Scanlon. Ben was delighted with 3rd overall and happy to leave the M50 prize to Martin Francis - for this week anyway!
Kate Cronin will be surprised to see the website has Derek McCormack winning the womens race, she was the worthy winner with a very strong run.
It's definitely a race when lads finish within seconds of each other. In finishes to make a cross country coach weep with joy check out the time from the aforementioned Derek in 21st to Brian in 29th. All credit to the finish line officials on that one. Such battles are evident throughout the field and from my point of view 3 lads finishing on 100% is another sign of close racing and it was great craic out there slipping, sliding, losing the feeling in my ankles on the wet track, getting caught by Ben and Rob and then just having enough to hold on to the finish. A super start to 2013.