Ballyhoura Peak Trail 10km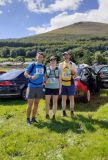 Forum Messages
Author
Date
Message
Paddy Murphy
Aug 2 2020, 8:21am
Sorry but this is my first race of the year, do I collect my number at race registration.
Thanks
Robbie Williams
Aug 2 2020, 1:11pm
Yep

There will be a separate table for number collection
Paddy Murphy
Aug 2 2020, 2:51pm
Thanks Robbie
Hazel stapleton
Aug 3 2020, 2:38pm
I have missed the entry date for the 10k. Are you taking late entries? I was looking forward to getting back.
Hazel stapleton
Aug 3 2020, 2:41pm
Apologies, just checked and I find I can still enter.
Robbie Williams
Aug 3 2020, 7:02pm
Please note this event is on next Saturday

Event closes at 9pm tonight

No late entries and no lists

20 spots left now.
Seán Peyton
Aug 3 2020, 10:22pm
Hey Robbie, read that a couple hours late so I'll sit this one out but do you have a link to a downloadable route file (.gpx etc)? I'd say I'll scope it out in my own time but can't seem to find it on that moves count site. Thanks either way
Daniel Sheahan
Aug 8 2020, 7:35pm
Thanks to Robbie and all the volunteers for a wonderful event today. Great to see all the familiar friendly faces again.
Vivian O'Gorman
Aug 9 2020, 11:37am
A great event!!

Thanks to Robbie and all his volunteers. The whole day was well organised and no hassle.

The weather was brilliant and the views from the top were fantastic.
Brian Flannelly
Aug 9 2020, 12:14pm
Results are now up for this event - any questions/queries on them, please email:
brian <dot> flannelly <at> imra <dot> ie
Hazel stapleton
Aug 9 2020, 1:07pm
Great day yesterday. Superbly organised. Many thanks to all concerned.
Mariusz Luczak
Aug 9 2020, 2:38pm
Well done to all runners. I made few photos, but because all full, half and 10k runners were mixed on the course I added them to Ballyhoura Peak Marston photos sections. Half marathon &10k runner can find their photos there, tag away :)
You can also find full album here:
<a href="https://photos.app.goo.gl/pgtehxcQtntgPv267"></a>
Mariusz Luczak
Aug 9 2020, 2:41pm
Sorry, link to photo album is:
https://photos.app.goo.gl/pgtehxcQtntgPv267
Barry Walsh
Aug 10 2020, 10:32am
Huge thanks to the volunteer team and Robbie, a fantastic day out and comfortably controlled in circumstances that are less than easy these days. Sun made it a tough loop but amazing views and the mixed terrain made it very enjoyable nonetheless.