Black Mountain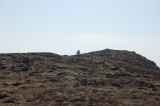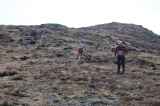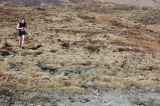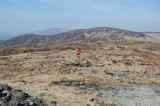 Description:

Race in Louth starting on good forest trail before moving onto boggy open mountain

County:

Louth

Date:

Sunday 11 April, 2010

Time:

12:00

Climb (m):

570

Distance (km):

15.00

Event Difficulty:

8 (2,3,3) - Moderate Terrain, >500M ascent, >10Km

Race Marking:

- Only major junctions marked

GPS Allowed:

Yes

Leagues:

Entry details:

No entry details have been entered for this event yet. Entries for league events usually open a couple of weeks before the event

Vouchers Allowed:

No. Online entry only for this race.

Route Description:

Short race is 9.7 km with around 500m climb. Junior men do short route. Junior women and athletes born in 1993 or later (Youths) turn back at forest stile onto the open mountain.

Getting There:

Leave the M1 motorway at the Ballymascanlon roundabout. Take the road towards Carlingford. Pass the Ballymascanlon hotel and turn a sharp left at a white painted wall (see photos) just after a closed road over a small bridge. Turn right at a t-junction at the end of this road and the pub is on your left after around 1200m.

Organisers Instructions:

Course photos Registration opens at 11:00, closes at 11:45 sharp.

Prizegiving Location:

Lumper's Pub

Notes:

Start at the forest entrance near Lumpers and follow the Tain Way for around 2.5km. Leave the forest at a stile and head for the middle reentrant onto the ridge. Short course turns back at a large cairn. Long course goes to small summit to left of mast.
Volunteers (Non-Running)
You need to have done 2 non-running volunteer roles in a calendar year to qualify for end of year prize
Volunteers (Running)
Check with race director if they have a need for people volunteering and running. Race directors need a minimum number of people available throughout the race to make the race work so non-running volunteers are preferable. While it can be helpful, volunteering in a volunteer and race capacity does not count towards qualifying for end of year prize
Carpool
| Driver Surname | Firstname | Location | Passing Through | Departure | Seats Available | Seats Accepted |
| --- | --- | --- | --- | --- | --- | --- |
| Kehoe | Jason | Belgard Luas stop | Along M50 northbound | 09:30:00 | 3 | 3 |
Carpool option is not available at this time..