Killaloe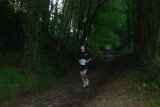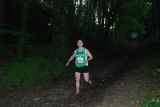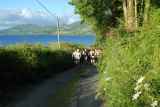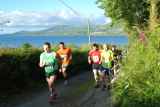 Authors
Brian Flannelly
04 September, 2012
We were blessed with the weather for the 6th race in the Munster Wednesday League in Killaloe, where 44 competitors turned out to enjoy the (rare) summer evening sunshine. A steady flow of registrations kept Sharon busy for the hour before the start, with many new faces joining us to take part in a hill-running race for the first time. As the clock chimed 8 bells, Colm called all present to gather at the start of the country lane, which was to take us along the first part of the race.
After giving pre-race instructions, we were off and winding up the road to meet the forest trail above. One or two of the front-runners took a brief wrong turn into a farm-yard, but were abruptly called back by the those struggling to keep up with them, and then leaving the tarmac onto the forest fire-road proper. There was a sharp pull before the forest barrier, known to some of the regular training group as "the cliff", which tested thigh muscles to the max. The small path beyond this adjacent to the stream gave the option to dip the feet in some cool water before reaching the highest point and turning left for long descent, curving back around the mountain. This section offered spectacular views of Lough Derg and some of the eagle-eyed competitors may have recognised Tountinna rising above the Tipperary shore, which had been our venue two weeks previously.
For many, the most eagerly anticipated stretch of the race awaited as we swung right off the fast-paced fire-road and onto the mountain-bike trails. A nice challenge greeted runners and the terrain became more broken up. With an undulating incline, there was plenty of variation as race passed through the peaceful mature forest in Ballycuggaran and back onto the last trail again for home. After taking regaining their breath, a few hardy souls even went for a dip in the lake just off the carpark before re-joining the group for post-race analysis and refreshments in the pub afterwards.
Mike Cunningham took top spot after an impressive downhill sprint to the finish, holding off a challenge from Shane Mullaney and Keith Ryan. First lady home was Deirdre Finn from Sinead O Sullivan in second with Sarah Fleming taking the final podium position. Full results can be seen at:
http://www.imra.ie/events/view/tab/results/id/975/
With a great range of photos from Jane Griffin at:
http://www.imra.ie/events/view/tab/photos/id/975/
Thanks to everyone who helped out at the race, to race-director Colm Phelan, Sean Harte on results, and last but not least our two non-running volunteers Sharon Lucey and Jane Griffin, who were present as the first people came along for registration until the last athlete was back safe and sound. Thanks a million!