Seefingan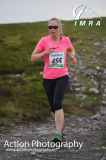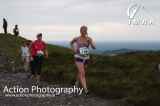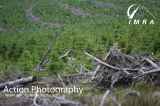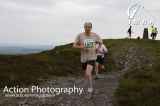 Authors
Tamas Farkas
01 July, 2012
I decided to write a report about this race because Seefingan is one of my favorites and also very probably the last one I did in Ireland. In August I head off to Norway, so soon I have to say goodbye to the Irish hills and the people who run in them.
As usually this year, I carpooled with Karen O'Hanlon and Aidan Kelly (Rosemary was on holiday) and on the way I assured (=shamelessly mislead) them that there are "some boggy parts" but overall they are going to absolutely love the run! My aim was simply to enjoy the race as best as I can – which means beating my hill-running arch enemy, Barry Moore again after finishing ahead of him by two seconds in the Powerscourt Uphill race. Beating Karen was also among my plans but that seemed unlikely to happen. The blonde lady is just so fast!
After the usual pre-race chit-chatting (moaning about bad knees and bloodsucking midgets) off we went. On the first ascent I overtook Barry, wanting to establish a gap while going uphill. I expected that his red shirt will start fading away now in the distance but he was having none of it. Down Corrig, through some mud, another uphill, then the boggiest part. Here those uncoordinated sluggish chunks of meat that I call my legs worked out just fine for me, I passed several people. No running technique or leg speed to be of any use here, just raw strength. That was pretty much a full body exercise. We were approaching Seefingan now and I was really looking forward to that awf… khmm… wonderful uphill.
At the bottom of the hill to my biggest surprise I managed to catch up with Karen and I thought, now that I am here, lets upset her a little bit! I gentlemanly burped out a "hi" as I was passing her, expecting ferocious counterattacks. Which did not come. As I enquiringly looked back at her, I could see that spending her time in bogholes filled up with mud and other various organic stuff I choose not to give a detailed account of (children and women might read this text) was not exactly her idea of a fun Wednesday evening. Perhaps a BBQ in the rain, right Karen?
After what was for me the most enjoyable part of the race, Seefingan uphill, I reached the summit. However, as I turned around I shockingly discovered that Barry was not much behind me. (How the hell did he do it?) I was in trouble now. He even had that rugby player facial expression on him. You know, when the fella is about to score a try. Against New Zealand. You got it. All I could do now was minimize the losses on the descent – remember, uncoordinated sluggish chunks of meat. By the time we were in the bogholes again, he had a very considerable gap. But as Lenny Kravitz said "it ain't over till it's over." He might beat me, but he will have to suffer for it! I kept pushing ahead, relentlessly. By the time we got back to Corrig I was just a couple of meters behind him. But then it was a descent again. A technical, rocky one. Hated that! For me, anything that's more difficult than a plain, grassy, straight downhill is "technical."
Eventually I had my best league finish ever, had a lovely evening, put up a good fight with my usual targets and had a great time in the pub. What is there not to like? Anyway, next year I might do the Powerscourt Uphill even if I have to fly back from Oslo, just to show these descenders that I mean business. And also because mountain running in Ireland is one of the best things there are.
I'm gonna miss you people.
Jason Kehoe
01 July, 2012
Video of start and finish line:
http://www.youtube.com/watch?v=ApaKkS228qo&feature=share
Brian O Murchu
28 June, 2012
"The first hill is rocky, then it gets muddy" -Paraic Gallagher
Each race I do, I want to improve slightly, get an edge, an advantage, progress. Sometimes this strategy involves the training I do during the week, running more, tapering off, it may also involve what I wear, how much sleep/rest I get in advance of the race, or even what I eat on the day, etc. After eating chocolaty snacks post-race for the past two races, I decided it was time to push the envelope here and have chocolaty goodies pre-race (curtsey of my sisters home cooking, who is a trained chef by the way). Did it work? As there are many variables, if I only focus on Enduro points, as they are higher than last week, pre-race chocolate cake could be deemed a success. I hope you don't think I'm using Enduro points to justify bad habits…
After quite a warm day in Dublin, and the previous day also, it was slightly cooler at registration which felt just right for running in. A nice relief. I ended up starting my warm-up a little later than usual, "not to worry" I thought, "it's a longer race tonight so I'll take it handy at the start". As 100's of us energetic souls gathered on the start line, the race started off on a nice firm stony road. After starting near the front, I found myself quickly going backwards through the bunch. After we took the first right hand turn off the stony road, I found out why there was such a quick start. After the first right hand turn, the way through the trees got quite narrow. The bunch quickly changed to single file, with the flanking trees, bushes, etc preventing any passing. As we emerged out of the canopy, summiting the first hill then taking a right hand turn marshalled by the race steward the view opened up. Despite the dry weather the ground got wet and muddy, substantially so. This is where the fun began, a little muddy and boggy at first, and then it really got swampy up and down the second summit and up to the third…..and not to mention back down the way we came.
As a child growing up, I had parents who strictly enforced avoiding getting wet, dirty, mucky, etc. It quickly became apparent that there was so much bog on the course, it was going to be futile to avoid getting mucky, and as we are obliged to stick to the marked course….the inner child in me got permission to get wet and mucky splashing through the bog. The early part of the bog, I caught and passed a lot of the runners I normally finish around who had started quickly. As I was trying to catch a few more, I realised that bog-running was quite heavy on the legs and I was pushing the pace a little too quick for me. After slowing slightly, I looked at the field in front, I found so many of the runners were taking so many different lines through the open terrain. A quick glance at some of the closer runners ahead of me, I chose someone who looked like they knew a good way (a line with proportionally more firm ground) traversing the bog, so I followed him. The plan worked, until I caught and passed him. I didn't have to dwell too long on a Plan B, as Mikey Fry caught and passed me. As we were running into a side-wind, I got in behind him and used him to pace me (and another runner) up to the summit. Mikey was going well and he distanced me close to the summit.
At the turnaround and onto the descent off Seefingan, there were a few occasions travelling fast I'm not quite sure how I kept my balance, but I did. As the runners coming up were on my left, I tried to pick a line on my right to descend. This ended up being a worse line to follow back from Seefingan than out to Seefingan. There were two runners ahead of me, one in a white t-shirt and the other in a yellow t-shirt. I took a split second decision to follow the one in the white t-shirt. Shortly afterwards, I seen him drop into a lower part of the bog with his arms waving in the air. Then slowly emerging with mud up to his shorts. As it was too late to change my running line, I thought "I know there's an extra-boggy patch there, that won't happen to me". Alas, I spoke too soon, as I suffered the same fate. And a second time further along. But it turns out I got lucky with just two such incidents. After the race, we were comparing how many times we had been sucked into a real boggy patch, with Martin Francis relating that he lost his shoe, but managed to go back and retrieve it.
Up and down the second summit and approaching the first summit again, I knew the boggy parts of the course were coming to an end. We had a right-hand turn onto a stony road, but this stony road ended up being quite tough on my feet and I was having to pick my way through it rather than just speeding up or 'opening the taps'. At this point there was a guy since the descent off Seefingan, he was quicker than me on the uphill and would fly past me, and I would pass him on the downhill. It was turning into quite a yo-yo battle. Taking the left hand turn over the fence on the downhill, I knew there couldn't much further left in the race and I thought I had enough of a gap to hold off this uphiller. It turns out there was one final uphill, I looked back to see how much of a gap I had, but this guy was flying on the incline which was just long enough for him to ghost pass me again. By the time we got to the downhill into the finish he had too much of a gap to close in….doh! But all part of the fun and what a fantastic race.
At the finish area, in spite of eating a segment of garlic a day for the past few weeks, I was getting eaten alive by midges chatting with other runners. There were big and small bugs, all biting. I couldn't get long sleeves and trousers on quick enough. My plan for the next league race now involves eating garlic twice a day. And lets see if that boosts my Enduro points.
Only three league races left and I'm starting to think about withdrawal symptoms after the Sugar Bowl BBQ for Wednesday night IMRA running. At least there is the Trail League in August!
Peter O'Farrell
28 June, 2012
Fantastic easy race registration. Grand oul chat before the race with the Gerrys and the Pauls and angst's new friend Bernard. Marvel at the amount of camera technology hanging out of John Shiels(10kg?). Wonder about the usefulness of midgies to the ecosystem.
Really enjoyed this race, fast at the start getting into positio for the singletrack and then fun and bouncy boggy boing boing boingness coming off Seefingan, the incredibly loud birdsong navigating across the saddle bog between Corrig and Seefingan on the way out, the views, not getting lost, feeling good, the light rain shower to remind us we're on the hills and not the trails, the lungs and heart and legs and head all aligned with common purpose and firing well. All good.
Afterwork hill running in the summer heat is only mighty.
The minor quirkiness of going back to a pub after all that healthy hill endeavour and ruining it all with Guinness and Tayto and spot prize chocolate and last night poor Jim Fitzharris had to delay his prize giving for a penalty shootout, you gotta love the randomness of it all.
I haven't seen the results yet but Alexander the younger was flying it, Mooney the elder was flying it and Lawlors young and old were having the craic I think.
Well done Jim and team on keeping the weather event away till after prize giving too!
Rene Borg
28 June, 2012
TEAM RESULTS
MEN
1. Crusaders AC 37 (2 Torben Dahl, 10 Vincent McGuinness, 25 Gavan Doherty)
2. Sli Cualann 46 (5 Ben Mooney, 20 Martin Francis, 21 Jimmy Synnott)
3. Boards AC 79 (14 Angus Tyner, 18 John Ahern, 47 Laurence Colleran)
4. Team Galco 217 (27 Padraig O'Dwyer, 73 Declan O'Dwyer, 117 Oliver Rynne)
5. Glenasmole 274 (68 Thomas Galvin, 96 Ercus Stewart, 110 Cillian Stewart)