Snowdon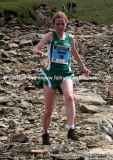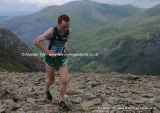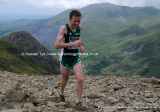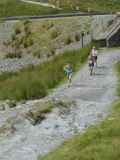 Authors
Gerry Brady
21 July, 2012
Results: http://www.tdl.ltd.uk/race-results.php?event=1196&page=1
Photos (Alastair Tye): https://picasaweb.google.com/101179749195971530754/SnowdonInterAscent2012?authkey=Gv1sRgCJ6fjP_9wvSIEg#
Brian MacMahon joined Andi Jones in the lead after a mile and the two leaders were joined by Murray Strain and Robbie Simpson around the two-miles mark. He took the lead on his own in the third mile. He led at the summit by 26 seconds and was still in bronze with 400m to go but the legs were gone and Italian Fabio Ruga got by. Brian's time is the joint tenth fastest ever Irish time (see link on IMRA event details page). Another solid international performance by Brian Furey in 16th and an excellent run by Stephen Cleary in 19th. Ian Conroy's hard work on the climb (around 10th at the summit) unravelled with a slow descent. Amidou Dembele was 13th in the open race.
Sarah Mulligan was third placed international runner at the top not far behind Katie Walshaw (ENG) who finished tenth in the European championships on the descent. Sarah's time is the second fastest Irish time only behind Karen Alexander (84:50). Karen O'Hanlon ran a steady race to finish 12th international woman.
Scotland (8) easily won the men's team from Italy (31), Wales (37), Salamon France (39), Ireland (39), and Northern Ireland (63). England (10) beat Scotland (22), Wales (23), and Northern Ireland (39) for the women's team title.
Men (category placings)
1. Murray Strain (SCO) 65:10
2. Robbie Simpson (SCO) 66:43
3. Fabio Ruga (ITA) 67:25
4. Brian MacMahon (IRE) 67:45
16. Brian Furey (IRE) 74:15
19. Stephen Cleary (IRE) 75:26
22. Ian Conroy (IRE) 79:26
13. Amidou Dembele 79:49
139. Brian O'Connor 119:02
Women
(1.) Tessa Hill (CAN) 81:26
1. Helen Fines (ENG) 83:10
2. Katie Walshaw (ENG) 84:22
3. Sarah Mulligan (IRE) 85:31
11. Karen O'Hanlon (IRE) 95:23