World Masters Championships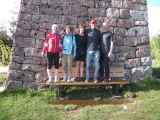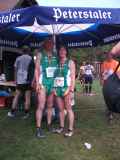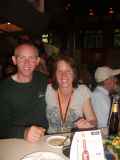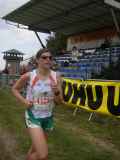 Authors
Gerry Brady
27 May, 2012
REPORT BY ANNE SANDFORD
PHOTOS ARE BY DAVID BELL
The 12th World Master Mountain Running Championships in Buhlertal, Germany dawned bright and sunny and temperatures reaching above 20 degrees with little breeze by the time racing started making it extremely hot but a good 5 water stations on the course helped. The uphill only 9.4 kilometer course was tough and unrelenting.
The first of our group to finish was Neil Carty (M45) in 46.42 coming 13th out of 169 in his category, followed by team mates Thomas Blackburn 50.18 (34th) and Curley Cunningham 50.53 (36th) giving them team finish of 5th out of 6 teams but without doubt the most competitive category with biggest number of competitors. A commendable result in such fierce competition.
The M50 category first home was Robbie Bryson in 47.29 to be 10th out of 156 a gallant run again in a competitive category next to Sean Foley 22nd in 49.41 and Michael Comyn 102nd in 62.13 giving them 6th team out of 8 teams. David Bell also made up the team with good 63.24 time to come 109th and Seamus Greenan 65.14 and 115th.
The M55 category had Dominic McGreevy 57.20 to be 28th out of 111 followed by Peter Bell (his first masters) 78th in 67.29 and Willy John Brown 87th in 71.03 mins (a good run despite nursing an injury) and 6th team.
The M35 had a new masters contender in John Kelly putting in a great first performance of 58.16 to come 47th out of 60.
The M65 had Jim Patterson taking to the line after a few years break and came a gallant 7th out of 44 in 57.51 and considering he hates the heat was a very good result.
The F35 had a new contender with Hazel McLaughlin who loved the experience and had a great result coming 16th out of 25 in 63.24 and will definitely be back for more.
F40 had a great team with a new contender Karen O'Hanlon making her first appearance a good one coming 8th out of 39 in 55.17 followed by Vanessa Sallier in 63.55 & 23rd then Zoe Melling in 65.44 & 25th to give them team Bronze medal. The team also had new contender Deirdre Fitzsimmons who ran 66.20 mins & 27th.
The F45 had great run by Helen White to come 7th out of 39 in 56.25 followed by Anne Sandford 65.21 & 20th and Patricia Blackburn 77.40 & 35th to secure the team a great Silver Medal from 4 full teams. Again this category was extremely competitive.
In F50 Mags Greenan ran a great 60.40 to secure 6th out of 41 in a big field.
An extremely well run event, fabulous weather and beautiful scenery and completely dominated by German athletes who won 43 medals and won every team gold medal in every category in both the men and female except M45 which was won by Italy.
Hope I have not missed out anyone and if so apologies.
Gerry Brady
19 May, 2012
Silver and bronze team medals for Irish teams
Results from World Masters in Germany have silver for W45 and bronze for W40. The M45 team were 5th, and both the M50 and M55 teams were 6th. Ireland had two runners in 6th position (Helen White and Mags Greenan), Jim Patterson in 7th, Karen O'Hanlon in 8th on her debut at this level, and Robbie Bryson in 10th.
Men 35
47. John Kelly (Bilboa) 58:16
Women 35
16. Hazel McLaughlin 63:24
Men 40
James Burke
Women 40 (3rd team)
8. Karen O'Hanlon (Dunboyne) 55:17
23. Vanessa Sallier (Rathfarnham) 63:55
25. Zoe Melling (Rathfarnham) 65:44
27. Deirdre Fitzsimons (Dunboyne) 66:20
Men 45 (5th team)
14. Neil Carty (North Belfast) 46:42
35. Tom Blackburn (Bilboa) 50:18
37. Mike Cunningham (Bilboa) 50:53
48. Keith Ryan (Limerick) 52:11
Women 45 (2nd team)
6. Helen White (Sportsworld) 56:25
20. Anne Sandford (Lagan Valley) 65:21
35. Patricia Blackburn (Bilboa) 77:40
Men 50 (6th team)
10. Robbie Bryson (Newcastle) 47:29
22. Sean Foley 49:41
111. David Bell (Mourne Runners) 63:24
117. Seamus Greenan (Clonliffe) 65:14
Women 50
6. Mags Greenan (Clonliffe) 60:40
Men 55 (6th team)
28. Dominic McGreevey (Newcastle) 57:20
77. Peter Bell (Pegasus) 67:29
86. Willie-John Brown (Mourne Runners) 71:03
Men 65
7. Jim Patterson (Newcastle) 57:51