Mweelrea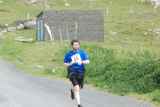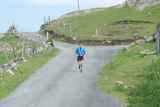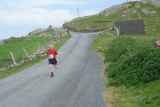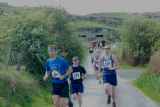 Authors
Robert Malseed
03 May, 2011
There is an old Irish phrase that describes the weather from April to May, and the associated phenomena of how quickly it can change. But, for the past few weeks this weather pattern has been more notable for its absence. And, so tourists, locals and running-nutters get to enjoy the warm rays of the sun and the cool breeze, whereas the farmers do their usual fretting about the conditions. So on the Silver Strand under the shadow of the vast bulk of Mweelrea we were basked in glorious sunshine and cooled by the strong breeze. On the other side of the range there lies the water of Doo Lough and the silence of the tragedy that occured in 1849. With the steep cliffs of Mweelrea's eastern flank and guarding the Sheefry valley with the Sheefry hills on one side and Ben Gorm on the other, sentinels to that deep, dark forboding area that cruelly claimed hundreds of unfortunate souls, and yet where they once lie, like that of Croagh Patrick - Gold lurks in seems throughout the range. Nevertheless, many years have gone by since those terrible days and as a people we not only survived, but thrived. Mweelrea in Irish is Maol Réidh - Cnoc Maol Réidh meaning - Bald hill with the smooth top. Considering that it is theorised that my family name Malseed could have been Maol Sidh meaning Bald Peace...I am wondering whether there is an afinity with being Bald in my family, as to lack of hair. But, I will leave that up to debate later for the follicly challenged...
I have only managed previously to check out Mweelrea, namely to find out where not to fall and to see the dodgy areas to avoid. So on the ascent I felt pretty good in already knowing which way to go. Cold comfort for the stiffness in the quads from yesterday. After 100m from the sheep track you aim yourself directly to the river, which is easier to say than to do. The long grass and soft terrain is energy draining and a few streams to negotiate. Going up the strategy is not to stop but to keep going. Reaching the ridge the climb continues and can be a soul-destroying. I was going to do a Walt Whitman Barbaric Yawp on top of the Cairn, but from the effort of the ascent a pathetic burp was all that could be mustered, but nevertheless a triumphant Rocky Balboa pose sufficed. On the way down I see the fellas on the ascent and I was hoping that I could be able negotiate the rocky area as quickly as possible. I thought I was really flying down fast, until looking to my left I see Bernard loping down, but I could see that he was aiming for the beach and fields, whereas I aimed for the farm on the far right. So without the fear of the rocks as with the Reek, I went hell for leather, and was surprised to reach the sheep track and gate before Bernard and Peter. I stormed down the road - ok...I didn't storm, but I went as fast as I could. Finally the finish at long last....but no Guinness. Well done to Brian for defending his crown and to Bernard for a close second. Shame that Jason couldn't make it, and to everyone else, it was a great weekend....even though my legs say otherwise.
Alan Ayling
02 May, 2011
To use a phrase common in the mtb world... that was savage. Or as Colm Hill might have put it – two good beastings in as many days. Then again, he wouldn't have appreciated the lack of mist.
Dermot's report has done good justice to Croagh Patrick, so I'll just say the new route on that mountain is superb, well done Paddy Lord and all involved in making it happen.
And so to Day 2 – Mweelrea. Vivian assures me the last time IMRA ran a race up Mweelrea was circa 1994. It was from Uggool, the next beach south, no longer possible due to a land access issue. So it was that today's race set out from what the OS map calls Trawleckachoolia and the road signs call Silver Strand. Either way it's a delectable spot, even with the quad bikes.
From sea level to the highest point in Connacht. 814 m. John MacEnri's idea apparently, but he wasn't about to run it. This might have been a bad sign. You can't tell much from the carpark, except that it looks
a) daunting
b) the sort of place that will be wet, no matter what
c) the sort of place that will be all tussocky grass, horrible to run on.
Well, the daunting bit was right. In fact the terrain was delightfully dry after a couple of weeks' good weather and there were barely any tussocks.
The start was slightly delayed, but it didn't matter. The cuplrit (whose arrival would have done justice to Paddy Lord in his days as a Leinster League regular signing on as the race briefing was given!) would set off at his usual leisurely pace, not moving into the top 5 until ten minutes or more into the race, then go on to finish a most respectable second. Despite having done Croagh Patrick twice the day before. Makes you wonder why we waited.
Several hundred metres of narrow windy tarmac road starts the race off gently, though you can't help thinking of the unpleasantness that same tarmac will be offering in a little over an hour's time. A right turn up a gravel boreen, which then turns grassy... much more pleasant that asphalt altogether. And then strike out across the terrain. Away up above is the first target, the col, after which you'll swing a right and head for the top of Mweelrea itself. But that's a long way off yet.
By the time we'd left the boreen, Mayo runner Robert Malseed had opened an impressive lead. Bernard strolled past me at this point, quickly opening a gap of a few metres to one of a few hundred without apparent effort. I ticked off the various colourful running tops in the distance – Robert way out in front, Peter O'Farrell's distinctive white, Tom Blackburn's high-vis, Zoran's blue... I couldn't see Brian Furey's red but he had to be up there somewhere. Before long Ger Griffin passed me to add his own red to the scene. There were several runners close behind – I could hear the breathing and the feet and the race numbers flapping in the breeze, but could only guess who it was. Not about to turn around for a look – well you don't do you? It wouldn't be right.
The deep ravine forms a natural handrail leading up towards the col and as we picked it up more runners started passing me. The legs were feeling the effort of Croagh Patrick now. First to get me was Brian Mullins, who I hadn't managed to catch on the descent on the Saturday, then Dermot Murphy, then a couple of other lads (sorry fellas, don't know all the names). Mick Hanney got me next. This isn't good – what's wrong with me legs?! Sometimes you just have to hang in there and trust that it's going to get better as long as you don't fall too far behind. Watching the action above – Peter on one line, Zoran and Bernard on another – I made my mind up to stay left of the gully. A few of the lads crossed and it looked slower. I felt mildly smug and a little less knackered. The col wasn't getting any nearer though.
Eventually there were four of us in a desperate toil to the col and from there to the summit. Robert passed us on his way down (depressingly early). Never saw Brian. Bernard came past, Peter, Zoran, Tom. I found the strength from somewhere to start running. Blast, the others had found something similar. Nevermind, the downhill was coming soon. Above us, the figure of Ger Griffin made the summit, turned around and tore past us on the return.
After that is something of a blur. A good, happy, downhilly blur though. From the summit back to the col is a tricky landscape across a slope, through a mixture of small rocks and then big outcrops lower down. It'd be a nightmare in bad visibility. None of that today thankfully. Then swing left down the steepest bit and pick the best line you can back to the lower slopes.
There was still the sound of one set of feet close behind me. I should have been able to shake them off but couldn't. It wasn't Mick – he's only coming back from injury and I knew he wouldn't be taking chances on mental descending – not yet anyway. So it had to be Brian Mullins. It was. He obviously rated my route choice down, I could hear feet all the way, a few metres behind. It's a superb springy, grippy descent, steep in places, flatter in others, mountain running utopia. This went on for a very long time. As the ground flattened out and we made a beeline for the corner of the field, I did a Tommy – a good one at that – Brian got by and after making sure I was OK, got away with a 15 metre lead. Damn. No, just be patient. We took slightly different lines to the corner of the field and the top of the boreen. I got there first – slightly. Reminded of watching The Usual Suspects during the week - "you just needed the will to do what the other guy wouldn't"... it's mad the stuff that goes through your head in a race. Still, I set off down the boreen and went for it. Legs felt OK, nice long stride. Thought the footsteps were getting further behind. They were. But I suck on tarmac and fire road finishes, so better make sure before then. Leaving the boreen for the road and I couldn't hear Brian anymore, but you get paranoid. I was sure he was biding his time and waiting for his moment to strike. Too many bitter experiences of fire road finishes in Leinster League races, I just didn't want it happening again today.
Turns out Brian had had enough and came in a bit behind me. I could have relaxed a bit more on the road, but – well – you can't look back can you?
Got 7th, Brian 8th. Ger Griffin seemed to have made a mistake on the way down and lost a couple of places. He wasn't the only one. Brian Furey had troubles of his own in this regard.
Robert Malseed held on to take a fantastic win, with Bernard second, Peter third and Brian F fourth. This left 3 runners tied on a score of 5 for the Connacht Championship. It was thus decided on combined time over the two days, Brian Furey winning out by about a minute.
A tough but superb route and truly a memorable weekend. So thanks to all involved – especially Vivian & Dermot for the organising, John Mac for the Mweelrea route, Paddy for the new Croagh Patrick route, Joe and Judy for marshalling on Saturday, Joe & Nora for letting me stay in their cottage... and to everyone who took part for all the craic. And a special mention to Damian Kelly and Brian Mullins for the close racing over the two days, which is what it's all about.
Brilliant stuff. Bring on Kerry.