World Senior Trial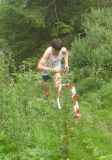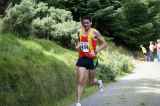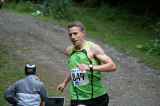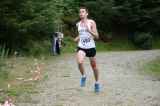 Authors
Gerry Brady
13 August, 2011
Junior report on http://www.imra.ie/events/view/tab/report/id/898/
The trials for the World mountain running championships and the British and Irish under 16 and 18 championships were held on a dry, calm day in Crone Wood, Wicklow. The course comprised a 3 kilometres lap with a run-in of 480 metres to the start of the lap (finish point).
First race off was the senior women and junior races at 12:00 with two laps or 6,480m with 428m ascent. Sarah Mulligan (DSD) was a comfortable winner in 33:10 which was outside Sharon Bird's 2010 time of 31:49. Sarah led from the start for a convincing win. Fiona Clinton (DSD) was runner-up ahead of Donna Mahon (Rathfarnham) and Karen O'Hanlon (Dunboyne).
The senior men started ten minutes later and they had three laps comprising 9,480m with 621m ascent. Mark Ryan (Rathfarnham) led the field up the first climb. On the descent, Ryan, Barry Minnock (Rathfarnham) and Ian Conroy (Raheny) broke away. At the end of the first lap, Minnock had a comfortable lead which he held to the finish to win in 41:02 which was over two minutes inside the 2010 record set by Gary O'Hanlon (Clonliffe). It was a nice way for Barry to complete his 100th IMRA race.
Mark Ryan, Ian Conroy, and James Kevan (Clonliffe) were also inside the old record with 41:22, 41:36, and 41:57 respectively. Killian O'Connor (Sligo and under 18) equalled the old record with 43:09 and it transpired afterwards that he had inadvertently ran the senior race instead of the junior race. His performance would most likely have seen him win the junior two laps race. Three Rathfarnham runners (Brian Furey, Peter O'Farrell and John Brennan) finished next with Ross Alexander (Coolquill) in ninth ahead of Jason Kehoe (Crusaders).
Thanks to the volunteers for ensuring everything ran smoothly.