Mullaghcleevaun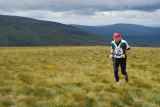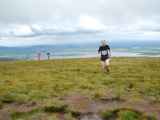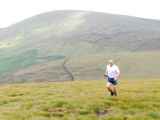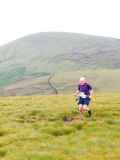 Authors
Aidan Roe
19 June, 2011
Aidan V Aidan
After going over on my ankle on Tibradden on Wednesday night I wasn't sure I was up for this today. I know Mullaghcleevaun well. I've walked it many times, in all weather and know all the crappy ground around it. I've never been up it from Pound Lane. This is an agreed access route onto open mountain across private land. I didn't think Paddy went in for this class of thing at all. Very progressive!
27 of us get ready for the off and we're away. I'd love to report on the goings on up front but alas that's someone else's job. I had a couple of targets.
1). Don't f**k up my ankle 2). Get in, in front of Aidan Blighe.
Myself and Aidan have had some real dingdong's this year. Like myself, Aidan isn't the fastest on the uphill, but he's improving, and quicker than me, but on the downhill he's a fellow trundler. With low centres of gravity and plenty of ballast we're like a pair of cannonballs on the downhills
Crossing the side of Black Hill to the Green Road isn't too bad. It's well marked and for the moment were all bunched together. I'm out ahead of Aidan with Johnny Fitz close on my heels. Not much yap here. Need to watch where I'm putting my feet. We arrive on the Green Road. It's lovely, or at least it would be if it wasn't for the uphill bits. I can see Ken McCarthy and Derek L. pulling away. Myself and Derek had some great races last year but I can't live with him at all this year. Ken has obviously had his porridge this morning as well. Grinding away on the uphill Diarmuid passes. He's recovered from a knock on Wednesday as well. Exchanging pleasantries I notice people off road/track already to my left. I decide to follow hoping to cut a curve out off the track. Johnny Fitz follows.
We reach the summit of Black Hill together. I had already spotted Diarmuid reaching the top with about a minute on me. So much for short cuts! Looking behind I see Aidan I have a couple of hundred metres on him. He's usually closer. He was sick during the week. Perhaps I'll get him today. Johnny and I start the decent off Black Hill together. We find the track and I'm off. A bit gingerly at first, but gradually gathering speed. It's too much fun. This is one of the joys of hill running. I'm starting to reel Diarmuid in.
The reeling ends when the ground flattens out. I normally only come up here in the winter, when it's frozen. It's one of the worst spots in Wicklow (I think). It slows me down to a walk. Justin (?) pulls up beside me and starts walking as well, but quicker. Diarmuid, Justin and Johnny are ahead of me pulling away. I don't want to look behind to see where Aido is but I know he's not far. He'll have enjoyed the hill as much as I did.
And on it goes. The lads are slowly pulling away. They've reached the peat hags and are skirting them. I know a way through them and sure enough by the time I've reached the last steep ascent I back in beside them. As we start climbing I take a quick look around and there's Aidan. About 100m behind. He's made no ground at all. It's worth mentioning here that Paul, Zoran and Bernard have passed us in the other direction about 6-7 mins ago. Now the rest of the field are passing me on the descent. Just as the ground flattens near the summit Derek and Ken pass. I don't see them again. I finally see the summit (equipped with trig pillar and marshal) and turn for the return leg. I meet Aidan. I have about 45 seconds on him. I pass Johnny, Diarmuid and Justin as the ground steepens. I love this crack! I reach the peat hags and make my way through them, following my tracks from earlier. I climb out from amongst them and head for Black Hill. My legs are tiring. This sucking muck saps the juice out of them quickly. I realise the hill I have set my eyes on is Silsean. Turning right I pick the correct track and head for Black Hill. I can see the lads making their last ascent. I believe I have a good lead on Aidan, bragging rights are mine. Score! As usual I'm delusional. Over my left shoulder I see Aidan. He's after running a cracker. He passes me. Then Justin and I can sense Johnny Fitz just behind me.
I hate the pull back up onto Black Hill even when I'm out walking. This though is killing me. We reach the top and start the descent. Aidan ahead, Aidan just behind. I catch sight of the Memorial and go for it. Aidan is pulling away, the other Aidan is freaked about the ankle now. Were going full tilt. Just one hole and I'm in the shit. Aidan reaches the Green Road followed closely by Aidan. I've been looking forward to this since the start. Aidan's starting to pull away on the slight rise before the final descent. Over the crest and it's all downhill from here. Aidan has about 50m on me. I just let go. I can hardly see, my eyes are streaming and my legs are nearly gone. Just before the gate I've nearly caught him. Aidan turns left and that's as near as I get. He pulls away again and that's it. He's done it again. Sod it! I had a really enjoyable run though and the weather conditions were perfect.
I enjoy the Leister Championship runs. The crack at them is always friendly. Prize giving was in Zellars afterwards. One of my favourite pubs in the area. Wicked pint. Couldn't hang about to sample one/two I had to get home before I turned into a pumpkin. Might get a chance on Wednesday. Don't know who won what yet, but well done to all.
Finally, thanks to Paul& Issy for running it, the two summit marshal's (???) for standing around and anyone else who helped out. A super day out.
Now where's that wine???