Wicklow Way Trail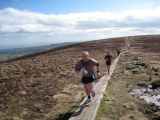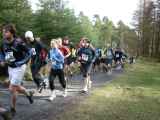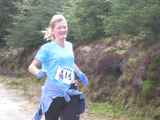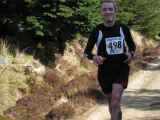 Authors
Gerry Brady
29 March, 2010
Alexander and Collins take Trail races
It was almost perfect weather for a long-distance race (apart from the wind testing your balance on the boardwalk) with dry underfoot conditions and generally sunny skies. A record 129 competitors set off from the new start in Ballinastoe Woods on the point to point trail race (I am not sure that the word trail does justice to this tough course). As they came into view snaking across the boardwalk towards Djouce, they were distinguishable from the ultra competitors by their closeness to each other and by the absence of the zombie eyed look of the ultra runners who were retracing their steps towards Johnnie Foxes to complete their 50 km epic!
When the Trail runners reached the end of the boardwalk it was Diarmuid Collins (East Cork) in front with a very limber looking Paul O'Connell (Sportsworld) following within a yard of him. Leo Murray (Tir Chonaill), Jason Kehoe (Crusaders), Zoran Skrba (Sportsworld) and Karen Alexander (Sperrin Harriers) were still sufficiently in touch with the leaders at this stage. Daniel Morrogh (Army) was next. Behind these were clustered Mick Hanney (Boards), Gerry Lalor (Setanta), Gary Condon (Boards) and Adrian Hennessy. Leading the women's race was Suzanne Kenny with Kate Cronin (Raheny) around 30 metres behind her … hmmm ……Kar……e…n…hmmm!!!
It must have been a rude shock for the lads at the start of the trail race when they found a fleet-footed Karen Alexander running with them at the front of affairs. She made her debut for Ireland in mountain running at the 2009 World championships where she helped the women's team to eight position overall. Karen is well known up north and the sizeable NIMRA contingent who travelled down for the double-header would have been quietly familiar with her prowess. The decision to run the trail race was really only made the evening before. Up to then the target had been the Ultra after a recce of the full route over two training runs in early March.
By the time the Trail runners reached Johnnie Fox's the order was largely unchanged up front with Diarmuid Collins winning and completing his third race in eight days (Colleges mountain championships and Ballycotton last weekend), not bad for a former junior cross-country star. Jason Kehoe continued his good season by finishing a close runner-up. Karen's knee held up resulting in a fine fifth position in an excellent time of just over two hours and within five minutes of the winner. Surely Emma Sokell's old course record of 1:54 would have gone as the new course seems to be around 16 minutes longer than the old course.
Jason Kehoe
29 March, 2010
We set out from Tallaght with club mate Stephane Pradines in the back and my fiancée Tina driving for what was to be a fantastic day to run in the mountains. The registration was packed and the car park was nearly at overflow levels (what will it be like when this secret race gets a proper public outing?!). There was a great buzz about the place and we hadn't even made it to the start line. Kevin gave me new race number for the season, number 521, a great little number, it's the year Saint Columba (Colum Cille) was born and also the version number of a piece of software I worked on recently, v5.2.1! After Registration we also picked up Mark Johnson who was on the bus standby list leaving the car park so we had a full car and everyone was eager to go. There was a fair few cyclists out on the roads on the way to Ballinastoe and one particular driver was taking a little too long to overtake a female rider. He eventually did and we could see what took him so long. The cyclists red thong was riding half way up her back so we had a right 'oul giggle at both their expense when we passed by!
The start was fairly peaceful and then the bus arrived with the main bulk of the field. A 15min warm-up along the start route and I saw what I thought was other runners warming up but soon realised they were the ultra runners. The majority of them didn't look to be breaking a sweat so I could be forgiven for assuming this. Martin Frances zoomed by and promised me he'd see me at the boardwalk (he lied btw!)
I finished warming up and headed back to the start line, then embarrassingly I got a big cheer and round of applause from the trail runners, I tried telling the mob that I was a trail runner but in the excitement they wouldn't have any of it, they were going to have their cheer and that was that! Then when I jogged through them I was getting calls of Stop! Stop! You turn around here! ...'Morto' as they say!
The Ultra runners started coming thick and fast and Eamonn Hodge even paused to give us a big cheesy grin and a few bows for the crowd. Caroline was looking strong and she went on to run a stormer later.
We were finally set on our way and it was a gentle pace up the new section of the course. It was a bit of a cagey affair and I think I was expecting the long distance specialists like Mick Hanney to be setting the pace but I only found out after that this was a training run for his Connamara Marathon in a few weeks. I spent most of the first 3KM trying to give a few words of encouragement to the brave Ultra runners but always had one eye on the race leaders about 50meters ahead. The plan was to take it handy for the first 12km so I wasn't too worried about them being so far away. A bit of wind on the boardwalks had me performing a balancing act at one stage but it was quite refreshing and didn't bother me too much. Gerry Brady was at the end of the BW's taking pictures which I must say captured every runner with some great scenery in the background... you could sell them for at least a tenner each Gerry! 169 runners @ €10 each = lots of pints!
Coming down off Djouce I was still taking it handy and enjoying the scenery but soon came into a bit of trouble as I lost my shoe in a bog spot (2nd time this has happened to me in a race in the last few months)! I came hopping to a stop and had to take off gloves to tie the lace. Then I saw Zoran speeding along and I shouted to him 'Just my luck eh Zoran?' Next thing I knew Zoran was on his backside having slipped in the same spot but he quickly jumped up and bounded on. Crossing by the campers at the dargle river bridge I could hear their north side accents as they were having a bit of banter together and I admired the lovely spot they chose to camp at on a beautiful weekend.
I took two spots back from Zoran and Paul on the steep climb up to Powerscourt viewing point and then passed by all the cheery happy scouts and their leaders. They were a right happy lot with shouts of 'runner' all the way along and some appreciated encouragement to boot. At the water station I took a water to wash out the mouth and said hi to fellow Crusader Bronagh who is back running and looking fantastic after her first birth to baby Alannaah. She was to later jog from Crone to JF's.
The two lads Diarmaid and Leo were now no longer in sight so I started to push on from Crone and by the time I got to the second bridge I could see them running along the bank in the distance. I stopped very briefly to stretch the calves and decided to make a move and try get them at one of the remaining three climbs. By the time I got to the first climb up from the river I could just see them nip into cover of the trees. I was practising my high knees technique going up, courtesy of Crusaders newly qualified mountain running coach Rene Borg, to really try and close the gap and at the same time protecting the calves from getting weak.
I gained about 50 yards and then on the second climb I took a drink and passed Leo. He gave me an encouraging 'Good man!' but I was too wired to even reply (sorry Leo!). So there was one more runner that was running with Leo as far as I could see so I was pretty sure I was either in 1st, 2nd, or 3rd. I pressed on regardless and finally saw Ultra runner Martin Frances, I gave him a telling off for not waiting for me at the boardwalks but could you blame him, he was having a great race! The Lucozade sport bottle must have been really working... I also passed Keith Heiry who was running strong but was looking worried about Martin lurking behind. That was some training run the week before Keith!
We got to Curtlestown and I was going at fair good pace but Diarmaid had also picked up the pace. I took the remainder of my own drink and a swig of water at the stop and thanked the young man for it, I was going to stop for a pastille but I was kinda under pressure and besides I would no doubt have been rooting in the box for a black one for a while as Ultraman Eoin Keith was sure to have taken them all when he passed earlier (he only took one it turns out though).
Diarmaid was now about 30yards ahead of me and getting worried as he was looking over his shoulder a few times. I was convinced I would push him all the way to the top but I then felt the effects of a stich coming on my right side. Too much bloody fluid! All the while Diarmaid was making an incredible ascent up to Prince Willies. By the time we got to the large steping stones I took my first brief rest as the stitch was too much. Ten seconds of fast walking and then I carried on. Jason reid was at the top encouraging and I was surprised when he said you the first trail runner at the top. 'The first?' I said, 'What about the runner that just went by?' Jason said 'oh I'm not sure, was he not an Ultra runner?' He didn't know and I didn't know! So I was either in 1st place or 2nd place. I guessed 2nd as he was still running fast in comparison to the other Ultra runners. I continued on and I decided to let Diarmaid go at that stage I would never make up the 20 seconds or so and I was starting to get a big blister on the ball of my left foot which was wet from losing my shoe on Djouce. I met Gerry again at the bottom and he confirmed I was in second. My only concern now was to hold onto my placing. Leo was not in sight behind me but I eventually saw him making a comeback and what a comeback it was. I had to try go to a happy place when we hit the tarmac and just concentrate on my running form to maintain enough speed to hold him off. The stitch finally went away but I could feel the blister like a water balloon in my sock and was trying to run on the outside of my foot to minimise damage!
I saw Tina walking along the road and she was surprised to see me as previous years I would place middle of the pack, 'Your in third place!' she shouted. Now I was really getting confused again! She was counting Ultra winner Eoin as the first placed man. With the sign of the crossroads in sight I could finally ease up and coast across the finish line. My congratulations to Diarmaid on a super win and a very strong finish up the last mountain, and also to Leo for really making me push the pain barrier on the tarmac.
The volunteers did a great job and the Wicklow Way 2010 mug is brilliant and it's sitting on my desk in work to remind me of a great day! I hope all the other runners had a great day and lets hear about your personal battles throughout the field.
Mick Hanney
29 March, 2010
A variation of a race report I'd put on Boards over the weekend...
The day started early for me as I had to get up to Ballinastoe to mark some of the route to ensure that runners came off the Wicklow Way and followed the right course to the new start. An Ultra race was taking place at the same time. Those runners - a brave set of 40 or so runners - started at 9.30am and ran the outward leg from Johnny Foxes, before turning in Ballinastoe for the run back !
So before I reached registration at Johnny Foxes this morning I had a few k in the legs. No harm I suppose. Most of the trail race runners were bussed to the start from Johnny Foxes. Lots of new faces. Lots of familiar faces including quite a few of the boards contingent including a few guests over from Galway including my mate Aaron for his first hill race :-) He's a sub 3 marathoner and a regular Conn Ultra runner. He was so early today he was nearly tempted to run the Ultra. Lucky for him he didn't. More of that later.
As we gathered at the trail start we started to see the first Ultra runners on their onward leg. Eoin Keith and Keith Heary were leading. Ed McEntee was 3rd I think. Other familiar faces like Martin Francis, Paul Mahon and Adrian Tucker followed. David Hodge and Richard Nunan too.
Our race started pretty promptly at 12 noon. It was cool and windy at the start so the masses were glad to be moving to start to get properly warmed up. We followed a forest trail for 2+ k until we turned onto the Wicklow Way proper. En route we passed some more ultra runners on the way out including Caroline Reid and Jo Fearon, another Boards ultra runner & triathlete, who was running well at that point.
A lead group of trail runners had stretched ahead. Myself, Gary Condon and Aaron were together initially, and we followed each other for a few k on the boardwalk up towards White hill and around Djouce. I was happy to run conservatively enough. This race is a bit like a marathon. Go out to hard and you can suffer later. This was a training run after all for me for the Connemarathon. It was quite windy and exposed going around Djouce too so that was another factor in the running. I stayed in the shadow of Gerry Lalor on this stretch. Coming off Djouce it was a great downhill. Those without trail shoes probably couldn't let go to the same extent as I could. I ran close by to Gerry on this stretch. That downhill took us past Karen Alexander the leading lady on the day. I managed to get ahead of Gerry as we headed up the short steep steps on the other side of the bridge over the river that flows down to become the Powerscourt waterfall. "see you at the finish" said Gerry as I passed. I reckoned he'd stay with me so I laughed that off.
Onto the trails then leading down towards Crone and I managed to haul in a gap that had opened up to Daniel Morrough. I ran beside him then for a while until we got water at Crone car park. I managed to get ahead of him at that point and was overtaken in turn by Karen. On the downhill towards the Dargle I went past her again and saw Zoran Skrba in the distance and I focused on trying to close the gap. Bit by bit I managed to haul it in and I also passed Paul Mahon who was on his ultra return leg.
On the uphill from Knockree hostel - a bit I powerwalked, or at least tried to - Karen caught up with me and extended a bit of a lead as if I was standing still. I stayed within 30 yards or so of her and in the process we managed to pick off a couple more of the ultra runners on their return leg. Niall McAlinden was one. Entering Curtlestown - another much needed water stop – the gap between me and Karen widened despairingly as she ran very well up the hill. I was running slowly at this point but still enough to pass a few more ultra runners, Martin Francis and then to my surprise Keith Heary. I walked the last bit of the hill but got encouragement from Jason Reid and a few others at the top and ran the very last bit.
I knew from this point onwards it was mainly flat then downhill so it was a case of hanging in there. Gerry Brady was there at one point taking some photos and he called out some places. I think he said 6th. All the while I wasn't looking at my watch (as I'm not really a clock watcher) nor was I looking behind me to see if I was being closely pursued. That lack of knowledge kept me ticking over. I wasn't going fast at this point but coming off Prince William's seat its a case of letting gravity do its thing, spin the legs, hug the bends and before you know it you were on a brief uphill to the tarmac road that brings you to Johnny Foxes. I was getting tired at this point and I could feel a blister coming on on the right foot - not surprising as the salomons I wore probably weren't up to the task of the longer distance, but neither would road runners have been suitable for the muddy bits.. so catch 22 there. Up ahead no runner was in sight. In any event I was determined to hang onto my current position so I tried to keep the legs turning over on the last 1 and a half k towards Johnny foxes.
Crossing the line was a feeling of relief, happiness and sheer knackeredness. My time was 2 hrs 4 mins. 6th overall, 2 places better than last year. Happy days. My pace was marginally slower than last year but thats okay bearing in mind the extra distance and climb. All told today I ran over 30k and climbed over 1000m's so a good day's work.
Familiar faces crossed the line soon after and some of the results started to emerge. Eoin Keith had won the Ultra despite a recent injury. Thats pretty damned good running considering! Diarmiad Collins was the trail winner with Jason Kehoe and Leo Murray in close attendance. 4th Paul O'Connell, then after her great run Karen Alexander
My mate Aaron finished out his first hill run. He said it was the hardest race he'd ran - so its as well he didn't run the ultra version! Needs practice on this hills methinks, but I reminded him that Croagh Patrick isn't too far away on the calendar and he is up for the challenge.
The mugs we got at the end were a nice touch and will be a nice lasting memory of a great day on the hills. Thanks to the race director and his host of volunteers for making it possible.
Rene Borg
28 March, 2010
CLUB RESULTS
MEN
1. Sportsworld 35 (4 Paul O'Connell, 15 Liam McFadden, 16 Jakub Splawski)
2. Boards AC 66 (5 Mick Hanney, 7 Gary Condon, 54 Brendan Craig)
3. Setanta 74 (10 Gerry Lalor, 24 Kevin O'Riordan, 40 Andreas Kusch)
4. Crusaders AC 102 (2 Jason Kehoe, 37 Stephane Pradines, 63 Diarmud O'Colmain)
5. Team Purple 103 (25 Rowan McMahon, 30 Barry Tinnelly, 48 Cormac Fitzpatrick)
6. Sli Cualann 114 (27 Cormac O'Ceallaigh, 38 Eddie Daly, 49 Brendan Lawlor)
7. GEN 276 (57 Joe Lalor, 108 Brendan Doherty, 111 Mick Kellett)
WOMEN
1. Crusaders AC 23 (5 Mary Collins, 8 Emma Boland, Deirdre Ni Chearbhaill 10)
2. Sli Cualann 41 (12 Nicola Cochrane, 14 Liz Ryan, 15 Aisling Renshaw)