Devil's Glen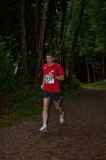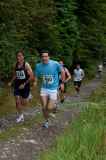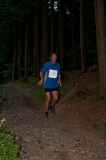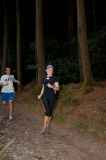 Authors
Rene Borg
14 August, 2009
TEAM COMPETITION
The end-game was always going to be between Sli Cualann and Boards today with the locals having 5 runners out and Boards mustering the same number.
With two man in the top-3, Sli Cualann won by a wide margin, but Boards AC could celebrate victory in the Trail League.
Crusaders finished third on the night and finished 2nd in the League overhauling UCD who couldn't complete the League as they only had two runners on the night.
The Crusaders women won their third race and with it the League.
MEN
1. Sli Cualann 13 (2 Ryan Montgomery, 3 Tim Grummell, 8 Ben Mooney)
2. Boards AC 38 (7 Mick Hanney, 15 John Ahern, 16 John Langenbach)
3. Crusaders AC 111 (19 Gavan Doherty, 40 Cathal Lally, 52 Diarmud O'Colmain)
WOMEN
1. Crusaders AC 20 (5 Eva Fairmaner, 6 Lornie O'Dwyer, 9 Geraldine O'Shea)
Rene Borg
14 August, 2009
Having had my first go at devising a route, I thought it may be interesting to write a race report from a route creator's point of view. Two years ago Mick Hanney posted on the forum about a nice training run he'd like to share with IMRA. It had the evocative name "Devil's Glen" and my interest was piqued from the start. All I knew at this stage was that it was the location of the old Tiglin Adventure Centre. So below some history and a race report from a spectator's point of view.
ROUTE WORK
There are many "hidden gems" in Wicklow that would make good race routes but many suffer problems with location, logistics, access etc. (Clara Vale, full of great trails, is one example as it is slightly difficult to get to and has little parking facilities). Knowing Douglas was looking for suggestions to add to his own innovations: Glen of the Downs and Ballyross, research begun.
Moving to Wicklow I got a chance to study the Devil's Glen in great detail, though, and saw for myself that it had all we needed: public access through Coillte, reasonable car parking facilities, nice friendly pub nearby, and, most importantly, proximity to the N11. There were worries that the route was a "bit far down" as Douglas and others put it, but we decided to try and live with the risk and see how it worked out. Truth is, while you travel a good bit south, you drive on good road and the final 10 minutes to the glen are quite simple.
In the last two months, I made several Garmin-timed runs to find out what combination of the local tracks would work best for a race. I wanted a steep start (as classic in IMRA races), I wanted to have both fast and fun descents,
I wanted to ensure runners passed the scenic bits and finally I wanted a straightforward and simple-to-follow route (as possible). Then there was Douglas' requirement that the route should be short enough for a winning time of around 35 minutes to account for the receding daylight. Picking my route and measuring it at around 8.6k, I found myself satisfied that I had a match. Now all we had to do was run the thing!
RACE REPORT
Only a sore throat stopped my bleeding heart from not running over to number's box and join the queue of registrants. There's nothing more tempting than racing one of your regular training runs, and there I was having the opportunity.
Mick Hanney, suffering from a few niggles stood in ably for me, however. We'd run the route together a few weeks earlier and he'd marked the Waterfall part while I had marked the Seamus Heany part in the hours before race start. Of course, Mick Hanney had two things to run for apart from the joy of bringing his original idea to life: victory for Boards AC in the Trail League and securing the M40 title in the League (he got both). And as Paul Joyce showed at Mt. Leinster, the Boardies have a streak for sacrificing themselves for the team.
We got a really good crowd on the night, 100 runners, and although lower than the 125-131 at the first two races, I would have been happy with 70+ given the new location and the late stage of the year. The car park managed the numbers quite well and there was plenty of spaces to give further down the forest road should numbers increase in coming years.
Apart from the large field, we were glad to see former Junior International Emmet Dunleavy out. Emmet ran 9:08 for the 3000m steeplechase recently and promptly showed his class as he set a worthy record for the new route of 32:40; a record that may survive a few assaults. Ryan Montgomery may have been closer in second than he was in the end: He accompanied junior international Niamh Kearney on the junior course (the lap of the first course) as part of her preparations for the upcoming World Youth Challenge, before accelerating into mad chase for the last 5k on the Waterfall Walk to secure second.
Clonliffe's Sonja Fuhrmann got another victory in her maiden season with IMRA and her time of 41:08 will be the record to beat in coming years for the ladies should the route return. Using some shortcuts I got a good opportunity to watch some battles, although the field was mostly settled on the second loop where the undulating terrain required a huge injection of pace for runners to move significantly through the field.
Tim Grummell, who attacked his group on the final hundred metres of the first climb, had a lot of work to do to fight off Alan Lawlor and take 3rd place. Behind Alan finished the overall winner of the Trail League: Daniel Morrogh from the Defense Forces.
2nd and 3rd woman on the night were Amanda Duffield and Aisling Corkery. Eva Fairmaner took first F40, Brigitte Morrogh first F50 and Caitlin Bent first F60. Aforementioned Mick Hanney was first M40 (out of 24!), Paddy Ryan took the M50s, Diarmud O'Colmain continued his streak for in the M60s and Seamus Kilcullen won the M70s.
I heard a lot of good feedback on the night, so thanks to all, and some interesting too. General consensus comments included the fact that the first hill was tough (as hoped!) and that the 2.5km along the river felt like eternity (to console those who asked: "Yes there is a slight incline on that part!"). Finally, quite a few thought the route suitable for the Winter League, so that may be an option, the forest would no doubt look well at that time of year. Special mention goes to Michael McCarthy on his visit from England and running for the London Irish.
There was a brief panic as rumours said John Fitzgerald (or "the runner dressed in all-orange) was injured out on the route, but by the time news arrived at Command Centre with Vivian, John had shrugged off a sprained ankle and came racing in minutes later. The soft descent through the zig-zags caused a few slides as well but the terrain was forgiving.
Also thanks to the Ashford House who gave us a good welcome and provided a cosy venue where people took full advantage of the soup-chips-toastie combo on offer on the menu. Congratulations and thanks to John Shiels for making his 100th appearance as IMRA photographer capturing the life and colour of the association.
The Devil hasn't roared over old "Gleann Mór" since the Vartry Reservoir was built and reduced flow to the Waterfall and the Vartry River, back in the days when the lower forest paths were wilder and rougher and used by the orienteers. So it was fitting that IMRA created a different sort of noise in the old valley on Wednesday night.
Eamonn Hodge
14 August, 2009
Picked up Kevin O'Riordan and Dennis Carey from the Ashford Arms carpark and drove the short distance to the Devil's Glen. Went to register where I was roundly abused for not turning up to the World Trial at Crone Woods the preceding Saturday by Richard Nunan and Mick Hanney. A few other passers-by joined in when they saw I was down, Pol O'Mhurcu getting a dig in. I've done the requisite 3 races for the Irish Championship t-shirt. Come on! Throw me a frickin' bone here!
Anyhow, Rene gave me some sound advice about doing a good long warm up for this race as there is quite a steep start to it - so naturally I stood around chatting to Colin Doyle, Pol, Kevin Magee etc.
Forgot my Garmin and had to race back to the car to get my wrist-laptop (as it's affectionately known because of its size relative to my pencil wrists) and my chest strap for the ol' heart rate data which I never get to look at. It took me ages to get a signal. Rene was giving a race briefing and I was holding my Garmin aloft trying to get a satellite connection. Rene was finishing up so I just put it on my wrist and lo and behold we had traction!
Race started off and I found myself just slightly behind where I probably should have been. I'm always wary of starting ahead of where I "should" be as I don't want to hold up faster runners. Passed a couple of slightly over-enthusiastic runners who got caught up in the frenzy at the start (happens to everyone).
The ascent was fairly tough but I decided not to slow down to a power-walk, something I've been doing lately. This lasted for quite a while but eventually it turned into a nice descent. I like the non-technical descents. I can let loose a bit and lengthen my stride and often catch a few people. I had a little cat-and-mouse with Alan Collins where I would overtake him on the downhill part of the undulating route and he would catch me on the uphill or the flat. Overtook a junior, Niamh Kearney, who was running strongly (she would later power past me raising a cloud of dust in the process). I really opened up on a downhill section and temporarily escaped my pursuers. However, I felt this pounding in my back and had to slow down significantly. Was passed by 2/3 runners on the next descents as I didn't want to injure my back. Could see Richard Nunan a little ahead of me.
On the approach to the car park Niamh Kearney flew by me like a freight train. No stopping her.
We approached the zig zags where I was only slightly regretting wearing my Asics Kayanos (road runners) rather than a pair of mountain runners. The path was a little muddy and the roots were a little slippy and I had one or two close calls. I was overtaken by one person due to my caution. No regrets!
Got down to the river and tried to keep my leg turnover relatively high. Got past Paul Cullen and another guy and was quite surprised to keep pulling away as I didn't feel very fast. I felt like I was plodding along. Eventually I could spot Kevin O'Riordan in the distance looking quite comfortable. I kept going on this flat part (I was later told it was slightly uphill which made sense as we were running beside a river flowing against us). I eventually caught Sonja Fuhrmann which I couldn't believe but I knew there was some serious uphill coming. I was expecting to have to break into a walk but I managed to keep plodding along. I could see Damien Cunningham (fellow Gaelforce competitor) and Richard Nunan ahead and I knew that Sonja was liable to come roaring past me. Glanced behind me and there was no one?! Excellent.
Met Rene along the cliff path part of the route. I asked him "how long more?" , "about a k" was the response. "You're nearly in the top 20". Fantastic. Then we got to another uphill part which I'm sure reduced a fair few people to walking if not tears. I just didn't have enough to catch Damien on the uphill. There was a nice descent to the barrier and a sharp right turn to the finish line. Delighted with my final position of 22! And I beat the girls! Hurray! That doesn't happen very often.
John Langenbach, John Ahern, Richard Nunan and Mick Hanney (fellow Boards AC members) all finished ahead of me which was to be expected! Mick ran far better than expected having been limping around for the last few days due to an ankle injury. 7th overall, and first M40. Smashing stuff.
Two thumbs up for this course. Love those rollercoaster descents.
Thanks again to John Shiels for yet more great photos and to all the volunteers especially to Sinead who went unto the laptop-operator breach once more to help out Vivian. Note to self: must volunteer more.