Galtymore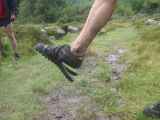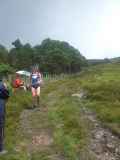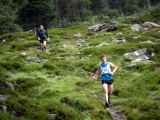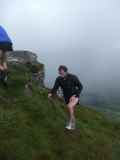 Authors
Rene Borg
07 July, 2009
MEN
Peter O\'Farrell, crowned Irish Champion on the day, led home a very strong team consisting also of John McEnri and Turlough Conway. Third-placed Tom Blackburn helped Bilboa AC finish 2nd and more importantly record a third low result that means they take over 1st place in the Irish Championship ahead of Clonliffe.
This despite Clonliffe recording another respectable score in the Championship but they still retain 2nd position while Boards (not running today are hanging on to 3rd).
Grange Fermoy had their first outing in an IMRA club competition (welcoome team!). Rathfarnham\'s win mean that a low score in the last race (the World Trial) will very likely see them win the title and they will be favourites having won both at Carrauntoohil and Galtymore. They are the only remaining team with a chance to complete the Championship outside of the current trio: Bilboa, Clonliffe and Boards.
No ladies team had enough scorers on the day and mathematically no female team can now complete the Championship.
1. Rathfarnham WSAF 10 (1 Peter O\'Farrell, 4 John McEnri, 5 Turlough Conway)
2. Bilboa AC 26 (3 Thomas Blackburn, 10 Mike Cunningham, 13 Joe Aherne)
3. Clonliffe Harriers 33 (7 Stephen Cleary, 11 Rob Cleary, 15 Dermot Murphy)
4. Grange Fermoy 81 (16 Michael Lyons, 37 Morris Tobin, 38 Brian O\'Connor)
Mick Hanney
07 July, 2009
You start at an elevation of 200m and you take in 3 peaks:- Cush 639m, Galtybeg 799m and Galtymore 919m. After gaining the height on Cush you lose about 200m again before you start the assault on Galtybeg. After peaking there you lose circa 100m again before the final push on Galtymore. On the way back you've ascents then to make on Galtybeg and Cush. That's a lot of climbing, particularly when the weather is bad as it was for this race.
A field of about 45 turned out and we probably all looked at each other at the start as if to say 'are we mad?'. Probably! Given the weather conditions it wasn't beyond the bounds of possibility that the race route would be shortened, but no.. off we went to run the published route. It was slow going up towards Cush. Peter O'Farrell and John Lenihan led the line of runners off in the distance. I was back in the pack and trying to pace myself for what I'm told is perhaps the toughest race on the calendar. I've never had the pleasure of running Carrantuohill but I can safely say it's the toughest in terms of climb I've done in Ireland. No surprise there. Theres a lot of walking in this race, for someone like me, but the gradients are such uphill that walking is nearly the only way to do it. There was a gale blowing on Cush. Kudos to the photographer got getting any photos in those conditions there. It was a relief to be going downhill off the other side. There is a fair amount of bog and water pools between this and the next peak so getting a good running line was a challenge. The climb up Galtybeg was cruel. You face a wall of green grassy steps to get up. At the top, you think you are there, only to find that its a false summit and the climb goes on and on some more. I was overtaken on this stretch by Dermot Murphy and paced myself with Joe Ahern and Rene Borg. I climbed reasonably well here and got away from the latter 2, and the brief descent from Galtybeg was fun. On then to Galtymore and this was more cruelty . I remember thinking at one stage that this race was the evil twin of Ben Gorm, but Joe Ahern insisted Ben Gorm (with the long grass) was tougher in parts. Its like running on a lawn here, he said . There was low cloud here so you couldn't see the peak above you (probably a good thing). Finding myself on my own for a moment I stopped to tie my laces tighter – a good move as the mudsucking ground threatened to remove them at times. It also allowed Joe Ahern to catch me, and as he had local knowledge I was happy to have him run / walk with me through to the cross at the top. Running alongside someone when conditions are this bad is a nice comfort and we encouraged each other as we ran. Climbing Galtymore we were happy to see the lead runners come down the mountain on front of us. Peter was ahead of John by about 40 secs at this stage I reckon, a lead that was pretty much maintained all the way until the end. We also encountered Bernard Fortune sitting down putting on or taking off his runners (I'm not sure which). Rumour has it Bernard ran some of the course barefoot? Wheres the camera when you need it.
The wind was very strong at the top. Dermot Murphy ran towards us and said 'its to the cross'. 'Ok' we said and ran on. But there were 2 crosses. 'Not the small one', said Joe… so on we went to the bigger of the crosses. No summit marshall in sight, but turn we did and headed back whence we came. At this stage the rain was falling very heavily. The time on my watch said 64 mins, and this was only halfway. Still, its net downhill from here. Ran alongside Joe for much of the run back. Rene wasn't too far behind. Gave shouts of encouragement to other runners still on their ascent of Galtymore. Each and every one having their own personal battles with the mountain. On the way down Joe would take off on the descent, and I'd just about stay with him. I nearly lost my runners a couple of times in bog. Joe ensured that we kept a decent navigational line on the run back and we made up time on some runners ahead. We caught up with Dermot and another runner – I think they had gone out a bit on the right - and I got away from Joe and climbed Cush alongside Dermot. I got away from Dermot at the peak on Cush, how I don't know? There, I took a few seconds to discern the right path down. Seeing some dots of runners off in the distance I headed on down. It was great to be on the final descent. The ground was wet and slippy, but springy and my grips were excellent so this gave me extra confidence. I had seen other runners on the day with road-runners. How, they were able to run with road grips is beyond me. I galloped off down through the muck and wet towards the finish, to finish in 1:51ish. Now that was a race! Tough, but dare I say it 'a classic' hill race and one I'd love to do it again next year. This is the contradiction of hill races sometimes. One minute you think yourself mad and what am I doing here. Next minute you've a big smile and you feel like you're accomplished something (even if you're not very good at it). By the way, if anyone is looking for grippy shoes for mucky conditions then Inov-8 Mudclaw 270s are the man. Huge congratulations to Peter O'Farrell, Irish Champion. And to Caroline Reid, first lady finisher. Hats off to all finishers today in a tough tough race.