Ballinastoe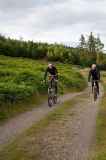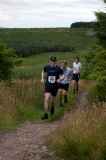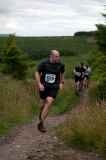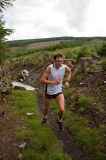 Authors
Gerry Brady
19 July, 2009
COUNTY RESULTS
There were 176 finishers from 19 counties on the Sugarloaf with 56% recorded their county. At club level there were 27 clubs representing 41% of finishers. Dublin won the women's team from Wicklow with Sonja Fuhrmann (Dublin) winning from Jenny McCauley (Wicklow). Dublin and Wicklow were also first and second in the men's team with Kildare breaking into the top three also led home by Daniel Morrogh in ninth position.
The inter-county championships are on 8th August in Crone Wood. There will be championship medals for the first three county teams in the men's and women's categories.
Women
1. Dublin 8 (1 Sonja Fuhrmann, 3 Laura Flynn, 4 Jacqueline O'Hagan)
2. Wicklow 20 (2 Jenny McCauley, 8 Aisling Renshaw, 10 Roisin McDonnell)
Men
1. Dublin 19 (1 David Healy, 3 Greg Byrne, 14 Jason Kehoe)
2. Wicklow 28 (7 Shane O'Rourke, 10 Martin Francis, 11 Rafael Salazar)
3. Kildare 53 (9 Daniel Morrogh, 20 Dermot Murphy, 24 Joe Flynn)
4. Westmeath 80 (6 Anthony Malone, 30 Patrick Ryan, 44 Alan Collins)
5. Wexford 84 (1 Bernard Fortune, 12 Colm Kennedy, 71 Eoin Mahon)
6. Cork 126 (23 Kevin O'Reilly, 39 Richard Nunan, 64 Anthony Lyons)
7. Meath 193 (43 Eamonn Hodge, 63 Michael Boyce, 87 Kevin Magee)
8. Mayo 291 (68 Stephen Holleran, 90 John Coleman, 133 James Higgins)
9. Donegal 87 (26 Liam McFadden, 61 Shay Foody)
10. Kerry 104 (15 Paul Mitchell, 89 Berndt Heim)
11. Louth 115 (38 Padraig O'Dwyer, 77 Pol O'Murchu)
12. Cavan 115 (16 Finbar McGurren, 99 Phil Ward)
13. Galway 138 (37 Damien Cunningham, 101 Cathal Lally)
Paul Mitchell
11 July, 2009
YOU'D HAVE TO BE MAD!! - A VIEW FROM THE PELETON.
I grew up in Castleisland just a stone's throw from some of Ireland's most majestic mountain ranges. Although we walked in the hills often as youngsters it sent of ripple of amazement through our minds when the news came through that our townsman, John Lenihan, had won the World Mountain Running Championships – what kind of a disturbed person willingly runs up mountains? Well that news set a flag in my brain that I was going to attempt it myself one day. Some seventeen years later I read a notice in the Sportsworld Running Club dressing rooms advertising the IMRA and listing a program of races for 2008 – the races looked rather daunting but I thought I might just about manage the 200m Howth Winter League race 2009. So I grabbed a few club mates and we headed out in trepidation to tackle Howth Head, North Face. The race was completely exhilarating and I've ended up doing more hill races this year then I've ever run 'normal' races heretofore. I have become one of those disturbed persons.
And so to Ballinastoe. Ballinastoe is an infested swamp located on the side of hill protected by impenetrable forest, trip wire roots, dense undergrowth and man eating mosquitoes. The race director included all these defences to create a natural obstacle course, throwing in a few climbs to spice it up – but unaccountably omitting the piranha frenzied river crossing. Track Runners beware – Ballinastoe is not your thing! Ballinastoe is only for committed, disturbed persons.
The race is run over 12km and takes in 2 significant climbs of around 250m each. This type of split climb route suits me as I don't have the climbing legs yet to take a prolonged climb but I can recover reasonably quickly on descents. From the off I climbed within 50m of the leaders until we got to the open mountain where I drifted back several places. Without looking behind I recognised the heavy breathing of my clubmate Colm Kennedy at my shoulder - which was a spur to increased effort – but at the same time I was careful not to blow up on the first hill. As we headed on up the hill he passed me and I tried in vain to stay with him. However coming over the first major peak I was able to catch up as we descended across some broken ground and passed him on the next minor peak. The terrain was very difficult, varying between rocky river bed, to thick energy sapping bush and then a descent through a forest swamp with razor sharp branches from chest high up. Some chose to swat the branches others like me tackled them face first (I have the scars to prove it). It was difficult to know what was happening at this stage as I had my eyes closed for much of the time. I caught up with a bunch including Dermot Murphy and Mick Haney (fair play to be out again so soon after Galtymore!) at this stage. The lads were descending cautiously enough so I decided to pass them to the left on a rocky section. Colm followed and we began to make ground on Martin Francis – unfortunately this is when the second climb kicked in and I was never able to close the gap. I plugged away on the ascent – waiting to be reeled in by Dermot et al, but it was Colm, who having decided I had exhausted my usefulness as a pacemaker, struck out on his own in pursuit of Martin. At this stage we began to pass the early starters in the forest ascent. Here Colm stopped to walk until I roared at him to get his ass moving. To his credit he picked up again and ended with his highest ever finish so well done to him. Crossing a fire road I was passed by Jason Kehoe for a second time – he having obviously gone the wrong way at some point. Next Will Powderly passed as we ascended on a rough Coillte access away. I clung to Will for dear life and got to the top only to realise there was another peak around the corner along a 'sleepered' track which I imagine might be the Wicklow Way. This realisation nearly broke me and I was very close to walking at this point but just then noticed Martin turning to the right half way up the hill – what a relief. This gave me the impetus for a final spurt to try and hold off Dermot and Mick. Reaching the turn I was very pleased to see that it was down hill all the way to the finish. By then I was fairly tired but noticed that the gap to Jason was closing. Still I couldn't muster the drive to chase him until the last section of fire road with the cones in sight. I gave an almighty effort to sprint by him but once he heard me he accelerated. My legs were going so fast that I wasn't sure if they were actually in control so I backed off and Jason took the honours.
One more race and I have the bumbag. So roll on the Sugar Bowl - with that kind of loot on the line how could I not.
Thanks to the Race Director and all the IMRA volunteers and runners for hosting yet another terrific event.
Rene Borg
09 July, 2009
The greatest shock of the night came from Sli Cualann failing to have a team out but with the league almost wrapped up you couldn't blame them. Clonliffe Harriers would not let that steal their thunder and recorded a very fine score of 28 pursued by the still rising UCD and Sportsworld who fielded 6 runners on the night.
Crusaders pulled in in 4th but could not improve their score for another week and this proved fatal as Clonliffe leap-frogged them in 2nd and now hold a 5 point lead before the Sugarbowl. Crusaders will need a score of 33 points or lower at the Sugarbowl to draw level with the North Dublin rivals who only need 38 or lower to further improve their score. Boards AC finished 5th on the night and still only have 3 points down to Rathfarnham in the League.
UCD and Sportsworld had a tight fight finishing 2nd and 3rd respectively and are climbing steadily in the League were they are now 6th and 7th. Setanta held off Wicklow Tri (out for af first) in 6th with Glenasmole 8th and final team. Clonliffe can still theoretically win the league if they score 6 points or lower in the final race of the season but this would be some upset at this stage.
Likewise for the women it was a smaller day for the team competition with only Setanta and Crusaders with full teams and Clonliffe thereby lost the theoretical chance to win the league and Sli Cualann's women are now safe in 1st and confirmed club champions of the Leinster League 09!
Setanta had Jackie and Hazel home in 4th and 5th allowing them a good margin on Crusaders for victory on the night. This extended their lead to Crusaders in the overall standings to 13 points although 2nd spot isn't yet entirely safe and will be decided at the Sugarbowl. The win was Setanta's first of the season.
MEN
1. Clonliffe Harriers 28 (2 Greg Byrne, 6 Anthony Malone, 20 Dermot Murphy)
2. UCD 49 (8 Niall Fox, 19 Zoran Skrba, 22 Ben Dromey)
3. Sportsworld 52 (12 Colm Kennedy, 15 Paul Mitchell, 25 Jakub Splawski)
4. Crusaders AC 64 (7 Shane O'Rourke, 14 Jason Kehoe, 41 Gavan Doherty)
5. Boards AC 72 (16 Finbar McGurren, 17 Mick Hanney, 39 Richard Nunan)
6. Setanta 171 (33 Terry Lawless, 46 Andreas Kusch, 92 Sean Hassett)
7. Wicklow Tri 214 (11 Rafael Salazar, 72 Jim Corbett, 131 Damien McKeever)
8. Glenasmmole 285 (79 Thomas Galvin, 102 Ercus Stewart, 104 Cillian Stewart)
WOMEN
1. Setanta 30 (4 Jackie O'Hagan, 5 Hazel Thompson, 21 Melanie Walsh)
2. Crusaders AC 45 (10 Roisin McDonnell, 12 Marlon Davies, 13 Niamh O'Ceallaigh)