Wicklow Way Ultra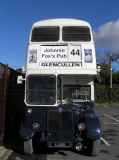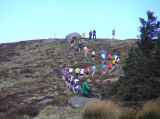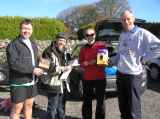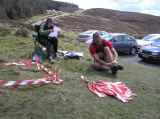 Authors
Richard Nunan
01 May, 2009
Race Report 11 April 2009, Wicklow Way Ultra:
As we arrived to Johnny Fox's Pub around 9:30, the sun shone brightly across the mountains from clear blue sky. I had arrived with Eoin (Ian) Keith after having been breathalised by the Gardai. On the morning after Good Friday, one does wonder. A few cars were scattered and Dermot and Peter were at hand to register. As I approached registration I was asked was I running with this mad bunch? My response was an uncertain "I am actually going to do this, yes." This was my first Ultra and I wasn't really 100% sure what was ahead.
Anyway, as before any IMRA race, the atmosphere was great. Having been an athlete in another sport previously, the IMRA warm-up blows my mind. Little jogs, jokes, smiles, drinks and the odd stretch… all extremely social.
I gathered from the signing sheet that there was 21 runners, all of whom unsure what to wear because of the sun and shuffling around trying to see which of the few volunteers were manning which stops. Peter was going to be at the turning point, and after a while we figured out there were to be 5 stops altogether - 2 at Crone Wood, 2 at Curtlestown and 1 at the turning point. Note to self - never let your wife volunteer for the post at Curtlestown again.
There was a race briefing at the side of the road and a last check to see that everyone knew where they were going. Many tactic changes were still going on at this stage – bottles of coke been handed to the people at the water stops, jumpers going on and off and a couple of nervous people.
At 9:59 we got the race brief from Dermot, and at 10:00, the time had finally come. We were off into a stunning, sunny day but still there was a little chill in the air. I took off mid-group and it wasn't long before the leaders, like the famous five, were on their way chatting and jogging. The adrenalin of the start naturally gets you off on a quick pace and I had to slow myself down asking myself why I could still see Eoin Keith and co. as they exited off the main road and down onto the Wicklow Way.
My strategy, learned from experiences runners such as Eoin and Justin, was to go out slow and back quick, (Quick! That has got to be a joke!) Having completed my first Dublin marathon in October, I had learned that Pace was key, but to pace yourself in the mountains is an art I certainly haven't yet acquired. Mentally, every time I felt I was putting in an effort that was similar to racing, I tried to slow down. So there was no excessive pressure in the 4km climb that brings you to the Prince William Seat. As I took the foot off the pedal, I expected to be overtaken before I reached the first ascent. When I got to the top I could feel the power of the sun, making me hotter and hotter. The first drink was taken as I ran down the first slight descent, feeling good and forgetting to slow myself down on what was a glorious day.
At the 6km mark, you descend down into Curtlestown. I eased my pace and widened my stride. It was getting warmer so i removed my long-sleeved shirt and t-shirt as I moved. Tough job getting this over my head at 10:30am while striding down a hill. I tried not to think about the pain i was going to be in on the way back up this beast. At the end of the hill, I picked up my Camelback, dropped off my t-shirt and shot a big grin at Trish, who was at the first water station. I told her I was feeling great and was trying to go slow but it was so nice that I was finding it hard. :-)
Onward to the hostel. I was worried about this stretch from all the idle forum talk and had recced it the week before to make sure I would be ok. Still getting warmer, I was losing a lot more fluid than I had expected. I was pleasantly surprised at the little yellow flags and the IMRA red and white marks on the descent before the hostel. "Nice one!" I thought to myself. I had been alone for some time now and was happy to see them. As I got to the hostel, I saw that the IMRA sign had turned upside down but I still saw the gate and the path clearly mapped out in front. A huge thank you to whoever went to the trouble of marking these,(Mike Long?). I thought that the chatty Cork lads would be happy and they would find their way.
Over the bridge, and I passed the Budweiser-swilling north-siders who had clearly had a "Good Friday" – their stereo batteries weren't going to last much longer – and into Crone Wood. I think I caught the volunteers off guard but I took a cup of water, for which I was very grateful, and went up towards the climb through Crone. I was still feeling good at this stage and was wondering why I hadn't been overtaken. With Moiré, Mary and a whole field of people that looked as if they would be going past me at some stage, I was surprised to be still alone. As I came down to the bridge I was happy to see a mountain bike club ahead of me scrambling to get up the climb. We exchanged the odd word as I weaved in and out of them on the climb up the hill. They had known of the race and were courteous in that they didn't roll over me.
Over the style and then it was off to the bottom of Djouce. Here I walked a few paces, ran a few paces and had a huge smile as the sun shone down at the bottom of Djouce. This is one of my favorite parts of the race and it was fantastic to run along. Too nice probably, as it is very easy to go too fast here as you glide along the path. As I approached the bottom of Djouce I was overtaken by Conor o Meara. I smiled said well done and off i went careful not to chase. We sped along the path and met Brendan Doherty. He kindly gave right of way and on we went, I assume he must have got off early.
On to the boardwalks and a quick check of the watch, although I said I wouldn't. I was trying to figure out why Brendan was winning the race with noone in sight. It was 11:55. As I looked up, I was surprised to see the six million dollar man coming down the tracks in the distance. It was on the long straight piece of the Boardwalk before it dips down. With a High 5, I was relaxed and resisted the temptation to knock him of the Boardwalk to improve my percentage. Eoin was flying and, fair play, he is super and an inspiration when you are out there panting!!!
So at this stage there is a little anxiety becasue you know at any minute the gates will have opened and 60 runners are going to come at you and pass you like a swarm of bees in the opposite direction.
It's an amazing feeling! Luckily, I was going downhill as they were going uphill when that happened. There were a million good wishes coming in my direction from a lot of familiar, friendly faces. This gave me a great boost and I knew soon I would be at the turning point. One point I would raise is that we need to sort out right of way on the Boardwalk. All walkers I met gave right of way to me and I gave way to all the Ultras that were coming back towards me, but the Trailers seemed confused. They were jumping left or right, not moving or just stopping on the boardwalk. To those who did give way to leave me on the boardwalk, THANKS!!!
Here I could see the rest of the famous five slightly spread out. Eoin was a good bit ahead of them at this stage. He was running his "Eoin" race. I watched as Colm Rothery was giving out to his legs on his way up the boardwalk. I was to do something similar on the way back.
At last I reached the turning point. Halfway! I scrambled down, asking for water. Peter and Dermot were there giving water, peeled bananas, words of wisdom, encouragement and there was even time for a quick photo. It was great! Thanks, chaps. I will be better organised next time. I was doing good time – 2:14 – and as I mentioned on my exit, the hard part was still ahead. Curtlestown was coming closer and the sun was getting stronger.
As I climbed out of the hole, I could see that Moire was on her way, so I waited until she was down before I started back up the hill. Walking in parts, I thought I would be ok. I climbed upon the boardwalk and began the weary way back to Johnny Fox's.
The way back definitely felt slower, I conserved a little bit going back, running and walking parts of the boardwalk back. I jumped off a few times thinking that Moire was coming up behind me and needed to get by. At the end of the boardwalk, around Djouce, Moire passed me. I could still see Connor in the distance. At the final climb I was still thirsty and was looking forward to Crone for more water. I met Don (I think?) at this point, so I shouted "Keep it up!"
Then it was the 4km descent into Crone Woods. Although there was a bit of shelter, my insides weren't liking what was going on. Crone is normally a lovely run down, but today I was slowing it as I felt cramps could occur. I was so happy to see the people in Crone Woods, and again, I drank a lot of water. I took off my camelbak and gave it to Mary – Thanks, Mary! At the time, I didn't know who she was, but I was like, "Can you take this?" And as I was running off, she was shouting, "What's your name?" "Richard!" "I'm Mary!" "OK. Thanks! See you at the finish!" I had 3 cups of water, but felt I could have drank a river, and the glucose sweets were making me even more thirsty. So on I went to check on the Budweiser Ravers. The cars were still there, but they were a little more subdued than they had been earlier. How were they going to get those cars home?
Over the bridge, and the first hard climb – the steps, the grass and the gate. When I climbed that gate, my pace was a little bit slower and I had a bad cramp in my side. I ran for a bit as I knew another climb was coming and I could rest then. Back up past the little flags. The climb was long and hard but I kept going without stopping, and in my head I was thinking "I am not sure how much longer I am going to hold out." I got to the top of the climb and started to run. I estimated I had about 2km to go to Curtlestown where I would see my wife and get more water. I was running until I cramped, then I stopped and would walk as I counted to 10 and then would take off again. I did this the whole way to Curtllestown thinking the water would sort it. By the time I got there, the amount of time between stops was getting shorter and shorter.
I had choices to make ahead…get water, maybe stop and get a lift back to the start and DNF so we could get home to finish packing for our 7 o'clock flight. It was my 1st race. I'd nearly finished it
and that would be ok, or drink and hope my liver (or kidney or appendix or whatever was cramping) wouldn't explode. Dramatic, I know, but I didn't have an answer. Is this what they mean by the wall??? My legs were sapped , my body was sapped and the sun was having a great time.
I saw Trish and James peer out around the corner and she could tell by my run that I wasn't doing good. Ah well, I had warned her I wouldn't be. I think I was the worst she saw on the day :-) I drank 3 glasses of water and walked on through. I was almost going to go back and give up, but kept it up thinking it was better to walk the rest of it, finish badly and try again next year. The cramp wasn't lifting. I walked up the wall of death that is Curtlestown. I had heard it had been a place of meltdown but I began determined not to face a similar fate. I got to the top of the climb and attempted running again. It lasted for a minute and then stop and recover and off again. It continued this way until I reached the downhill. I picked up the running again and this time the time between stops got longer. With the end only 6km away, things could only get better. I ran the 2km happy to get to the barriers and gates and the little rest they gave you as you move around them. I came across a fellow Trail runner. He was walking up the road off the Wicklow Way. I asked him if he was Ultra or Trail and he said Trail. I was surprised. I DEFINITELY FELT WORSE than he looked. I could see another few people in the distance. I walked the last part of the hill, knowing there was a slight hill on the final mile to Johnny Fox's. Ahead were three runners. One giving such encouragement to the others, egging them on the whole way. He was brilliant! It gave me encouragement and I was happy to overtake a few on the way.
Finally I saw the crossroads sign. My God, I love that sign! I was still in pain, but it was nearly over and at 4:43, I was very happy. As I wobbled up past the pub I got a cheer – blurry heads all drinking and smiling on a Saturday afternoon – and was directed towards the finish which I needed to see so much because it meant that this pain could stop. There he was – Dermot!!! and STOP. Excellent that the pressure on the pain had stopped. I had stopped and I had a huge smile. I cursed a few times in disbelief and exclaimed that it had been one of the hardest things I had ever done in my life. The man(Jim Fitz) from the start, who had asked me was I running with these loonies, was there to give me a cup A pottery cup from last year's race but to me it was like he had handed me a lifetime achievement award. It already sits in my trophy cabinet next to a couple of other prized possessions.
.
At 7 euro – an incredible event! A huge thank you to Dermot and Peter, Mary, Trish and James, Eoin and JK. I will pay you back with volunteering which is so little in return for such a FANTASTIC day.
Moire O'Sullivan
12 April, 2009
My version of what happened out there on the ladies Ultra race:
http://moireosullivan.wordpress.com/2009/04/12/my-wicklow-way-ultra/
Also there's a bit of a blurb on the Mud, Sweat and Tears site:
http://www.mudsweatandtears.co.uk/2009/04/13/wicklow-heats-up-for-trail-and-ultra-races/
Dermot Murphy
12 April, 2009
On Saturdays Ultra race, Eoin Keith won, yet again. Eoin has a great record with this event but he was not predicting any records today - although he was still happy with his time of 3 hours 37 minutes which was faster than he expected before the start. While Eoin had a comfortable win on the day, the battle for second place was much closer with Dave Mathers just edging out Chris O'Neill.
In the womens race, it was a straight battle between Moire O'Sullivan and Mary Jennings. Moire won out on the day, but a bit of confusion at a junction at the youth hostel cost Mary some vital minutes which didn't help her cause. Moire has wrote her own account of the race which is certainly worth a read. Mary had the course record for the Ultra and Moire was looking for tips from Mary on how to beat this time next year!
From the trail report:
We were blessed with great weather this year with a mixture of sun and cloud throughout the day. This kind of weather adds to enjoyable and successful event, which Saturdays race undoubtedly was. It was a great turnout for the race - 86 runners - and the good weather no doubt there as well.
I also should thanks to all the helpers throughout the day - for Sean (car parking duties/Curtlestown water stop), Geraldine, Deirdre & Melanie for helping out with registration, Mick & Justin for organising the bus - there were some last minute changes to places here but this worked out great on the day - for Peter who did numerous jobs throughout the day, for the people who did such a great job at the water stations at Crone and Curtlestown - Mary plus helpers/supporters at Crone and Trish and Sean at Curtlestown, also to John Shiels and Lindie who took loads of photos at various points throughout the day. I also drafted in various helpers/supporters and finishers to help out at the finish - thanks to you all. A race like this, plus the Ultra which runs at the same time, is dependent on volunteers to make it a successful and there was great commitment from everyone throughout the day.
Any runners who would like to add some of their on thoughts on the race, please feel free to write up a report. At time of writing, I see Moire has posted a great report which, as a none runner, I thoroughly enjoyed reading.