Sorrell Hill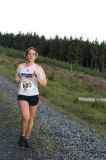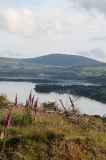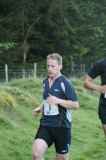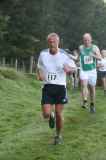 Authors
Unknown
28 November, 2009
The weather gods smiled favourably on the 2008 Sorrell Hill race. Incessant rain cleared off to give us evening sunshine as we gathered pre race. The race was destined to have a late start though as pre-race instructions, if followed to the letter, brought people through Blessington where traffic was all snarled up. Jim Fitzharris and his motley crew of volunteers did a sterling job and its to their credit that the race took off with the minimum of delay.
Off we went up the fire road, the usual protagonists taking off into the lead. We veered left up through the break in the forest. Narrow, steep and slippery in parts, over one or two forest tracks through to the fence line on the ridge of Lugnagun and over the stile we went.
Fair play to Colleen for gaining this height earlier to be in position to take photos of the outward bound runners.
Bearing right the might of Sorrell Hill filled the view at the end of a long ridge we?ll parade out and back along. Over a fence we slogged. In the distance we could see, ant-like the leaders tearing along. Going was fast down the ridge line, slowed only at times by the cloying boggy mud of the track. The climb up Sorrell itself was tough going (for me at least). I slowed to a walk 2/3s up but I could see the likes of Dermot Murphy still running strongly ahead of me despite the steep incline. Roughly at this point was when the leaders tore past on their downwards journey.
At this stage Barry had opened up a narrow lead on John who in turn had chiselled out a gap on Eoin in third. Then it was Bernard followed closely by Vincent O?Sullivan who had both run well the previous Sunday at Lugnacoille.
It was good to see that Cairn at the top where Paul Mahon and others gave the weary ascenders some cheer. The descent was fast and furious and it was good to see people heeding the pre-race advice of ceding advantage to descending runners and bearing left.
Back onto the ridge line came the next shock. You realised that in coming down the ridge from Lugnagun you?d lost quite a lot of height that now had to be worked back up, slowly and wearily in my case.
I encountered one runner in passing who had lost a shoe in the previously mentioned mud. Note to self ? tie laces very tightly in future similar races.
Over 1 fence we went then over the stile, then it was back down left through the steep break in the trees. Slipped at least once on the uneven muddy track which was cut up by the 150+ band of runners from earlier. Still I was happy to make up a few places by taking a judicious line on the higher of 2 narrow tracks (the left one!) ? the lower one ending abruptly at one point.
Back onto the fire road where Colleen was repositioned to take more pictures of the tiring runners. Not long to go now you tell yourself. For the briefest of moments you could take in the great view of the lake, mirror-like, spread out below you. I could feel and then see that my left shoe lace had become undone (previous note to self is now reinforced!). Still, with a runner close ahead of me I didn?t have the luxury of being able to stop and tie it. Gravity dragged me down the fire road and helped me to overtake him narrowly before the end. Damien - you?ll get your chance of revenge next week at Ballinastoe no doubt.
Thanks to Jim and his team of volunteers. Well done to Barry for yet another race win in the mens race with Aoife Joyce once again topping the field in the ladies race.
First time I?ve run in Sorrell. I had heard people talking about it beforehand about how it?s a favourite race of theirs. I can see why. It has a bit of everything, its not too short, not to long and its very runnable for the most part. And when the sun shines it doesn?t get much better than this.
TEAM RESULTS
Rathfarnham WSAF had another convincing victory on a day that surely cemented their Leinster League title. Colm Mullen helped Sli Cualann strengthen their claim to 2nd, but both Setanta and Crusaders AC did enough to keep them in with an outside chance for 2nd place while UCD has dropped off the pace a bit and have it all to do before the last two races if they are to finish on the podium.
In the women's, newly crowned women's LL champion Aoife Joyce led a strong Crusaders team to their 9th victory in 10 races (having been beaten only once by Clonliffe) in front of a good Sli Cualann team that featured Mary Dawson in 4th spot. This leaves Sli Cualann as the only other team able to complete the minimum 5 races, and gives them a good shot at holding on to 2nd spot in front of 3rd placed Clonliffe Harriers.
Dublin women and Wicklow men won the county teams.
Overal LL: <a href="/ad-hoc/LLOverallTeamResults10-12.xls">here</a>
MEN
1. Rathfarnham WSAF 10 (Barry Minnock 1, John Brooks 2, Aaron O'Donohue 7)
2. Sli Cualann 34 (Vincent O'Sullivan 5, Colm Mullen 10, Martin Francis 19)
3. Setanta 86 (Eoin Keith 3, Tony Doollin 28, Sean Hassett 55)
4. Crusaders AC 100 (Jason Reid 14, Mark O'Sullivan 36, Gavan Doherty 50)
5. Fingal 161 (Seamus Murphy 29, Ray Linn 57, John Rowe 75)
6. Tumbleweeds 244 (John Linehan 46, Geraint Jones 95, Danny Ward 103)
7. Sportsworld 287 (Henny Brandsma 88, John Fitzgerald 93, Sean O'Byrne 106)
WOMEN
1. Crusaders AC 16 (Aoife Joyce 1, Rachel Walters 7, Niamh Ni Cholmain 8)
2. Sli Cualann 31 (Mary Dawson 5, Liz Ryan 9, Michelle Lambkin 17)
</br>
<b> Inter-county women </b>
1. Dublin 14 (2 Laura Flynn, 4 Donna Mahon, 8 Niamh Ni Cholmain)
2. Wexford - (1 Aoife Joyce)
3. Wicklow - (9 Liz Ryan)
4. Louth - (41 Michelle Fanning)
</br>
<b> Inter-county men </b>
1. Wicklow 83 (19 Martin Francis, 23 Mick Hanney, 41 Cormac O?Ceallaigh)
2. Dublin 112 (20 Keith Daly, 40 Alan Ayling, 52 John O?Regan)
3. Offaly - (1 Barry Minnock)
4. Wexford - (4 Bernard Fortune)
5. Meath - (5 Fechin Heery)
6. Galway - (6 Brian Furey)
7. Westmeath - (17 Patrick Ryan)
8. Cork - (36 Mark O?Sullivan)
9. Donegal - (55 Shay Foody)
10. Kildare - (76 Declan Donnelly)
11. Louth - (86 Aidan Callery)
12. Waterford - (97 John J Barry)