Brockagh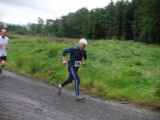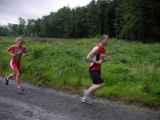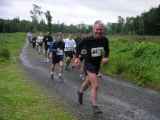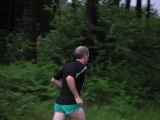 Authors
Unknown
28 November, 2009
The first thing to say about Brockagh is that everyone enjoys it for some reason. The climbs are very gradual even though they go on forever, but it is managaeable to run all the way if you dig deep! Last night it was bucketing down before the race, but like every other week it stopped just before the start. Considering this, there was a big turn out, not sure how many, no results up yet.
Anyway my description: you start down the road from the forest barrier and have a gradual road climb from there for a few hundred metres, past the barrier and it?s road-type gentle trail for about 4 minutes. Then it?s meandering trail in the open for a few more minutes till you reach a gate which brings you onto lovely smooth soft grass for a while. This goes on gently uphill till you realise you?re on open mountain and shouldering onto Broackagh east. Right, I want some sympathy here cos I fell on my ass (soft landing) as I curved around Broackagh East on the rocks. Straight down onto my wrist and left butt cheek, terribly painful for a mili-second and then I was fine!
Anyway big long boggy stretch for ages. You can get a bit of decent running here if you still have the legs for it. I started to feel really good at this stage and was actually enjoying the last climb to the final summit. Quick turnaround and I realise how close the chasing ladies, Laura and Bronagh are. The concentration levels for the next few minutes are intense. I wanted to look up and encourage some of the others but it was too hard as you just could not let your guard down at all. It was very difficult to stay on your feet; really wet boggy condition for ages until you hit the lovely grassy stretches where you can really let rip!
I?d say for me this was one of my fastest downhill stretches ever, probably because it was not very severe. I had a nice fast rhythm going with my legs and breathing as it seemed to be working nicely for me. Out onto the trail where I knew I had to keep pushing hard. When I finally hit the last forest stretch I knew I could ease up slightly as I was on my own!
Happy faces at the finish, like I said everyone seemed to enjoy it. Barry Minnock won, with Keith Daly second and Peter O? Farrell third. I was first female, with Laura and Bronagh second and third. Clonliffe girls won the team again with Karen our third super finisher!
Other Category Winners:
F40 Laura Flynn
F50 Ger Power
f60 Jean O'Neill
FJ rachel Bell
M40 Gerry Lalor
M50 Kevin Grogan
M60 Roger Moulding
M70 Charlie O'Connell
MJ Ruairi Short
<b>Team Results:</b>
<b>Womens:</b>
137 Clonliffe (28 Aisling Coppinger, 44 Bronagh Ni Bhriain, 65 Karen Duggen)
226 Crusaders (49 Aoife Joyce, 86 Martina O'Kearney, 91 Eva Fairmaner)
276 Setanta (67 Hazel Thompson, 68 Moire O'Sullivan, 141 Caitlin Bent)
277 Sli Cualann (81 Liz Ryan, 95 Jean Bader, 101 Maria O'Rourke)
<b>Mens:</b>
10 Rathfarnham WSAF (1 Barry Minnock, 3 Peter O'Farrell, 6 Aaron O'Donohue)
24 Setanta (5 Eoin Keith, 8 John MacEnri, 11 Gerry Lalor)
86 GEN (4 Paul Nolan, 23 Alan Ayling, 59 Gavan Doherty)
92 Sli Cualann (13 Jimmy Synnott, 27 Cormac O'Ceallaigh, 52 Brendan Lawlor)
93 Crusaders (12 Shane O'Rourke, 39 Paul Kelly, 42 Bill O'Sullivan)
277 UCD (14 Tim Grummell, 129 Stuart Scott, 134 John Craddock)
<b>Over LL Club Results</b>
Available by clicking <a href="http://www.imra.ie/ad-hoc/LLClub07Results_v2.jpg">here</a>