Scarr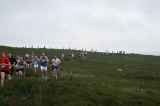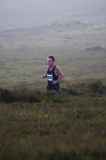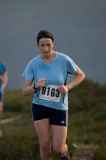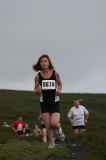 Authors
Unknown
28 November, 2009
Report 1 - Geraldine O'Shea
152 runners gathered in anticipation of the season?s first out and back race. Scarr has been missing from the calendar for a number of years and its return was welcomed by the purists: ?Up, down, no messin?? as a wise man said recently on the forum.
From the viewpoint of this back-of-the-pack runner, this type of race is great: front row seats as you watch the action unfold ahead into the distance and then witness the competition at close range as the top runners (and then pretty much everyone else....) come tearing past you at warp speed on their way back down the mountain.
I?ve often wondered, when I listen to the post-race pub talk, if the real IMRA race takes place in some sort of parallel universe of gentle climbs and fast descents, while we lesser mortals tackle vertical ascents on our hands and knees and experience vertigo-inducing downhills. Nope, as it turns out, just a matter of perspective. And talent. And training....
Race marker Conor had warned us about the false summit before we headed off. I was just past this when Peter O?Farrell zoomed by as if chased by demons on his way to his first Leinster League race victory. When the 2nd summit turned out to be bogus I thought maybe I?d misheard the directions. At the 3rd but not final summit I am ashamed to say I expressed my feelings in a most unladylike fashion. Apologies to anyone within earshot at that stage. And to the marshal guarding the real summit if I looked at him strangely. I was just trying to establish whether he was real or a hallucination*.
From there it was a simple enough matter of following in everyone else?s footsteps, literally, back to the finish, trying to take a scalp or two on the way. A quick grimace into the camera for John (soft focus, please) before spotting the finish line (well, gate actually) and it?s all over for another week.
Well done to Brendan for a race organised with military precision and respect to his team who endured an attack from the first bloodthirsty midges of the season. Perhaps Isabelle?s anti-midge headgear could be standard issue for all the volunteers until the end of the league ? At least they weren?t as vicious as the ones we encountered at Paddock Lake last year when we were picking them out of our teeth. Ah the memories....
More than one competitor was spotted clocking up mileage by running to the pub, no mean feat after an 8.5K mountain run. Probably trying to get first dibs on the free sambos. Great idea, by the way. The sambos that is, not running to the pub.
The pub chatter was interrupted to announce the results and distribute the spot prizes. I had my eye on the multi pack of Duracell batteries, but sadly it wasn?t to be. The aforementioned Peter O?Farrell was a worthy and popular winner. Paul Nolan and Bernard Fortune claimed 2nd and 3rd respectively. Laura Flynn had a great run to win the women?s race and Caroline Reid picked up the pace in the latter stages to clinch 2nd just ahead of Aoife Joyce in 3rd. A top ten finish for Jimmy Synnott secured him the M40 prize, with Kevin Grogan not far behind him, winning the M50s. Roger Moulding had a few minutes to spare on his nearest M60 rival and Mike Gomm won the M70s.
With Laura ranking in the top 3, Jean Bader won a competitive F40 category. Ruth Lynam was first F50 and Jean O?Neill repeated last week?s success in the F60s.
Congratulations to Ruairi Short and Rachel Bell who won their respective junior categories, and to James Alexander, 1st M14. See Gerry?s report below on the team competition which is really hotting up with only 5 races to go.
Notable over recent weeks has been the steady improvement of Brendan Doherty, an erstwhile rival who now ranks among the untouchables as far as I?m concerned. I was dying to know the secret of his success and took the opportunity to ask before leaving the pub. Changed diet? New trail shoes? Those sun-ripened-lime coloured shorts he was sporting at Howth? None of the above. Retirement, apparently, is the key. I?ve checked my pension plan and am looking forward to a clean sweep of the F70 category in due course.
* A reliable source tells me there was no marshal at the summit. Before I check myself in somewhere did anyone else see him??
Report 2 - Rene Borg
The Race
Scarr is the 8th race of out the 13 that comprise the Leinster League, and is a new addition to the IMRA course (and a very welcome one, if the consensus of the runners I talked to is anything to go by).
The race is listed as 8.5km with 357m of climb, but this was an early estimate, and after the final change of starting point was made the route clogged in at 7.9km.
There was a different buzz around the front group today, as this season's previous winners: Barry Minnock, Eoin Keith, Garry Crossan, Ronan Guirey, and James McFadden where nowhere to be seen (no doubt in preparation for this weekend's European Trial Race at Lucnaquillia, which will earn places in the European Championship for the best runners).
This opened up opportunities for the likes of Paul Nolan, a bit of a legend already with his slew of victories in the year's 2000-2006 before injury stopped his progress for a while, Peter O'Farrell, the Rathfarnham Runner who always runs the winners as close as it gets, but is still waiting for his first win with IMRA, and former Mweelrea winner Bernard Fortune.
The three afore-mentioned gentlemen did not disappoint, I saw them flying down coming up about 5 minutes behind in the first quarter of the field. At this stage Gerry Brady shouted positions to us, I was 34th, meaning I was better placed on the ascent than I would be later after the ascent. Has the world gone topsy-turvy? Will elephant's fly?
The Finish
After the race, there was a delighted cheer among the IMRA runners as the winner was announced: Peter O'Farrell had done it, fetched his first victory 52 seconds in front of Paul Nolan with Bernard Fortune a close third.
I had the pleasure of following the women's competition first hand, winner Laura Flynn passed me out on the way, but I was hot-on-the-heels of her nearest pursuant, my always close rival, Aoife Joyce, of Crusaders, who rounded the top half a minute before me prompting a desperate 4 kilometre chase down to the finish. Sadly, for both Aoife and me, Caroline Reid popped out of nothing, rushed past me unchallenged on the last kilometre and picked out Aoife (who thought she was me, my macho image is ruined!), to finish second, as Aoife took a well-deserved third, and I hobbled in 10 seconds later, not feeling as wiped out as I knew I should...
In the team competition, the female Crusaders, led by Aoife, took first prize, while Rathfarnham (as usual!) took the men's.
Another story worthy of remark, was the return of Hugh McLindon, winner of many races, and the 2003 Leinster League champion. I don't know Hugh's history, but can see his history goes way back. Every sport shines more brightly in the presence of its old champions, so I for one am delighted to hear of the return of another legend, just a few months after John Lenihan stepped back on the stage in full force.
The Route
Not too much to say about the route, but I mean that strictly as a compliment! It was a very simple route, up a bit of fire trail, out on the open track up to the mountain. The landscape featured a consistently verdant green covered by only the lightest of mist, and while the track up to Scarr has several rough spots with big pebbles for your feet to attend to, it also features mushy soft earth, and patches of good firm soil.
The summit itself makes for a good view, as you come over two "fake summits", that, once conquered, reveal the pointy top of Scarr. Up to the flags and back down again the way you came. A nice quick route up a "real" mountain with plenty of space to all sides. Aaaaah....
<b>Team Results </b>(by Gerry Brady)
Crusaders won another women?s team race with good runs from all three scorers and plenty of other team members pushing other teams down the placings. Sli Cualann with a good turnout finished second, led home by Liz Ryan. In the overall competition, after eight events Clonliffe (998) are leading from Crusaders (1059) and Sli Cualann (1363).
Rathfarnham also won again in the men?s but this time Kevin Grogan save them from defeat by a strong GEN team. Unwilling Wanderers continued their good form in third ahead of the Defence Forces. In the overall competition, after eight events Rathfarnham (87) are leading from UCD (181), GEN (295) and Crusaders (519).
<b>Women?s team</b>
199 Crusaders (Aoife Joyce 40, Bronagh Gavigan 75, Niamh NiCholmain 84)
222 Sli Cualann (Liz Ryan 68, Maria O?Rourke 76, Jean Bader 78)
243 Setanta (Moire O?Sullivan 45, Hazel Thompson 51, Caitlin Bent 147)
252 Clonliffe (Karen Duggan 55, Maura NiChearbhaill 60, Jean O?Neill 137)
<b>Men?s team</b>
16 Rathfarnham (Peter O?Farrell 1, Aaron O?Donohue 4, Kevin Grogan 11)
23 GEN (Paul Nolan 2, Andrew Johnstone 6, Alan Ayling 15)
51 Unwilling Wanderers (Richard Healy 12, Robert Healy 14, Philip Maher 25)
118 DFO (Gary Kelly 7, Gerard Rigney 40, Coran O?Reilly 71)
132 Ajax (Paul Smyth 17, Justin Rea 41, Brendan O?Connor 74)