Bray Head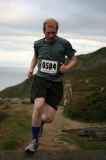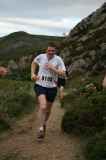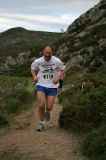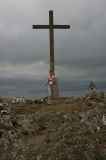 Authors
Unknown
28 November, 2009
Team Results:
Crusaders won the women?s section by 42 points with Aoife Joyce leading
them home. Jean Bader had a good run for Sli Cualann after her exertions in
the 10k road race in the European championships in Regensburg last week.
There was compensation for Sli Cualann in the men?s section when they
narrowly defeated strong Rathfarnham and UCD teams. Colm Mullen had good
support from Vincent O?Sullivan and Tony Collins.
Women?s teams
1. Crusaders 221 (Aoife Joyce 57, Martina O?Kearney 71, Bronagh Gavigan 93)
2. Sli Cualann 263(Liz Ryan 77, Jean Bader 83, Maria O?Rourke 103)
Men?s teams
1. Sli Cualann 15 (Colm Mullen 2, Vincent O?Sullivan 5, Tony Collins 8)
2. Rathfarnham 17 (Ronan Guirey 1, Peter O?Farrell 6, Turlough Conway 10)
3. UCD 44 (John Biddle 11, Tim Grummell 15, Paul McDwyer 18)
4. GEN 62 (Paul Nolan 7, Alan Ayling 26, Gavan Doherty 29)
5. Crusaders 112 (Shane O?Rourke 13, Paul Kelly 41, Diarmuid O?Colmain 58)
6. Sportsworld 284 (John Fitzgerald 81, Sean O?Byrne 90, Henny Brandsma
113)
Laura Flynn
Wednesday the 23rd of May 2007 saw almost 200 runners take on Bray Head. This can be a daunting race with the summit so clearly in sight and very little relief for the first kilometre.The starter and laptop operator barely had time to make it back to the finish before Ronan Guirey appeared in an impressive time of 28minutes 45 seconds with Colm Mullen and Keith Daly 11 and 28 seconds behind him respectively.Jimmy Synnot wasn?t far behind either to take the over 40 category in 31.38 and an overall placing of 14th.One of the best runs of the night had to be Peter O?Farrell who finished less than a minute behind the winner having cycled to the race and marked the course one hour prior.Next year,if I?m race director ,I propose giving him a head-start!
In the age categories,Eddie Reid took the over 50 category with 17 seconds to spare on Vivian O Gorman;Paddy Lord the over 60?s and Charlie O?Connell the over 70?s.The junior section was won by James Alexander in a time of 21.09.The team prize went to Sli Chualainn with 15 points accumulated from having 3 runners in the top 8 .
The ladies race was won by Susan Seager with only 2 seconds to spare on Aoife Joyce.Melaine Earwaker finished in 3rd position 12 seconds further back.Crusaders,once again, won the team event and the coveted 30euro prize money with a total of 221 points ahead of Sli Chualainn on 263 points. Jean Bader was first over 40,Marcella Dunne 1st over 50 and Kathleen Bent 1st over 60.Carol Huet won the junior category in a time of 40.57.
The volunteers last night deserve a special mention and thank-you.Quite a few of the helpers,understandably, wanted to run last night but each of them was willing to forego participation if needed.The mantle of race director should really go to Hazel Thompson who remained cool and unflappable throughout and seemed to have the solution to any difficulties which arose....that?s Donegal women for you.
Thanks to the ever-obliging and reliable Zoe Melling and Fidelma Ayers who did the somewhat lonely duties of summit markers and taking in the flags and tape.
I am particularly grateful to John Mc Enri and Mary O Colmain for agreeing to take over latop operations at a late hour.I know John,in particular would have much rathered be battling it out on Bray Head than inputting data on a laptop.
Next year we may consider bringing the finish onto the grass and avoid the cruel u-turn from the promenade onto the grass and,more importantly, the evening passeggiata that has become a recent phenomenon of the Bray Riveria...ie it?ll stop us banging into all the walkers ! Well done to you all.
Dermot Murphy Writes....
The fifth race of the 2007 Leinster league took place in Bray on Wednesday night. It was a fine evening ? cloudy and warm with a nice breeze which helped once you got to the cross. I was glad just to be out running, as I have been afflicted with a persistent knee injury since the start of the year. I hoped the knee would hold out...
The race starts on a concrete path along by the sea and up to the cross overlooking Bray. The climb up to the cross is steep ? its is almost like rock climbing in parts and it is difficult to pass. As a consequence, the field snakes its way to the summit in almost single file, where you can then into some running, if you have the energy left!
After you pass the cross, the route is a scenic and enjoyable one along by the sea and it is all very runnable. The final climb up to Bray head itself, were Gerry Brady awaited as summit marshal, is the only steep bit left and this is quite short. The route loops around the summit and goes back the way it came. The final descent through the forest can be rather hairy ? do I hold back or just go for it? Well, I tried to go for it! One thing I heard a number of runners mention was the final run along the promenade to the finish. This is dead flat but it can be very hard to summon a sprint finish when you have no energy left!
Ronan Guirey made it two in a row, just ahead of Colm Mullen with Keith Daly in third. An exciting ladies race was won by Susan Seager with Aoife Joyce just a second behind (what a finish that was!) and Melanie Earwaker was not too far behind in third. In the vet categories, Jimmy Synnott was first M40 (he told me afterwards that he was just holding the bottle of wine in keeping until Gerry Lalor returns), Jean Bader won the F40, Eddie Reid won the M50, Marcella Dunne was the first F50, Paddy Lord won the M60 with Caithlin Bent the first M60 and Charlie O?Connell was the first M70 home.
Many thanks to Laura and her merry band of helpers for putting on a great race!
Before the prizegiving, most of the runners went across to the Strand to watch the end of the big match between Liverpool and Milan. Alas, Liverpool could not repeat their heroics of two years ago (which, incidentally, was the same night as the Bray race that year two) but Milan were worthy winners.
My knee seemed to hold out OK so hopefully I will be back next week!