Three Rock - Ticknock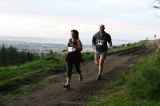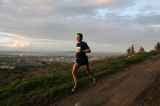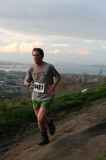 Authors
Unknown
28 November, 2009
It threatened to lash rain, but in the end beautiful sunshine was experienced by nearly 220 runners in the opening race of the Leinster League at Three Rock.
Stern words about the need for better carpooling and volunteering from our new President and Leinster League Director Cormac O?Ceallaigh prior to the start... and then we were off!
The race route was amended from the last years due to felling but noone got lost and everyone agreed it was a fine well marked route..Well done to Fidelma and Zoe. The wristwatch gurus had a field-day afterwards comparing length and elevation measurements..chacun a son gout!
The race was won convincingly by Barry Minnock, who even had time to dance across the line backwards at the end (so I?m told). Aisling Coppinger won the Womens race.
Race Director Niamh NiCholmain (press ganged into the role by the suave and persuasive charms of our President!) struck a blow for womens rights by announcing the Womens result first..will it be long before we see Niamh coopted onto the committee?
Gerry Lalor won the M40, with Sarah Linse taking the F40. Gerry Brady took M50, Marcella Dunne F50, Roger Moulding M60, Jean O?Neill F60 and Charlie O?Connell M70..no chance for Mike Gomm with Charlie O?C in this kind of form.
The new club event was won by the UCD men with Clonliffe taking the womens team prize. It will be interesting to see how this team based event evolves over the course of its trial and one could see the beginnings of poachings, transfers and controversy. The twin objectives of making everyone run a bit harder for their club (if not themselves) and coaxing out a few good club runners are very worthwhile.
A big thank you as usual to all the volunteers on the night with a special mention to Gavin Doherty who got to put his recent first aid training to very good use
So sunshine, Wednesday hill running, Summer round the corner..forget about house prices..life can?t be bad!
Team Results from Barry Minnock
<b>Women?s team placings:</b>
275 Clonliffe (Aisling Coppinger 31, Karen Duggan 78, Jean O?Neill 166)
292 Crusaders (Bronagh Gavigan 87, Emma Sokell 96, Martina O?Kearney Flynn 109)
304 Sli Cualann (Liz Ryan 91, Maria O?Rourke 105, Jean Bader 108)
351 GEN (Sara Linse 50, Eithne McShane 112, Deirdre Bell 189)
<b>Men?s team placings</b>
37 UCD (Tim Grummel 8, Paul McDwyer 14, Eoin Syron 15)
64 Rathfarnham (Barry Minnock 1, Adrian Tucker 16, William Griffin 47)
90 Setanta (Gerry Lalor 6, Aaron Shorten 28, Sean Hassett 56)
131 GEN (Paul Nolan 4, Alan Ayling 32, Brian Bell 95)
133 Crusaders (Shane O?Rourke 22, Paul Kelly 37, Donough O?Keeffe 74)
139 Clonliffe (Gerry Brady 7, Eugene Coppinger 18,Tony Kiernan 114)