Ballinastoe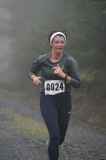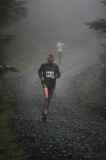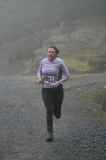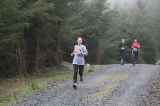 Authors
My first hill race
22 April, 2020 - Mick Hanney
Report added in April 2020 as part of the report retrospective for Covid-19.
My first IMRA race. Some of the memories are murky but some are vivid like it just happened this morning. I'd ran a couple of marathons and heard about IMRA from a fellow runner and I was curious to see what it was like.
Turned up at rainy Ballinastoe. Things were simpler back then. No online registration, no jacket.
We started with a steady climb. I had no clue what was in store. The climb felt hard and got harder.
A voice in my head was questioning my own sanity from very early on. This is mad. Then came a downhill and if felt like fun.
Before long we were out on the road above Lough Tay and, yes, that was the route, we hadn't gone astray.
Feeling fecked, but persevering. FFS, another climb. Slogged it out for the next while, head down focusing on making some progress up the incline. Faster runners skip by with ease.
Tired, wet, but keeping it going. Finally, another downhill, the last of the day. Mustered some relative speed. Still, faster runners went by like I was standing still.
Crossed the line exhausted. But interest piqued enough to study the race calendar with a view to going again.
I look back at the names in the results. I'm glad to see I recognise a lot of them from many races over the years. Many are still running and helping at races. A couple are no longer with us, taken too soon.
I'm glad to see there were photos from that day. John Shiels, god bless him. Great to have those photo reminders on the IMRA site.
It doesn't matter whether you are a good, bad or indifferent runner, young, middle-aged or 'over the hill. IMRA will embrace you. For me, that is the core of what IMRA is about. It's the friendliness and fraternity, the friendly rivalries, the stories, the banter and the volunteer spirit. Time has moved on and but the core of IMRA remains.
I could have written about many IMRA races, fact or fiction. But my first race has had a lifelong impact that still resonances today. And after this Covid shenanigans we'll be back to grace the hills again.
Unknown
28 November, 2009
Ballinastoe - the name that almost reached mythical status in the IMRA community in the summer of 2006 - was the final installment in the Winter League 2007. However, it passed off with perfectly, with only one or two minor injuries, I believe, and though the misty conditions conspired to have many of the 85 runners lose their way slightly, no major diversions were reported (or maybe these were underreported and that would explain why there were so few runners in the pub...?)
The race started with a gentle drag up a wide path with lots of space to find your placing (so no excuses there!), then up to the left for the start of the climbs. The climbs are almost perfect - a sharp pull up, then, when the lungs and legs are about to give in, a short reprieve before the next one. The mist meant that I was never quite sure how long the climbs were going to be - probably for the best. I was struggling to stay in touch with those in front of me (and petrified since I'd been very rudely gossiping during Conor O'Meara's description of the course and only had vague notions of mentions of stiles and public roads) but try as I might I couldn't keep up. And thats when the fun really started...
The clear and obvious path vanished and I was left squinting for yellow flags / tape / sight of runners' heels in the distance as I fell through heather into hidden bogs and tried to jump over streams. (All this, though it has to be said, was not the fault of the course marker / organisers as there were plenty of markers, just dense mist and a dodgy contact lens making them hard to see.) But at least we were going down hill.
The tricky foot work was soon over and it was back onto fireroad for a fast and tiring section before heading out onto the public road, which soon put paid to any speed. Turning left, after a consultation with the runner behind me (again regretting not listening to the instructions at the start) the energy-sapping climb up towards the viewing point for Lough Tay began. There was no temptation to delay and admire the scenery on this occasion as the mist obscured all beauty spots.
Turning off the road, back onto fireroad, and the last few miles towards the finish. A great end to a race, though I did hear some complaints at the end that people didn't push it as hard as they might as they expected it to be longer - we'll all know for the next time.
Gary Crossan took first place in the race - followed very closely by Ronan Guirey and James McFadden (looks like it must have been a very exciting race up there but unfortunately I can't comment as I saw none of that). Fionnuala Doherty was first woman, with Bronagh Ni Bhriain second and Aoife Joyce third (maybe I can keep paying Orla McEvoy not to turn up!). Martin Francis was first M40, Ann Tobin first F40, Gary Moralee first M50 and Ger Power first F50, Danny Toye first M60, with Caitlin Bent first F60 and Charlie O'Connell first M70.
Roast Sunday dinners were being served in the Glencormac Inn - a welcome treat for hungry, well deserving runners and the perfect end to the morning.