Knockdhu Classic (International Race)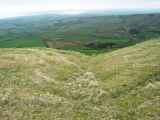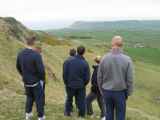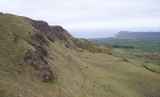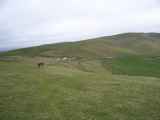 Authors
Unknown
28 November, 2009
IRELAND MAINTAIN PODIUM PLACE
Hopes were high in the Irish camp following last years heroics. The injured Kevin Keane was unavailable but the national marathon champion in the shape of Gary Crossan made a worthy replacement. Ireland National coach and Team Captain Paul Nolan took advantage of the clear visibility to stop the Irish convoy en route to point out various features of the course, the words "steep" "grass" "steep" "up" "down" and "steep" were prominent in the quick masterclass given by the multi finish veteran of this race. A stirring speech indeed. The munster rubgy dressing room could take lessons! A few glances of the nervous variety passed among our intrepid squad as we drank in the view.
The start is in a wide grassy dip with plenty of room for everyone to fan out and keep the pointy elbows in reserve for some of the narrower sections through the gorse. Ups and downs and acrosses and ups and downs follow in rapid succession with Irish Captain Paul Nolan being very rapid himself and showing his actions speak as loudly as his words with a fine flying performance anchoring home the team with his best finish to date and sixth overall.
Martin Bradshaw was second irish finisher with a searing finish which your humble reporter was a firsthand witness to as the bould Martin flew past on the final grassy descent easing away to a fine 10th International finish. Gary Crossan gained more valuable experience en route to a useful 12th International finish which along with Turlough Conway's valiant efforts ensured Ireland gained a bronze medal to go with last year's silver. Scotland were clear winners with Wales in silver.
Good performances all round by the IMRA development team , AKA Ireland B, saw Peter O'Farrell, James McFadden, Paul Mahon and Aaron O'Donohue finish strongly and it's a pity there were no Irish ladies as the women on the other teams seemed to be enjoying the race immensely.
The course itself is approx 7.4km and is well organised by our good friends in Larne AC. Sponsored by P&O ferries the prizes in the open race are excellent with Isabelle Lemee in particular being very pleased with her first prize of a return ferry ticket to Scotland. Might be worth a day trip next year ...
Results available on <a href='http://www.nimra.org.uk/results.asp?rID=271'>http://www.nimra.org.uk/results.asp?rID=271</a>