Mangerton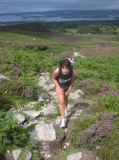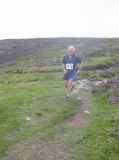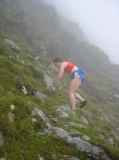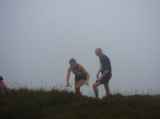 Authors
Unknown
28 November, 2009
<a href="http://www.imra.ie/ad-hoc/Doon.htm">
Final Munster Championshin Table<a/>
Mangerton was a promising route - Leinster distance with Munster climb. I'd no idea what the going underfoot was going to be like, but as I was on holidays in the Kingdom it was worth checking out.
A bit of confusion for anyone that hadn't seen imra.ie in the few days beforehand resulted in some searching for the start and registration, but after a bit of searching we found the registration and lined up on the start line where Thomas Blackburn gave the briefing. Course marking wasn't on the agenda, so we listened as Thomas told us not to go to the top, but to keep the lake on our right. Weather was clear at the start but we could see that higher up wasn't, so I was relying on map, compass and following other runners to fill in the rest of the navigation.
The route was to follow the footpath up towards the Devil's Punchbowl (lake) and the plan was to split off the main path, heading directly south for the ridge that runs around the lake, circle the lake on that ridge and come back down the path that starts at the end of the lake. From eyewitness reports, only Eoghan McKenna actually stuck to the plan - I found myself in a group rock-climbing our way out of the Devil's Punchbowl! This group came out at the trig point (marked on the Harvey map) to join in with the later end of the field... I had also seen Vivian and Orla disappearing into the clouds ahead of me early on, but when I got back down there was no sign of them so they too went astray up in the mist....
Once we were back on track on a smooth descent above the cliffs, we got out of clouds into the sunshine where we could let fly a bit on the descent down the rocky footpath we'd climbed. Valuable seconds were gained or lost depending on what route you took when the path split between the ferns, which is where Ted Feehan gave me the slip!
Going by the published results, Eoghan McKenna was the clear winner, with Janca Sobecova first F and F40, Thomas Blackburn 1st M40, Joe Aherne first M50 (hard luck Viv!), Ted Feehan 1st M60 and Sam Hand 1st J.
Many thanks to Thomas and the registration/finish/results team for running this classic race. Mangerton is a classic old-fashioned route - no marking, no volunteering, no laptop - but it's a great one at that. I'll be back hoping for clear weather next time...!