Round Mountain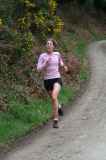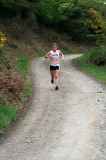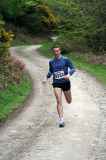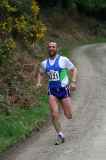 Authors
Unknown
28 November, 2009
Excuses were abound at the beginning of this race. I had spent the previously night celebrating my sister's wedding, Peter O'Farrell was recovering from a fantastic run in Knockdhu, Beth McCluskey had prepared with a hill rep session & Martin Francis had raced the UCD 5-mile the previous day! I'm sure there were others ...
As a result the initial pace was very calm until Martin Francis stepped up the pace while commenting 'so is this the warm up?'.
This is a very fast race - the initial fireroad climb is a very gradual & runnable climb. All that changes as we leave the fireroad to make the final surge for the summit. Like most folk, I found myself having to slow to a walk up the grassy climb. Once you reach that rock it's into top gear for a super fast descent to Lumpers Pub ...
Officially the results show my name as the race winner, but unfortunately this doesn't tell the real story. There was a local runner present (who's name I don't know) who actually finished first, but he decided not to register beforehand due to the 10 membership + 7 euro entry fee for 1 race. His loss I guess. Don Travers came 2nd in the race, followed by Peter O'Farrell.
The ladies race was won by Beth McCluskey, followed by Zoe Melling & Aisling Coppinger. Mike Long illustrated again that he is on top form by winning the M40 category & Ann Tobin was the first F40.
A big thanks to all who helped organise this race, led by Eamon McMahon & Cormac O'Ceallaigh. The sandwiches at the finish were particularly welcoming ...