Hell Fire Flicker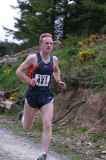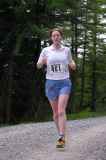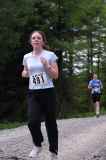 Authors
Unknown
28 November, 2009
There was a big crowd for the season opener of the 2005 Leinster League. If it was not a record, it was very close, with 209 runners attacking Henny's newly devised course. The course starts as normal with the steep ride towards the Hellfire club, but rather than continuing past the infamous old clubhouse, the runners turned right down a hill , which led to an inevitable climb back up to the traditional track.
Fresh from a stint in the wilds of the Northeastern United States for a very snowy winter, Paul Nolan showed he hadn't lost much by taking the lead on top of the ride. He was followed closely by winter league champion Kevin Keane, Richard O'Donnell and newcomer David Byrne. Keane and Nolan seperated from the other two on the subsequent downhill but Byrne crept up on the ensuing uphill.
As the course leveled Byrne showed his power and flat out speed and sped away from the other two, Keane's pursuit was futile but he finished a solid second , followed by the returning ex-pat.
Laura McGinley had a fine run to win the woman's race and since she is over 40, the rounding into form Roisin McDonnell took her normal F40 honors. John Farrelly led a very competitive M40 category over Bob Lawlor and Desie Shorten, who was also well-beaten by his son Aaron.
Claude McManmon was first in the suddenly competitive M50 and Jane Porter returned to the competitive scene with a win in the F50.
Caitlin Bent and Danny Toye took the honors in F60 and M60 categories respectively and the remarkable Mike Gomm was first over 70.
I was still typing in new entries so I did not make it to the pub, if there is any good craic email it and we can include it in the report.
If anyone knows the result for 186 Aaron O'Donohue, please send me email at bruce.shenker using the imra email which ends with @imra.ie (the seperation is to slow down spammers, put the two pieces together to send the mail.) Thanks.