Croaghan Moira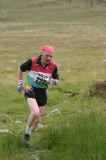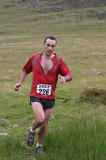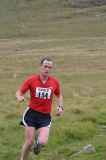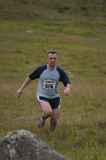 Authors
Unknown
28 November, 2009
Crohan Moire
After the hectic numbers of the last month it was back to the handful of usual suspects for yesterdays resumption of the Leinster Championship. When this race was last run in 2002 the then new route was empathically made his own by Bob Lawlor who ran the 16 km route in a time of 76 mins. with three minutes over nearest rival. Since then Bob has become a vet, could he defend ?his? route from the young huns snapping at his heels? No problem, only this time he managed it in a time of 72 mins.
The story of the race hinges on what route was taken up to the Fhan an Iarainn ridge. The pre race briefing advised to take the well-worn walkers track to the saddle (lowest point on ridge). First to go, Bob, did just that but next up Paul Nolan choose to take the direct route up through the dense heather. This was not a bad route for Paul who is use to and good in this type of terrain and even managed to arrive on ridge at same time as Bob (but much more exhausted) but this was a disastrous choice for the many who followed him. As could be seen from the road most runners were slowed to a walking pace and continually having to change direction to find the best route in the dense undergrowth. The ridge itself was in surprising good condition compared to when last visited having been greatly cut up then by quad bikes, this most likely contributed to the fast times posted.
Very impressive runs were had by Peter O?Farrell and Ruaraidh Stenson; Johnny McCabe (organiser of Carlingford multi activity race) snatched the vet. prize from some local favourites but there was no surprise in ladies winner Beth McCluskey fresh from her great run in the Europeans in Poland. Perhaps the greatest statistic of the day was Cormac O?Ceallaigh knocking 26 mins off his time for the race.
The day was finished off by a very generous invite by Paul and Roisin to a BBQ in their An Grianan home overlooking the ridge that we had been racing only an hour earlier.