Scalp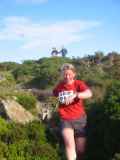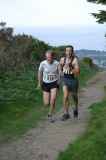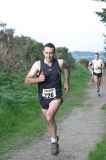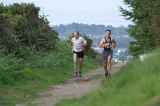 Authors
Unknown
28 November, 2009
L'air etait tranquille, l'odeur de l'ete envahissant l'atmosphere. Une soiree parfaitement ensoleillee, ni trop chaude, ni trop humide. Du haut des Bois de Barnaslingan, la vue sur le celebre Sugarloaf ne pouvait qu'attirer les promeneurs non avertis.
It has been said before that the Scalp is slightly left field as a hill race. Genuinely fast, on hard tracks, and with a downhill start, it presents its own peculiar challenge. This year 170 runners lined up to see for
themselves. Fortunately the blistering hot afternoon had given way to somewhat morebenign conditions for running.
Les coureurs sont partis si rapidement que l'appareil photo numerique a du mal a faire le point, et selectionne au hasard les personnes dignes de sa lentille focale !
From the off the pace was set by Eoin Keith in very determined mood, as were Emma Sokell, Laura McGinley and Roisin MacDonnell who were to battle for the ladies race.
<< 7 secondes >>, dis-je au second Eoin Keith, tout en pressant le bouton de l'appareil, qui finalement n'arrive a attraper que le coude du vainqueur, Paul Nolan71 ! Bob Lalor n'a pas plus de chance avec la photo ou la moitie
de son visage (mais la bonne moitie bien sur) est sauvagement sectionnee par l'appareil.
At the front Eoin joined by Paul Nolan pushed clear of the pack and the two were to race practically side by side for the duration. No gap was allowed to develop as the upper hand seemed to favour one, then the other. The final descent was to prove decisive with Eoin unable to match Paul in the tricky drop through the forest. Equally tight was the race for third with Bob Lawlor just holding on to beat Gerry Lalor and by doing so take the M40 win.
In a night of tight racing, just 41 seconds separated the first 5 women. The final order being Emma Sokell, Laura McGinley, Roisin MacDonnell (first F40), Hazel Thompson and Joan Flanagan (2nd F40). Second M40 was Eugene
Coppinger who seems to be enjoying his time on the hills. Jane and Graham Porter were to enjoy their usual M/F50 lockout. As third M50, it was great to see Wally Young still running well 21 years after setting the record for
the original course which was to stand unchallenged for nearly two decades. Danny Toye took the M60 honours while at the opposite end of the age spectrum Conor Fennell of Naas AC was top junior.
Tous les concurrents ont devale la pente abrupte les menant vers la ligne d'arrivee, certains ont essaye de rouler plutot que de courir, mais tous ou presque gardent un sourire de cette epopee courte mais intense sur les hauteurs de Scalp.