Kilworth Woods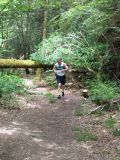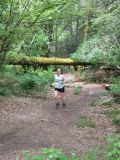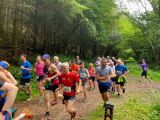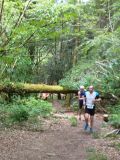 Authors
Kilworth Woods
14 June, 2022 - Martin Cooney
Kilworth Woods- You'll never know unless you go!
By Martin Cooney (12/06/2022)
A funny week I have had since Carrauntoohil last Saturday. I did a reasonable time last week considering the conditions & I came in ahead of some runners that I wouldn't normally be ahead of, yet I was disappointed. So much so that I was thinking about skipping Kilworth Woods. The main reason I decided to go was to get another race to my name as I inch closer to 100 races. I arrived into Glensheskin Woods around 9.30am, which is the actual name of the woods where the race is on. I met the Race Director, Damien Holian as well as helpers Cathal Prior & Robert Cunningham. Damien told me that it was a new course mainly of single track & the rest was fire-road.
I got changed & went out on the course. The first kilometer was on fire-road so I skipped that & went up into the single track, which is part of every Kilworth Woods race. I followed the red & white tape until there was a split as the adult race went left. I followed this for 500m or so before turning back & taking the junior route out onto the fire-road. I went up to the wooden bridge & trotted back on this route bringing me back into the carpark. I kept an eye on what the terrain was like & if there was areas for possible overtaking, should this possibility arise during the race.
Before I knew it, it was time to go up to the bridge for the start. I met the evergreen Willie O'Donoghue on the way up- one of the happiest runners I have met in IMRA. It took a while for the crowd to gather for the start. It was a bit smaller group than I thought would be there for the race, known to be a fast course historically. Some of the top runners who normally finish ahead of me were nowhere to be seen but I saw many new faces that gave me mixed emotions. It is great to see new runners to the hill/trail running scene. However; if they are good, it means I am going back down the places. Damien explained the route to us which sounded very similar to Curragh Woods two weeks ago; I reckon there is a definite template that RDs are taught to tell the runners so as either to scare the sh*te out of them or else too lazy to change. Then it was 3, 2, 1, Go!
Off we went & I nestle in around 10th position. The two O'Connell brothers (Danny & Eoin) were leading the charge down the fire-road followed by a couple of newer runners, Willie O'Donoghue & Gerard Hanley. Robert Cunningham came up beside me & we kept pace with each other. At about 1km, we zipped up to the right into the single track & I passed Dariusz from the Mooreabbey Milers. I plodded up the hill without anyone passing me until the track evened out. I could see Willie & a new runner ahead of me. We descended a hill, swung left & started back up the new single track. It again evened out twisting & turning through the trees with a sharp drop always to our right hand side. Next thing there was a slight cambered ascent up to the left & both Willie & the new runner missed the path slightly giving me the chance to pass them. I managed to pull away from them a bit in this section. My watch beeped to let me know that I was 2km into the race but I was having a nagging feeling. I could see the five leaders in front of me but my right shoe was starting to feel loose… The new dilemma in my sometimes over-active brain- do I keep going until it is loose completely which may not happen or stop & tighten it to satisfy my nagging brain?
The nagging part of my brain won- I dropped to one knee & re-tied my shoes. I lost about 7-8 seconds before taking off again. Willie plus one had not caught up to me during my pause so I was still in sixth position by my reckoning. However, the leading bunch were now out of sight. I followed the weaving single track until I popped out on a fire-road. "Left or Right" I thought. I glanced to my right & see the leading pack well ahead of me down the road. I followed briskly & watched as they took a left into the woods again. I followed & it was similar terrain as previous through a wooded area. After a short time, I popped out on another fire-road, turned right & saw the leaders in front.
They again turned left on a muddy track & I followed. I didn't seem to be catching them but they were stretching out as a group. It suddenly narrowed into a sharp descent in the woods. I spotted Gerard Hanley & Paul Cotter in front. They were cautiously descending, staying on their feet... I went down the sharp descent like Lou Diamond Phillips in Young Guns 2 when he was shouting "Atte" (meaning stop) at his horse before plunging into a deep ravine. I took a straight line down, no twisting or turning; just complete recklessness with no regard for my body. I passed both runners during this uncontrolled descent & managed not to hit the vertical conifers. I shot out from under the canopy, turned a quick left & spotted the three leaders. A quick right over a bridge & then sharp right. We were now hugging the river on a lovely soft single track. I was right on the leaders coat-tails (if they were wearing them) now but wasn't sure if I could keep this up. I had gained fifty metres or so within the previous kilometer & struggling to take in oxygen. The track was flat enough & I could hear the sound of the babbling brook to my right. Somehow, I inched past Eoin O'Connell & was in third place. We navigated our way under a tree, turned right emerged out on a fire-road passing by one of the race helpers Cathal Prior.
Third place didn't last long as Eoin O'Connell shot by me again & was up beside his brother Danny. These brothers are very good runners & always seem to work well together which can only aid the two of them. Jason Travers was in third place going well also & the three of them pull away from me slightly. As they keep on the fire-road, I am thinking to myself "Fe*k it anyway, another race goosed but make sure to keep my fourth place position". I am struggling now but I spot the wooden bridge & know that there is an uphill to follow. I plod up there & seem to be about 20m behind the three leaders. "Come on, come on, it's now or never if you've got it" I say to myself.
Thankfully, the upward gradient flattens & a short sharp descent, then right uphill again. I bound down the short descent & I gain ground rapidly. I am catching Jason with every stride & pass him. "There can't be much distance left, come on legs". I manage to get on Eoin's shoulder just as another descent happens & I went for it. I glide past Eoin & am now on his Brother Danny's shoulder. It flattens again before the final descent. Danny is going well but I push hard one last time, my lungs are burning now but I manage to get by him! The descent takes a slight left & I can see the finish. "This can't be happening, can it?" I throw my legs out as far as they will take me & can't see Danny either side of me. Those last forty metres seem to go in slow motion like a scene from "Chariots of Fire". I manage to stay on my feet & bound over the line. I rip the singlet off me & try to get oxygen into me. I am gasping for air as if someone is choking me. Slowly, I get my breath back.
"Did I actually win an IMRA race?" I ask myself. I go back to Damien to check & they all look at me as if I have two heads. "No- you were second" I'm told. A pause... "Naah; only messing with you- Yea you won" Damien tells me. I cannot believe it; I go over to the O'Connell brothers, sit on the grass & try to take it all in. I am sitting there like Andy Dufrane sitting on the roof in The Shawshank Redemption film, trying to savour the moment.
Me, Martin Cooney, #105 in the IMRA 2022 has actually won a race. I will eternally have a number 1 beside my name… as long as the IMRA site doesn't drop from existence (screenshots have been taken). Not in my wildest dreams when I started hill/trail running did I ever think I would win an IMRA race. It only took 98 of them in the end! I will be able to look up the history of Kilworth Woods & see my name beside previous winners who are legends of IMRA Munster like Tom Blackburn, John Kinsella and Paul Deane.
A big shout out to my better half Claire & my daughter Zara for letting me chase my madness most Saturday & Sunday mornings! Also, massive thanks to the RD & helpers for a great route & for making this race happen and giving up their time for us to run. Thanks to the O'Connell brothers for setting a cracking pace- it won't be long until ye both get your race wins… One word for you- "BELIEVE". This goes to any runner out there who may hope to get a win, a category win, a gender win, a PB on a route, whatever it is… Every dog has his day & I have just had mine.
This is something that I will be telling my grandchildren in time to come. Of course this story will grow legs… the race will be at least 25km long, I will have jumped off cliff faces, The O'Connell brothers will be seven feet six inches tall with big beards, Willie O'Donoghue will be be like Merlin, the great, wise wizard who happens to wear tail-runners & the mythical land of Kilworth Woods will be no more.
Last thing for this report- go to as many races as possible. If I had not gone on the 12/06/2022 to Kilworth Woods, look what I would have missed. Enjoy being part of this great organization that is IMRA- the people, the chats, the race routes- every bit of this is to be enjoyed!