Ballinastoe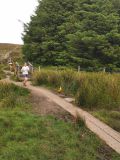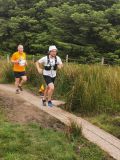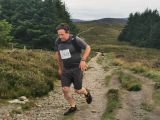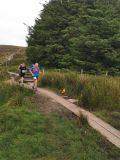 Authors
Thank you all!
01 August, 2022 - Caroline Reid
We had a great evening for the 2022 edition of Ballinastoe! Due to the opening of the upper car park and the new biking trails, the start/finish had to move to the upper barrier. The good weather ensured some very competitive racing with great times for everyone!
First up were the juniors who had a 4.6km course up to the Wicklow way stile and back! They were all CRAZY fast! Sam and Ella flew the flag for the Bell family, taking the first boy and girl home! Well done to our other juniors for such a great race; Cian Charnecki, Donncha MacMaolain, Finn McGurren, Finn Moriarty, Harry Killeen, Leo Charnecki and Effie Power. Well done all! After her fall at last weeks Chrone caper, it was great to see Ellie Killeen cheering on everyone– hopefully we'll see you back racing soon Ellie!
Then onto the new full course at 10.52km – the pace was blistering with Conall Whelan first man home in 49.05, with Paul Stephenson and Peter Bell in hot pursuit. In the ladies, Edel Monaghan stormed home in 53.49, with Sarah Brady and Leah Ni Chiobhain putting in their usual strong performances.
Competition for the category prizes was just as tough with the following worthy winners:
M40 Warren Swords / F40 Orla McEvoy
M45 Peter O'Farrell/ F45 Fiona Sheerin
M50 Bernard Fortune / F50 Angela Flynn
M55 Ben Mooney / F55 Eva Fairmaner
M60 Conor Nolan / F60 Mary Collins
M65 John Molloy
M70 Henny Brandsma
F75 Caitlin Bent
A lot of work went into organising this race, so a big thanks to John Fitzgerald for his guidance and know how! To Eoin Syron and Daniela Boehm our race markers, thank you so much for all your work before race day and for such comprehensive route marking – the race couldn't have gone ahead without you both!
This is a challenging route, with many biking track and trail crossings, so a big thank you to our marshals who also did a great job demarking the course; Derek Hay, Patsy McCreanor, Caoimhin MacMaolain, Terry Lawless, Daniel Bohem, Jarlath Hynes and Andrew McKay.
As we no longer had Ballinstoe Golf Club for parking, one of the biggest challenges of the night was parking, so MASSIVE thanks to our parking marshals, Vivian O Gorman, Henny Brandsma, Stephen Lavelle and Sean McDonnell. Hats off gentlemen, you did a great job fitting us all in!
Registration and the finish area ran smoothly thanks to the expertise of Maeve O'Reilly, Linda Rowden, Niamh O'Gorman, Caitlin Bent and again Stephen Lavelle!
Race results were up in record time thanks to the expertise of Peter Cannon, with Cillin Whelan passing his laptop apprentiship with flying colours. Thanks also to Conor O'Farrell for his trojan work behind the scenes, getting the laptop and timing equipment to every race and sorting out our results queries.
The only downside of the evening was the lovely Alison Underwood had a bad fall not that this would stop her finishing the race with her usual big smile! She couldn't have been in better kinder hands thank those of our first aider Leo Mahon! Hope you are feeling better now Alison.
Well done to Pol O'Mhurcu on his 200th recorded IMRA race!
Thanks to Kavanaghs Varty House for looking after us so well and to everyone who came back to the prizing.
To everyone that took part and all our volunteers, thanks for another fantastic IMRA night on the hills! Roll on Sugar loaf and BBQ :)
Midweek Fright Night.
28 July, 2022 - Brian Kitson
Racing Ballinastoe is like being in a horror movie.
Things started out bright and merry. I paced myself up the long opening climb. Felt happy as I exchanged pleasantries with other friendly runners as we drew deeply on the delicious scent of the late summer mountain air.
Then everything changed. I found myself alone and bleeding as I tried to find my way through a dark and dense forest. Out of breath and sweating; I ran for my life ie 2nd m50. My arms outstretched and clawing before me as I tried to prevent further thwacks in the face from the branches of trees. Desperately looked over my shoulder to see if my pursuers were in view. Then a stumble on the twisted, boggy ground. I got up and tried to run faster, but couldn't. I accept my fate. Too far behind those in front, too far ahead of those behind. Doomed to finish alone.
But wait. There's a person ahead on the final climb. Salvation in the form of a chance to race. I straighten my posture and gain speed. I pass a few people shuffling along slowly, silently. Zombies? Early starters? It's difficult to tell. Eventually at the crest of the last climb I fall in behind two or three runners. I pass a couple on the way down but one is too fast and escapes.
I cross the finish line and join among the rest of the battered and bloodied smiling cast. There's joy in the air. It's all over! We're alive! We chat lightly and gayly in the knowledge that we can now go on and live long and happy lives.
Music begins to play and credits roll.
Suddenly, there is a cold chill. My blood begins to freeze when someone asks, "are you racing Sugarloaf next week?". Fade to black.
Blast the gorse..
27 July, 2022 - Mikey Fry
So it's all about just running and having fun if you call an Imra run fun as we head up the first hill wow I'm a bit off my game tonight a lot of runners passing me I push on level out down around into the dark forest some more doddling Bernad passes me I try to keep up and then tell myself no just do your own thing entering the forest tired legs I trip and do that falling thingy that you do to pretend that your not falling kind of funny and then your knee hits the ground over fence that's fallen I'm go after Dan Steve etc wiggle through forest passing out a few rian passes me I then pass him on the bridge I took the dodgy way across he took river didn't last long he went by again on up hill was struggling now but pushing on eventually hit left turn onto flattish bit boom right turn at patsy back the way we came on the right off the wickow way I noticed young Ben Mooney behind I said no way and pushed hard on passed a few on the downhill bit and jumped wooden fence to pass rian again hit fire road and went as hard as I could fortunately nobody passed me which was very unusual cause normally someone does hit blue mat and was glad that was over something needs work on body that's for sure nice chats thanks again Caroline and crew for a super race can't believe summer league finished next week c u all there…good night mikey