Johns Hill, Killbrannish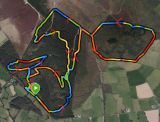 Authors
Johns Hill race
17 October, 2022 - Mick Hanney
IMRA events are thin on the ground at the moment so when I saw that there was an event 'down the road' outside Bunclody I decided to head down and I'm glad I did.
Just 5k out from Bunclody, not far from where the recent Nav Challenge 2 event was, sits Johns Hill. Pull in, park, register, start, all in the one place.
A route new to me and the not knowing what was in stake made it all the nicer of a day. I had ran the day before so I wasn't there to race hard – I couldn't if I wanted to. An enjoyable run was in store.
There was a small field in attendance, on account I guess of it being the funny season and pre-Dublin marathon / cross country.
From the off we were straight into a single track climb up towards Johns Hill. It seemed that most of the small field had moved ahead of me quite early on. I wouldn't see those people until the end!
After 2k we started an anticlockwise loop of Johns Hill. This would be the first loop of roughly 3 we did during the race. Lovely views could have been had around the county but you needed to keep your eyes peeled on the surface which was a nice mix of rocky and tree-rooted trails with a steady mix of downs and ups. The loop took around 2.5k or so. Throughout I tried to keep latched onto the runner in yellow ahead. After Johns hill I caught up, thanks to him stopping to tie his laces, and I realised then it was Karl Richards.
Side by side we slogged and chatted up the next section of track where there was more walking than running done. We were reaching the high-point of the route at this point. The next 'middle loop' section was a nice sloppy run through a section of cleared forestry on a mix of no track or single track. All the while the marking was excellent with a smattering of friendly marshals directing us on our way. There must have been nearly 2k of lovely single track in this section. All lovely running. And too much talking between me and Karl. Next time – less talk, more speed.
With roughly 3k to go we were overtaken by a fast moving Léan Ní Chiobháin. More little ups and downs through single track forestry followed. With about 8k on the clock we started our last loop of the day. At which stage Lean had stretched out a lead on Karl, who in turn had stretched out a lead from me.
Not sure if my watch was totally accurate, but it says race finished just after the 10k mark (and 350m elevation), back at the car park we started from.
That was great run. I'll definitely be back and encourage others to make the journey down for a lovely route and practically zero of the usual fire-roads.
Very well organised by Bill and his team of volunteers.
I added a photo of the race route and elevation for people to see what is in store.