Wicklow Way Race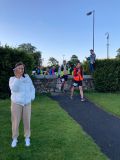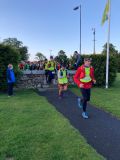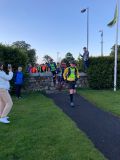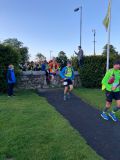 Authors
"Through Endurance We Conquer"
18 June, 2022 - Denis Hogan
I'm not sure at what point a report turns into a short story so I apologize in advance for its length! I did however want to give an honest assessment of how the race went.
Before I go any further I would like to extend my sincere gratitude to Lillian & all the volunteers, fellow runners and anybody involved in any capacity for what makes coming back to this race special each and every time.
It really is a special community.
Registration
Arriving at Marley Park in good time relieved any stress of rushing to get kit check done or have any last minute malfunctions addressed. As I headed for the Kit check, Colin,who would be crewing for me during the race, took the drop bags to place them into the relevant vehicles asking me if I trusted him not to mix them up. I told him I trusted him more than myself considering I forgot to put my own drop bag for the 1st checkpoint in Kerry last September. And as you will read, with Colin crewing and finishing the race a few times himself trust was never an issue.
Quick chat with some of the familiar faces in Adolfo, Paul Duggan, Ray and Mark Keogh. Short lived as the heavens opened up and we all took cover. As I sat in the car watching the rain pelt the windscreen I was already picturing my little feet crying for mercy as they blistered up.
As Lillian gave a very quick race briefing with blue skies behind her as thankfully the rain had stopped,she informed us that there were only 62 runners starting. I had a clear plan before heading off which was to target a sub 18hr finish which would be a PB for myself.
3….2…..1……Go.
Marley to Crone Wood. Cut off: 12 Midnight Target Arrival time: 11:35
As we ran through Marley Park I had made the decision to carry my poles from the start as well as leave the head torch in the bag until I really needed it. That stretch from Marley to Kilmashogue is never easy for me and I always try to get it over and done with as soon as I can! In previous years I was always anxious about missing the cut off of 3hrs and so ran it hard. Once I get up into the Kilmashogue car park I settle into a nice pace.
That climb is the first mental battle and not because it's hard but because the temptation to run it is fueled by the anxiety of "what if" I miss the cut off and lets face it we all have that dread of being timed out at the first checkpoint and as a result push harder than we probably need to.
"Relax, take your time, trust your training" is what I had to keep telling myself every time I felt the urge to push on.
Down onto the road and already the small field of runners was well spread out. Passing Colin & John Murray I said a quick hello to which I heard John saying to me "Dont go mad". I had told him Ivana was right behind me as I tucked in behind her descending the technical section.
Ran comfortably all the way down to the bridge but the calves were feeling unusually tight.Before I knew Ivana had passed me and was moving really as we started to climb.
It was getting dark as we were heading towards Ride rock and was debating whether to stop to take out the head torch or not. I decided against it and nearly paid the price navigating down the rocky section. Once I got past this I knew it would be straight forward down Curtlestown & that's where I put the head torch on before the short road section.
Running into Lacken Wood Sarah Clarke was running beside me. I had only met Sarah recently while out on a training run & was glad of the company as we kept an eye out for the turn down to the river.Thankfully Sarah was more vigilant and calle back two runners that had missed the turn.
Heading into Crone I was exactly wereI wanted to be with the time at 11:35.Quick shout out of the race number and grabbed the drop bag. I had planned the drop bags so that I could literally grab and go as previously I would have spent too much time in the checkpoints. So after a quick check in with Colin and mentioning that my calves were tight to which he offered reassurance they would loosen out I headed out up Crone.
Crone to Glendalough. Cut off 5am. Target time 3:40 am
As I climbed up Crone I had to force myself to eat as I knew if I didnt I would pay for it later. I enjoy this section and the familiarity really helps. It wasn't so long ago I would dread the climb up towards Djouce but I worked improving my hiking and getting the most out of the poles. As I hit the side of Djouce I took a quick glance behind me to see the string of head torches making their way up.
As I ran around the narrow trail on the side of Djouce I was wondering what weather would present itself. As I had this thought I reminded myself it could not be any worse that it was in 2017. And like that it didn't disappoint, the wind, the god damn wind. All that was in my mind was to get the hell of these boardwalks as quickly as possible. Whoooaaa!! A massive gust almost sent me flying as I struggled to keep my balance. I also forget how badly cut up and worn some of the boardwalks are. Just as I headed to JB Malone the wind picked up and really needed to focus on planting the feet for balance.
Out down to Pier Gates where Colin was waiting and asked how I was feeling. Calves had loosened up and I was feeling quite good. No need to stop and so I continued on. As I plodded along I was distracted by large flood lights that were illuminating the clouds in the distance as they moved in a circular motion. Think of the Batman signal without the bat symbol. I was so distracted by them that I missed the sharp right turn. Thankfully a few runners that were behind me had called me back. Another 10 seconds and I would have been around the corner out of sight, it served as a reminder to stay switched on, particularly in the dark.
With the near miss of going off course I started to visualize the course ahead in more detail. Up here, turn there, down this, through the field onto the road and down to …Oldbridge. Oldbridge!! It's one of those sections I love to hate. I had planned on hiking it as fast as I could and refueling on the climb.Head down with only the patch of road lit up with the head torch, I tried to avoid looking up as the road section goes on forever! To my advantage my mind can get creative in passing time and I started to notice all the slugs going about their business.
Isn't that interesting I thought to myself?.... With so many slugs it isn't a little miracle that not one of them has not been speared by my hiking poles, or anyone else's!
As I neared the end of the road section I could hear Music noticed the lights that nearly sent me off course. Damn lights.
Once I was up out of Oldbridge I enjoyed the trail from here on into Glendalough. I run alongside Barry from CORC as we head into Glendalough. Once down I see Colin ready and waiting in his usual organized self. I arrived in Glendalough right on time at 3.30 am which I was happy with. I was conscious of spending too much time in this checkpoint so I quickly changed socks & top up of the water. Colin reminded me to make up as much ground as possible on the flat to the base of the waterfall. I knew it would take 1hr 20mins to Hike from the base of the waterfall to the gate at the top of Mullacor from previous training runs.
Glendalough to Mucklagh: Cut Off 9am: Target Time: 6:30am
Off I set running past a few runners who had just arrived at the checkpoint. As I started hiking I noticed another runner up ahead. The plan was simple, get ahead of him and stay ahead of him to push me up to Mullacor. I was feeling strong and just as I had anticipated I hit the gate exactly 1hr 20 mins from pollousus waterfall. As soon as I opened the gate it was like I opened the door to a giant freezer. The chill of the wind cut through me, I had to get moving, I was even contemplating putting gloves on.
As I was about to descend the rocky section from Mullacor I noticed 2 runners holding up another runner who had clearly had a bad fall or twist of the ankle. There was another runner justin front guiding them down. As I got closer it was clear that the runner was in a lot of pain and discomfort. I positioned myself just in front of them to help guide them down, it was only at this point I realized that the runner was Barry who I met on the way into Glendalough.
After a few minutes discussion and a few attempts to ring the emergency number back to clarify that they needed to get a vehicle up to the area as there was no way Barry would be able to get down to Glenmalure it was agreed that we would run down to the gate to relay the extent of the situation. The 2 runners ran on ahead of me as I struggled to get going again after standing still for a few minutes. Eventually I got going just as I saw Colin making his way towards Barry. A quick exchange of information and not long after the Jeep passed me on its way.
It's never easy seeing a runner having to retire from a race due to an injury of this nature,it subsequently turns out that Barry suffered a broken ankle. Wishing him a speedy recovery and hope to see him out on the hills again soon.
Down into Glenmalure it was straight on through as we headed to the next Checkpoint Mucklagh.As I turned the corner & heard the sound of the water rushing past I knew that just a few feet away was one of the best landmarks to see.The halfway point. I had consciously not taken many photos or videos as there was work to be done but I couldn't pass by without taking a quick snap.Psychologically I knew every step from here on out was a step closer to the finish. It was now 6.10am and I had the best part of 10k to go until the next checkpoint.As I headed on past the Halfway mark my energy dropped substantially and quickly. I felt a large bout of fatigue and the climb felt arduous.
Struggling with the fatigue my mind started to wander, "how the hell am I going to get through another 60k?", "Your way behind your target time", ….. Deep breath.One of my favorite mental tricks is to ask myself 2 questions as soon as these thoughts enter my mind. 1. "Where is your mind at?" In this case it was thinking of the 60k ahead and time I had lost. Question 2. "Where are your feet?" …This forces me to look down and bring my attention to where I am at that moment, I follow this on with a reminder to myself "Be where your feet are". After bringing my attention back to my current state I started to establish what I needed to get going again.
Head down and pumping the arms with the poles pushing me onwards I was glad to start descending. Gradually as I was getting closer to the checkpoint I felt my energy returning. As I came off the trail and onto the road I saw Colin once again.Knowing I had taken longer than expected he asked how I was getting on. "A little wobble" is how I replied followed by a "I guess sub 18 is off the cards"."Forget about it" Colin replied, "Focus on getting up and out of here and down to Ironbridge". He was right.
It was now 7.40 an hour and 10 behind where I wanted to be. Yes sub 18 seemed lost, but not impossible. Quietly I said to myself I could make it back up. The feet were also starting to give me issues particularly the underfoot of the right foot. I made a decision to put a blister plaster on it to try to stave off the inevitable blister. After quickly checking if there was any update on Barry and asking how Ray Cummins was doing I set off.
Mucklagh to Dying Cow: Cut Off: 1pm Target Time: 10am New Target time: 11am
Up out of Mucklagh and down to Ironbridge I felt re-energised and was relishing the challenge of trying to make back up the time I had lost. Descending down into Ironbridge I was convinced I could claw time back, after all the Dying Cow was ONLY 26km away !!
I was soon to learn that 26km is a looooonnnggg way to go when you already have 75km in the legs.
The next 10km felt like a trip switch, I would get 3-4 good kms and then bang flat for about 1km until I got going again.As I hit the road another runner ran alongside me or should I say I latched onto him.I knew there was a good 3-4 km of road ahead and I needed to make the most of it. Ger,the runner who I latched onto was accompanied by 2 other runners, following not far behind.I was to discover shortly that one of these runners was Tom Lawlor, a name I recognised from Strava. The Company and pacing helped ease the next couple of kilometers.As they pushed on I was doing my best to break the remaining 15k into 5k blocks.
The feet were really starting to test me and once again energy was on the floor. Again another runner, Garry came up alongside me and I again tried to latch onto him. The heat of the sun was making its presence felt as it got very warm with little breeze or wind. Chatting to Garry again helped pass the next few km. .
The stomach was not helping either as I felt if I had eaten anything it was going to come straight back up. Constantly sipping as much fluids as I could, I was really beginning to struggle. I just need to get to that Ice Cream Van!!
Fighting the heat of the sun, wincing every now and then as a blister was determined to make its grand entrance the descent into the crossbridge was very challenging. I had my watch in my bag attached to the power bank as the battery would last the full race. I would be desperately listening out for the beep to signal another km done.
Down into Crossbridge and a feeling that I could only describe is how Charlie felt finding the golden ticket.Behold,One glorious Ice Cream Van. As I nodded to the guy giving out cones in the van I quickly gave Colin a call to give him an update.I said I felt I needed something solid and warm like sausages and a cup of tea. I don't drink tea, and I can see the irony of requesting a cup of tea while taking a 99 into my hand in 20 degrees heat.
After being guided across the road to climb the steps I was out on my knees. I slowly made my way up the steps having to stop every few steps. The back of my shoulders had been irritating and cramping from Mucklagh and as I reached the top of the steps I needed to relieve them of some of the pain. There was a light drizzle of rain forming & the sight of the little bench was too great for me to pass.
Bag off, shoulders getting some rest bite and feet also getting some much needed rest I sat there getting as much of the Ice Cream into me as I could. I was conscious that it could also backfire and come right up in a few km. After eating as much Ice Cream as possible, I decided to take my watch out from the bag.
As I put it onto my wrist and looked at the time I had to do a double take. What??? That can't be right. Something must have hit off a button on the watch. Quickly taking out my phone I couldn't believe the time it was showing. 12 Noon. Exactly. How? How, Where did I lose so much time?
The cut off was in 1hr and the couple of km road section into the Dying Cow is not exactly a favorite of mine regardless of time and distance.
Frantically thinking of the next few km ahead I grabbed the bag back onto my back, grabbed the poles and started running as if I was chasing a bus that only comes around every 2 hours! Battling with the thoughts of How have I managed to make it so tight, to the fact that I may not make it , to how the hell did I cover 200k in Kerry the previous September. "Where is your mind at?" …"Where are your feet?" … "Be where your feet are".
Right I said, there is only one thing you need to do, get to Dying Cow before the Cut Off. I knew if I did this I would finish. The thoughts of being timed out, getting a DNF, was inconceivable.It was a mixture of anger and fear that jump started the legs again. Constantly checking the watch as I see the time slowly evaporate I was doing my utmost to recall as much of the route in detail that lay ahead.
Another glance of the watch, 12.36pm. As I crossed the road the feet were really cutting bad & the shoulders were aching with every step. The heat was searing down and I could feel it magnified through my black top. As I turned left all I could see was road, a lot of road. It looked like it went on for miles but in reality it was only 2km.
Another quick glance at the watch and I see my pace is 7.20km. Too slow, I said to myself. If we're going to make it we need to up the pace. Using the poles I forced myself into a Rhythm, gritting my teeth & muttering "Come on" a few times, I may have even let out a yell of sorts encouraging the legs to keep this momentum going.
As I reluctantly lifted my head to see how much of the tortuous concrete was left, fearing the worst, the relief I felt when I saw Colin encouraging me into the Checkpoint followed by words of encouragement and applause from volunteers and other supporters. "For a minute I Didn't think I was going to make it" I said as I sat in the boot of the car. I have often said that the sweetest part of a race is not getting to the Finish Line, but that moment that you realize you WILL get to the finish line.
Colin had managed to get cocktail sausages and a cup of tea.As I started to nibble at the sausages, I also tended to the feet. Clare Murphy Keeley came over to offer French Toast, coffee and to have a look at the feet if I wanted. I had the shoes back on and thought to myself, trust me you DO NOT want to see my feet, you'll never be the same again! Thanks Clare, your words of encouragement were much appreciated.
"Right Denis, Come on, Get out" I heard being shouted up to me. I look down and there's Clare, Liam and a few others telling me to get out.
Another quick check with Colin on how Ray & Adolfo were doing I set off up the hill with the cup of tea. I was no more than 150 yards out when I heard cheering & someone shouting "Straight in and out". I looked back to see Paul Duggan & 2 other runners make the cutoff.
Dying Cow to Raheenakit: Cut Off 15:30 New Target Time 14:30
Heading up the road I took a minute to reassess some Targets. We're still in a race weren't we?.1. Don't let anyone pass you, I thought. 2. Get to Raheenakit for 14.30 latest. 3. Push hard as we did coming into Dying Cow.
10k, that's all it is, I was reminding myself. I had a new sense of energy and although the feet & shoulders were still painful I was moving a lot quicker. Moving well I was covering good ground. As I was headed towards the infamous "Coronary Hill" I was passed by Lillian in her car offering her usual words of encouragement. While I had the phone out I seen a message from Ger pop up "Keep Going Den, Your Flying it" …I was far from flying it but the message gave me another hit of adrenaline to keep pushing.A few minutes later I was met at the base of Coronary Hill by Colin & as usual offered reassurance and encouragement as we entered the Raheenakit checkpoint.I had arrived at 14.30 as planned. I was reluctant to spend too much time here as I just wanted to get the job done now.While I was rummaging through the drop bag Lillian said that Liam would pace me out of the Forest and that he didn't mind if I wanted him too. Normally I'd decline but I said feck it and took him up on his offer.
As I was leaving I had to restrain myself from browsing & indulging in the range of food on offer from Avril, John & others.
Raheenakit to Clonegal: Cut Off 21:00 Target Time: 20:00
As I left Raheenakit with Liam it was a welcome distraction chatting about his Spine Race, as well as other racing topics. During our chat I mentioned to Liam that I was going so well but had 2 really bad spells where my energy tanked. He noticed I was carrying the poles and asked if I had been carrying them from the start which I said I was. He made a good observation saying that because I was constantly carrying the poles I was less likely to be nibbling or eating as frequently as I should have been. When he mentioned it I thought to myself that he was right. Lesson learned.
Those few kms just passed by (Thanks Liam) and I continued on the descent to head into the final Forest.As I entered the Forest Colin was there once again enursing all was ok. Still with the feet throbbing I was moving a lot quicker than I had in previous years for this section. I was definitely doing a lot more running/Jogging. I was determined to Finish as strong as I could and have no regrets looking back. Looking at the time I gave myself a new target of 19:45 to push myself more.
As I exited the Forest I met Colin again, knowing that the dreaded 5k road section was all that remained I asked Colin if there was any runner ahead I could Chase down. Telling me that the nearest runner was 6 mins ahead I decided to go for broke. One last push, poles gripped and held up, one last big sip of water, a look down at the battered feet willing them to take once last beating.
1km in and as I look down the road I notice a runner walking & jogging. He is a good 600mtrs away but it's all I need. Target Locked.
As the legs opened up with a resurgence of power I felt like Forrest Gump in the early scenes as the braces detach from his legs as he runs for his life. Narrowing the gap and getting closer I knew I had to run hard passing him to kill any inkling of putting up a fight.
100 mtrs….50 Mtrs….. 20, 10 and finally he was behind me. Not wanting to stop and knowing that the end was at the end of the road I tried to keep the pace up. Checking the splits I ran the 125th & 126th km at an average of 5.35 per km. Possibly Insignificant to most, but something I was personally proud of.
Finally into the last few meters, doing my best to absorb the atmosphere and support that was there throughout, I took the last sharp turn to touch the Clonegal sign. Job Done.19hrs 48 Mins(TBC)
As I was being handed the plague I heard a voice "Well done Son" and to my surprise there were the folks who had made the trip down to see me finish.It was the perfect way to end a tough day.
Thank You to everyone and everybody either directly or indirectly involved in this Race such as Lillian,Liam. Stephen,John, Clare, Avril,Phil as well as all the fellow runners & volunteers..There are so many names to mention and if I have missed any I do apologize.
Special Thanks & Love to Ger, Amelia & Hannah who without your patience and support to "get the miles in '' I would not be able to do this fantastic sport.
I didn't get the Sub 18 I was hoping for (yet!!) but I have an immense sense of pride for this race as I had to work hard and dig deeper than normal to see it out. Finally Without stating the obvious, Colin's contribution should not be underestimated in achieving this.Thank you, always reliable and knows what to say when it needs to be said.
"Through Endurance We Conquer" Ernest Shackleton
From DNF to a PB – 5 years of waiting
15 June, 2022 - Raymond Cummins
This is a personal reflection on my experience of 2017 and 2022 on The Wicklow Way Race where I turned a negative into a huge positive. In 2017 I did not finish within the 21 hours (I finished but in 21.30) going from North to South but this year I did. There are so many people to thank but especially all the people at IMRA who make this race so special, so many to mention that I would forget some names, people who I meet and sometimes should ask your names but don't. Lillian stands out for me over the last few years as being someone who has been so supportive and giving up so much of her time for this event, among others.
Running can be a solitary sport but also very sociable which is what I love about it, the sense of community.
I am very grateful to those I run with on a regular basis over the years which changes as people either get injured or move onto different types of activities. I love being out on the trails and will continue to do so if I physically can. For a long time, I have been involved with The Lakeshore Striders in Blessington.
The Wicklow Way Race in 2022 was something I will remember for a long time to come. In 2017 I finished in Clonegal but was 30 minutes outside the final cut off. Some have been hearing about it since.
In 2018 I ran from South to North and finished. It was very hot that year. I had run most of with Paul (Daly) and David (Ringrose), Paul was unwell, and Dave took off and finished in style from The Pier Gates. I got in with a few minutes to spare. In 2019 I was entered but a week before the race had heart surgery for a possible "widow maker", and eventually had 7 stents put into my heart. In 2021 with 2 first timers from our club The Lakeshore Striders, Eimear (Deegan) and Steven (Byrne) we finished (Steven "flew" from Pier Gates to the finish, déjà vu from 2018.) Eimear and I arrived at the finish with a few minutes to spare despite her running with an injury in her leg for the last 20 odd kms or more and ending up in crutches after the race and took a while to recover.
So here I was back to the start again. It's June 10th. The usual questions in my head about fitness etc Have I done enough, could I have done more height gain etc etc
I had 2 people crewing for me which was a huge help. Mark (Keogh) had offered to crew for me from the start to Glendalough and then my wife Suzanne would take over from Mucklagh to the finish. Both experienced at crewing at this stage, and more importantly knowing what I was like.
As usual at the start there were some great re-unions and a chance to put names to faces I had known from social media, like Thomas Lawler. Some of the "usual suspects" were there and some who were not running but volunteering or just came along to say Hello. In between heavy showers we got registered. Then RD Lilian gave us some instructions and wished us luck and we were off at 9pm out of Marlay Park after being set "free" by assistant RD Phil.
I was determined this year to start quicker and as per advice I had been given to "risk" more which I did. Speaking as someone who normally finishes these races with a few minutes to spare I did not want to get to the first check point in Crone Woods too soon because the effort I would put in would ultimately cost me time later. I jogged out chatting to Adolfo (Garcia) along the way. We would spend a lot of the next 20 hours together and would ultimately finish the race together.
3 hours to Crone Woods, that's about 7KM an hour which I was confident I could do. We headed up towards Tilbradden chatting to various people including Pavel (Bodi). During this first section there is a part here which is about 2KM where I am always very slow. I am not very confident over rocky terrain. Part of that is using blood thinners so that when I bleed, I bleed heavily, so want to avoid falling. I had practised going over the rocky technical ground up here and was waiting for the chance to race it again since 2017 and discovered that on one side of the section there was a smoother part where I could run a bit easier without risking tripping and gain a bit of time. Once I hit the road towards Boreenanaltry Bridge I pushed. I made it to the bridge in good time and hiked up towards Prince William's seat chatting to a few people along the way. Heading down from near Prince William's Seat there are some rocky "steps" and roots. (It's a place I remember Eoin Keith flying down there one day as I hiked up.) I took my time descending and did not try to keep with people. I did not want to risk falling when I was on my own. Once on the fire roads again I put the foot down towards Curtlestown knowing I was in good shape time wise. I wanted to get to Crone Woods within about 10 or 15 or so minutes of the cut off. The turn off down towards the river before Crone Woods was not easy to spot due to tree feeling but we knew roughly where it was.
Shortly afterwards I would meet Colm (Newport). Over the next 20 hours or so there was a group of us that were back and forth. Adolfo (Garcia), the 3 Pauls (Croke, Duggan and Kelly), Pavel (Bodi), JP (Nerbun), Gerard (Tully) and a few more.
It was a lovely evening for running, perfect I would have said, not too warm and not too cold. Reaching Crone Woods and the first Check Point comfortably inside the cut off where we were met by the volunteers encouraging us and being helpful. This again was a theme for the whole event, volunteers doing literally as much as they could. It is very easy to delay at checkpoints and the time adds up when you are struggling to make the cut offs. They can make or break your race.
With 5 hours to get to Glendalough and CP 2 we had about 30KMs and here again I wanted to get in there with time to spare, banking it in case I would need it later. I had a slight technical issue but after getting a bottle from Mark I was on my way. I left Crone Woods with encouragement ringing in my ears.
Through the woods, down over the Glensoulan River and then the climb up towards the board walks near Djouce. Descending towards Glensoulan I pushed a bit harder than normal, and it was fine. 5 years ago, we went up the side of Djouce with water pouring down the side and it was foggy. Caroline Reid was my saviour that night, as I struggled with the fog and a stomach upset. This time there was no fog, and my stomach was fine.
I decided to put on my jacket and get my gloves and hat ready because I knew the board walks would be exposed to the wind.
Onto the boardwalks with Adolfo just behind me. I knew that I could keep a steady pace here, not risking too much to risk tripping. Many is the person who has come undone on the board walks. It was quite windy but at least the board walks were dry. After running during Storm Desmond here in 2016 I knew that nothing could ever be as bad again. This area and Tilbradden are probably 2 of the coldest places on the whole route.
Normally I would stop at the JB Malone monument to honour the great man but no time for that tonight. Down the board walk towards Pier Gates (about 30KMs done) Out of nowhere appeared Lilian, Caroline and a few more volunteers. What a great lift I got.
After Pier Gates we headed towards Oldbridge, through the forestry sections and a couple of fields before hitting the road. From Oldbridge there are a few kms on road up and down, then a right turn up towards Brusher Gate. All the time moving steady. I just kept ploughing on. If lads were near me then I chatted to them and if not, I just kept going. We headed over towards Paddock Hill, and then down to Glendalough.
Another great welcome from volunteers. Mark was waiting, asking me what I needed, helped me with my bottles and food and I was on my way in a short space of time. Mark had been up all night and headed off home. I had banked another 30 minutes which was to be crucial later. It was bright now so no need for the head torch.
I headed out and started the familiar 8KM trek towards Luqduff Gap, Adolfo not too far behind or if he was, he would catch up. I jogged the parts where I could and just hiked steadily. It was bright now. For a few minutes I felt very tired and wanted to sleep, but it passed quickly enough.
Up to Luqduff Gap and then down towards "The Devils Staircase", which before tree felling was a lovely ascent through trees. I slowly descended picking my way down gingerly. As we reached the bottom, we saw the sight of a fellow runner being helped by Lilian, and couple of more, after he had hurt his leg there. Some other lads had already helped him. Otherwise, I know some of us would have stopped to help. This is a hobby after all.
From here to Glenmalure I knew I could make up time, just take advantage of the gradient and leave gravity take over. On a Saturday run a few of us would normally stop in The Glenmalure Lodge to pick up some refreshments. No time to stop today. Another climb beckoned up towards Mucklagh. I knew I was well within the cut offs. In 2017 I made a rookie mistake and powered up this section and paid for it dearly later. This time I just kept moving and conserving energy, there was a very long way to go. This was when I met the 3 Pauls (Croke, Kelly and Duggan) for the first time since Marlay. It was now heading towards 9am. The lads powered up the hills leaving those behind in their wake.
As I reached the next checkpoint at Mucklagh I was met by a smiling Suzanne for the first time. She was parked where we agreed just before the actual checkpoint. I had written a list of what I needed, it's easy to forget when you are tired. I write down a list of what I need to do at checkpoints, and either give it to Suzanne or put it in the individual bag for each checkpoint. Here I changed from a long sleeve t-shirt to a short sleeved one and put on a cap. Knowing the route and the weather I knew that I would be okay. I had my jacket, gloves, and hat in case I did start getting a chill. I took some fluids on, ate some bits of food, took my charger to keep my watch charged, took my medication. Suzanne gave me my bottle and I left with encouragement ringing in my ears from volunteers.
For food I rely on a mix of wraps, banana's, various types of chocolate bars, nuts, and jellies. I have never used gels but may experiment with Tail Wind. I use High Five tabs. I will mix between Coke and Lucozade for a sugar fix.
This next part of the event was going to be the tester, getting to The Dying Cow by 1pm. I know for next year that this for me will be the key section to improve on. I had time banked from early on and I would need it all.
About this time there were about 7 or 8 of us who were close to each other. This next section is a mix of roads and forest trails with various ups and downs. Plenty of places to make up some time, until you arrive near Ballycumber Hill, Tinahely, about 14KM from The Dying Cow and Check Point 4. You follow the trails around the back of Tinahely for several km's. Initially there is a climb up through some fields and it just seems to go on and on. It's not difficult but I was tired and knew time was beginning to get tight. It seems much longer on tired legs. I knew the distances but could not remember all the terrain. I was doing the "calculations" in my head about how much time I'd need to get to The Dying Cow from Cuckoo Lane. Heading towards Cuckoo Lane there are several gates you pass through and stiles to climb over. If you are behind me, you get a rest as I climb over with poor flexibility for all to be seen or you get annoyed and try to reach them before me. (LOL)
I was on a mission to reach The Dying Cow. One of my fellow club members Steven (Pettigrew) had kindly offered to pace me to the finish from there. I did not want to miss the cut off. I wanted my finish from North to South on The Wicklow Way Race.
Time was ticking away, and I knew the cut off was going to be tight. Just as we approached the end of the gates and fields, before the sharp left turn down towards Cuckoo Lane, 2 of the Pauls passed me and took off. As we reached Cuckoo Lane, it was like a mirage, there was an ice cream van which dished out all sorts of good stuff. Well done, Lillian, what a great idea. I gratefully took a can of Coke and a bottle of water and crossed the road with the help of one of the volunteers keeping an eye out for us. This was a big help because when you are tired you can be inclined to be less careful.
Across the road from the van with 99 cones there are 99 steps. I made up my mind to drink the Coke heading up the steps mindful of not holding anyone else up. I asked someone to put the empty can in my bag and off I went. Time was tight now and I know there was a lot of rough ground to cover for a while. Again, I am doing the calculations in my mind about how much time I would need per km. So, if I hiked a bit, I'd need to run a bit more to try and keep the pace consistent. It was every man for himself now, I was not looking behind, unless I was holding someone up.
In 2017 I got to Cuckoo Lane under huge time pressure, to this same section, and some lads took off and reached The Dying Cow before the cut off. I had tried but could not muster it in my legs that year to sum the energy to reach it by the actual cut off. I had also taken a minor detour. I had eventually arrived a few minutes after the cut off in with tears streaming down my face, only to be told by Lillian that I could keep going after a brief stop. Mark who had crewed for me earlier had been there in 2017 and along with Suzanne had helped to get me going again.
Now we are in 2022 and over the next 6 or 7kms I drove on as hard as I could. I dug very deep; I was on a mission now. I had a bank of motivational memories ready to roll out to help me when the going got tough. I remembered what had happened last year heading from Prince Williams Seat to Boreenaltry bridge how Eimear took off and on almost one leg had done a great job pacing us to the checkpoint with minutes to spare. If she can do that on one leg well, I had no excuse. I remembered 2 friends of ours who had battled through 8 days in May in very challenging conditions on The Cape Wrath Ultra in Scotland, tired, cold, wet and day after day heading out. I remember Paul Daly's words ringing in my ears that we decided to do these things so suck it up.
As we approached The Dying Cow, Steven Pettigrew came out to greet me and the rest of the lads all close to one another. I relaxed because I knew that I was going to reach the check point on time. I had done it and now as I write this, I can feel a lump in my throat. I had given it my best shot and I had reached the checkpoint by the cut off.
Suzanne was waiting there as I arrived. Steven Byrne who was volunteering from our club, The Lakeshore Striders. The smile on his face, Suzanne's and Steven Pettigrew's was probably relief as much as anything else.
The Dying Cow was a hive of activity. Clare (Murphy Keeley), Liam (Vines) Lillian, Colin who was supporting Denis (Hogan), and many more were there. It was all a blur at that stage. Colin often waited after Denis went through, again always encouraging, and positive, offering to help in any way he could. It was incredible people helping me change t-shirt, Suzanne and others taking off my dirty sweaty socks, Liam tying my shoelaces for me. The smiles and encouragement were just humbling.
I had put in a huge effort to get to The Dying Cow. Inside I was delighted.
From The Dying Cow to Raheenakit is approx. 9km and there was about 2 hours to get there. In 2017 Alicia (Christofi – Walshe) and Siobhan (Hayes) paced me for the last section and despite their very best efforts I could not get inside the 21 hours to Clonegal.
Steven had done the calculations for me this year, so I did not need to think about that now. We now had 2 hours to do 9km or so to Raheenakit and despite being tired I was well able for this. When we would get inside the time projected per km by Steven, it gave me a lift, more time "banked". Steven would chat away and I had told him beforehand that I might not always be so talkative but appreciated what he had done. He would continually encourage me to jog where I could all the way to the finish, small steps all add up.
My feet were sore now for several hours. During an Ultra I expect to be in some sort of discomfort. Different parts of my body will hurt at different times. It's my decision to do this. Don't get me wrong I don't enjoy being in pain etc but it's my hobby. I enjoy the challenge and social side of it immensely.
We would try and hike up hills and jog where possible, or is it shuffle. There were times when it was too uncomfortable to jog so I would walk as fast as I could. We chatted away and the kms passed away. I remember vaguely seeing various people and shouting encouragement.
We were making good time and I remember going up "Coronary Hill" towards Raheenakit feeling very strong. Steven (Byrne) came out to meet us. I had a big smile on my face. I shouted with a sense of relief and joy. I had this now. Suzanne was there with a big smile on her face. She knew that it was time to finish what I had started 5 years ago. In 2017 I was about 15 minutes inside the cut off and still missed out by 30 minutes. I had not dealt with blisters and had carried too much.
Well, what a spread was there from Avril Challoner, and John McCann amongst others. I wanted to get in and get out and get this job done. I did not spend too long here.
The last section is about 16kms along road with a few kms through Newry Forest. The last 5 kms is along the road to Clonegal. As I left Raheenakit I saw a message from Mark that Denis was about 10 minutes ahead of me.
I pushed on, Steven encouraging me, and Adolfo and Gerard (Tully) I believe meeting each other along the way. I knew this section really well despite getting temporarily lost going the opposite direction from last year.
I knew now it was not a question of not finishing it was just a question of when. I gave it all I could. I dug deep again, wanting to leave it all out there. This was a race after all. We descended out of Newry Forest, my feet feeling more uncomfortable. Steven suggested taking the rest of my liquid and drink the rest of the Coke for a sugar high which I did.
At the road Adolfo took off as if he was doing a 5KM Park Run and not finishing a 128KM race. We met JP (Nerbum) again. Adolfo disappeared into the distance. Well, if Adolfo could do this so could I. I picked up the pace encouraged by Steven. I could see Adolfo in the distance. We were getting closer. I walked a bit, ran more, and walked again. Eventually a couple of kms outside Clonegal I caught up with him and passed him. Seeing the sign of Welcome to Clonegal was a huge relief.
This time not only I was just not going to finish but I was going to finish well inside the cut off. 2017 was a distant memory.
I turned to Steven and told him I wanted to wait for Adolfo. I had almost spent 20 hours with this incredible athlete and human being and wanted to finish it with him.
Suzanne had the phone ready to record the moment. Steven Byrne was there as we crossed the "line", and we touched the sign. Hugs and photographs were the order of the day. I was elated. Not only had I finished it I was well inside the 21 hours, 20 hours 4 minutes.
A huge thanks to Lillian, Phil, and everyone else who made this possible for us. To my crew Mark and wife Suzanne who have continually given up their time to help me. To Steven for doing a great job pacing me. To all those who were watching or sending me messages, thank you. The support and encouragement always mean so much. Knowing that people were willing me on was a huge lift.
I hope Clare does not mind me borrowing this, but I thought she summed this up perfectly in her report from 2018 –
"The Wicklow Way is ultimately a race but it is also a celebration of all that is ultra-running and the unique nature that is the human spirit and what it brings out in people when faced with a true challenge. It is a time to catch up with old friends and a time to meet new ones. It is a time for those not running to come and support, night and day, just to be part of it. It's a time for people to complete unfinished business from previous years and for others to have the drive to come back next year with the knowledge they learnt and give it another bash. The Wicklow Way Race does that to you. It's in your bones, always!"