Mangerton Munster Championship(Date Change)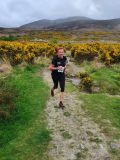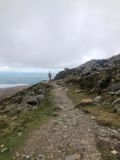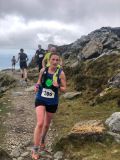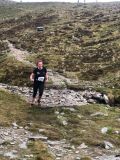 Authors
A Mountain Runner at last!
09 May, 2022 - Maire O'Sullivan
I'm delighted to have taken part in a Munster Championship race at long last but, to be honest, it happened by accident. I had planned to do the shorter Torc Trail but, when that was cancelled due to lack of volunteers, I resigned myself to not running at all on the day. I sent a text saying as much to one of my MMRA friends and the reply was just a single emoji – the chicken emoji! I stared aghast at the text and didn't know whether to laugh or get mad. Well obviously I couldn't let that one go so I had to sign up for Mangerton. I'll show you who's chicken!
The following week at the Ballyhouras I asked a number of my MMRA running buddies whether they thought I could do Mangerton. I was astonished that every single person said yes (maybe they were all only being polite). In fact I got lots of hints and tips on the race, the route, the terrain etc – MMRA runners are such a wonderfully supportive community.
On the day I was a bit jittery and, as we set off, I tried to shake off all the doubts in my head. What if I ran out of water (I didn't); what if I wore the wrong trail runners (I didn't); what if the cloud came down and I got lost (it did and I didn't).
As we headed up the first climb I remembered the advice I was given – "you'll be hiking from 1k to 2.5k"; "just tippy tap up that first section"; "a fast walking pace is better than a slow run at that stage"; "aim for the green bush"; "pick a route to the left". I was distracted by all this in my head but not distracted enough to not feel the burn already. If I was finding it tough this early in the race how on earth was I going to get to the top?
As I hit the flat section I was delighted that I could actually run again. Then I met Ted Feehan and his smiling face and encouragement gave me a boost. Shortly after that I started to meet the runners on their return journey. The first five came against me before I rounded the corner and didn't meet anymore of the first finishers. It was great to meet Loretto O'Sullivan and Niamh Abeyta at this point and they gave some enthusiastic cheers that sent me on my way towards the lake. I got a great lift from their support.
The mist was down at this stage and I couldn't see the runners in front of me. I followed the trail by the lake but then couldn't see an obvious track through the rocks. However, I love to scramble over rocks so I had a great time leaping from rock to rock. I'm pretty sure this wasn't the fastest route but a piece of advice that had stuck in my head was "enjoy the day" – and so I did.
And then I hit the climb! I could see the runners ahead of me and there was quite a gap between me and them. And it only got wider as I scrabbled slowly up the ascent, even resorting to using my hands to help me. It felt never-ending but then Lianne van Dijk appeared out of the mist above me like an angel – an angel in wet gear! "You're doing great, you've nearly finished the climb", she called down to me. "Am I really or are you just saying that to make me feel better?", I wheezed back. "I promise you, the worst is nearly over" – and she was right. As I headed off along the top she called after me "enjoy the downhill".
As I sprinted (I wasn't sprinting but allow me some poetic licence here) along the flat part I knew the lake should have been to my right but the cloud cover prevented any views of the lake. Then the obvious trail petered out and, as I ran along, I got concerned that I had missed the turn off downhill. I called to some hikers who were coming against me to ask if they had seen any runners ahead and was I on the right trail. They said they had and pointed down where they had seen them.
As I hit the downhill I remembered another piece of advice I'd been given – "hike the hills, run the flat and race the downhill, because you're able to do downhill Máire". So I upped my pace a bit and took off downhill. It was AMAZING to run down that section and there were more lovely cheers from Niamh and Loretto as I met them again.
Then I noticed that I was making up some ground on the runner in front, although they were still a long way away. I kept up the pace and reeled them in slowly. By now I was wheezing like a noisy train but I could see I was making headway so couldn't let up the pace. Across the flat and the route turned down again but now my brain froze. What had I been told about this section? "Keep left on the way up and right on the way down". Or was it the other way round – aagh! So I decided to just do what worked best for me. I know I'm better on soft ground than rock on the downhill so I kept to the softest ground I could see.
I overtook the runner in front and was steadily gaining on the next person. As we approached the fence I could see him slowing a bit. "Go right, the gate is to the right" I called to him. I'm not always such a nice person but I was sure I was going to catch him anyway so wanted to do it fairly. Through the gate and kept hammering downhill and I overtook two more runners.
Then with a km to go it went pear-shaped. I hit a rock quite hard as I landed on it and a jolt of pain shot up my leg. I was fine but I suddenly got a flashback to November when I was running down along the 12 O'Clock Hills and I fractured my ankle and was in a boot until January. I got cold shivers at the memory and, instantly, all my bravado evaporated! From flying down along, I was now gingerly picking my way through the rocky section and lurching along cautiously. I lost out on one of my hard-earned places as a runner passed me by but I couldn't shake off the fear of another fracture.
Thankfully, after about 500m I was okay again and picked up the pace for the final leg. I ran over the finish line and tumbled to my knees, thinking I was about to throw up under a bush. But, out of the corner of my eye, I saw Robbie Williams hovering over me with a camera. I couldn't bear the indignity of a photo on the IMRA Munster Story of me throwing up my breakfast so I staggered to my feet and he took a photo that was marginally more dignified. Exhausted though I was, I could now officially call myself a mountain runner. Bursting with pride!
Thank you to RD David Toomey and his glamorous assistant – I mean Mary, obviously, not Brian. Also to all the volunteers and first aiders. Thank you aswell to the kind, supportive, caring running community who gave me the courage and self-belief to take on the Mangerton race when I wasn't really sure whether I could do it or not.
Of course my most loyal supporter was with me in spirit. I always wear a Mooreabbey Milers band on my wrist when I'm racing so Curley is with me throughout. When things get tough during a race I can hear his gentle voice saying to me "ah sure, you'll be grand". Despite the fact that he was such an amazing and accomplished athlete, he was always really supportive of me and my running. I know he would be genuinely pleased that I completed the race, got a category win and now hold the course record for my category. These achievements pale into insignificance compared to his numerous wins and records but I know he would be proud of me and that is a mark of the gentleman that he was. Ar dheis Dé go raibh a anam dílis.