Annagh Hill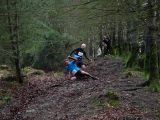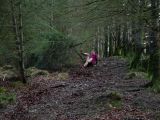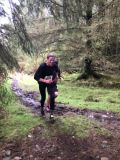 Authors
Annagh Hill
14 March, 2022 - Andy McGeady
"Did you enjoy it? Was that your toughest one, yeah?"
"No", I said. After a beat. "Brockagh. Brockagh absolutely killed me."
It was true. Annagh Hill was an absolute beast of a thing. A magnificent brute of a route. Two leg-busting climbs to go up the hill - twice - and all sorts of slippery demons underfoot when travelling down again.
But Brockagh had been my second hill race after the gentle niceties of Howth.
A running novice, I'd picked it up during the first lockdown. Working from a glorified makeup shelf at the end of our bed will drive people to desperate things. So I started running, very quickly working out that I liked running downhill. That means climbing up a hill first, and all far more interesting than running on the flat.
Brockagh was straight up. I hadn't done that before. No winding roads. No paths. And no stopping. I didn't know what I didn't know. And what I found out that day was how to blow an engine. I stopped half way up that climb. Took a long, long breath, wondering how it was possible I'd got this so very wrong. Maybe I just wasn't built for it. On an unseasonably beautiful morning those were long, dark minutes.
Off the fireroad at Annagh Hill and looking upwards at a silent, steady millipede. It's a long climb. But I know it's coming. And it will be fine. And there will be downhills as a reward. Up up up. Annagh Hill doesn't stop. And I'm ok with that. This was one of the funny things about Brockagh; it didn't just blow a gasket physically - it blew one mentally. Lockdown had seen me achieve semi-competence on a hilly 5k loop near the house we were renting at the time. How was I struggling so much on what was just a bit of a climb?
When lockdown lifted, I pointed the car west. Behind the village of Roundstone in Galway there are the most wonderful places to run. Nothing level. Nothing easy. A bog road made of rocks with a long, undulating downhill that you can barrel down with just the sheep for company. Three hills - all bog and rock - with the tallest, Errisbeg, one of those horrible ones where after you get to a peak there's another behind that one, and you find yourself climbing down to go up again. Nobody out there so you need to have your wits about you going down again. I'd done plenty out there. But not in a race. In my forties I would learn that racing is… different.
The downhill across the Annagh Hill ridge is rocky and mucky and slippery and grassy. I don't get too tired running downhill; still haven't worked out why that is. And it is tremendous fun. Since I'm still learning to actually *run* uphill, as opposed to a glorified shuffle, if there are downhill bits with decent visibility then that's where I can make up time on those around me. Some faces are becoming familiar, especially those who move past me effortlessly on the climbs. They are very annoying. I envy them.
Going downhill fast is not riskless. I'd taken a tumble on Trooperstown. Big one. Rocky one. Not even on the very steepest bit. Hit a stone at the wrong angle then crash bang. But falling is easy. It's how you get up again that's hard. Still some instinct there for taking a wallop after years of soccer and rugby. Those days are gone now. But if you'd offered me the chance ten years ago, with ligaments badly done in both ankles, that I'd be flying down a hill on uneven ground without strapping - just with the chance of an odd little fall - I'd have taken it in a heartbeat. I took some tumbles on Annagh too. Another rocky one. And then a good one. In the leaves.
At about 5k into the race there's a devious little loop. A steep, greasy fallaway starts it. You can jog-skid, kind of, if you let yourself go. This is grand. It'll be soft if I fall. Which I did. As I skidded on my backside, realising afterwards that the hill had got suddenly even steeper just as I started to go faster, I tried to pop up into a run. The leaves disagreed, and I went from skid into tumble. There was a photographer at the bottom of that greasy hill. I didn't clean him out. This was good. Hopefully he is paid danger money.
To complete this devious loop there is some gentle fire road and then a right turn into a forest. Vertical forest. It's the second climb on Annagh Hill. I have never tried climbing a ski slope sprayed with teflon, but if I am ever faced with such a thing I can now count on some related experience. We will talk no more about this second climb because this is a family website.
Back on top, travelling back the slopes I had dashed down, folks are passing me on the ridge. It's uphill. Steadily steadily. I am learning. I am watching. Yellow top; red top holding yellow jacket; black windbreaker; two in blue; one in grey; one all in black; coral top. I'd passed each on the downhill but they're getting their own back now on the long drag back. I do not fuss. If I push now I'll redline. I am learning.
Every race is a lesson. And at Annagh Hill I learned that it's not often the best plan to run straight through a flood. "You didn't go around it? Always a good idea to work around something like that" I was told after. Thanks Michael. You were right. Definitely a better idea. I hit something under the watery unknown and became part of it. Went full Tom Daley. Never go full Tom Daley. "Are you alright?" asked Yellow Top Tommy. I am alright. In fact I'm a bit cleaner now. And I'll be chalking that one down to experience. Keep going. Settle. There's the downhill to come.
At Brockagh when we came around the top and saw that unseasonably bright view across the tops, my legs began to move again. The path started to fall away. Gentle across boggy track. I let the brakes off a bit, and then when that alpine grassland opened up I went brake-free down to the road again. The darkness lifted. Hurtling was fun. I was still hurting after blowing up on the climb, but this was really, really fun.
The left turn down off the Annagh Hill ridge was well marshalled. You'd miss it, 100%. And it was immediately tricky. Light brown slippery stuff with pointy rocks around the place. Pass grey top, blue top, red top. I can see yellow, pink, and other blue in the distance. I'm travelling well, enjoying the bounce from each step as I find firm footing. Reckoned I was better off running on stones where possible, come what may. I'm travelling well. Until the mud.
The machinery involved in the clearing of trees had left the final stretch of descent to the fire road a sloppy mess of brown, oozing mud. I do not like mud. I don't know what's underneath it. And I am aware of the incongruence of my being aware of this about mud and being ignorant enough to run straight into a flood. But however. We move on.
I'm not catching Tommy. Not through this. But I'll keep the others honest, and if nothing else it will be practice at moving over mud. So I gave it a rattle, caught pink on the fireroad, found a little extra in the tank but not enough to get blue. But kept him honest. And kept *me* honest, pushing right to the end.
So that was Annagh Hill. And this is hill running. And I am race number 772. And, some day, I might be one of those people able to run uphill with ease past the struggling rookie.
What a day...
14 March, 2022 - Sean Forsyth
The trepidation about this race started on Thursday, the doubts about whether I could do it as this is so far outside my comfort zone. Should I pull out and give it a miss?, Eventually after a lot of soul searching I decided to just go for it.
So there I was on Sunday morning, a very foggy mind after a long training run the day before and a broken nights sleep from having been up with the kids half the night, no phone for directions and arriving late. A quick hello to Derek and Paul at registration and then it was all go.
I had looked at google maps so many times over the last few days before the race, could I get the job done? It looked doable but maps and reality are 2 different things, I just wasn't prepared for the size of it.
I started of well in the early stages, being able to move into and manipulate the spaces around but then the mistakes started to happen, it was getting crowded, i wasn't able to react quick enough.
There was a line forming and I would have needed eyes in the back of my head to ensure that while I was concentrating on the person in front of me, those behind could space out.
The pressure was building and I could feel myself cracking. Somebody made a passing comment about a right turn up ahead that seemed to stick with me. Then some friendly advise from one of the veterans of IMRA, Jarlath Hynes, based on previous years. For the next 10-15 mins or so, the toughest part in my head, Jarlath was there and this allowed me to just get on with it..
It all started to calm down then, people were settled in their places and wherever I looked I seen the grim determination on peoples faces. That piece of advise regarding that right turn came back to me and I was able to advise other runners, just in time so there were no more mistakes.
Then it was over, my nerves shot, my legs trembling and in my head the words banging about...Never Again.
The race was pretty tough too but manning that car park was an absolute nightmare.
A big thanks to Jarlath for helping out and getting cars parked and the road clear and I'm also thankful for the advice about the school up the road for additional spaces.
Peter O'Farrell
13 March, 2022
Great event, a great event. You battle the route nearly as much as the competition in this one. The climbs are very steep, one of the descents is both extremely steep and has zero grip with a pretty coating of red deciduous leaves and then if your leggies are feeling it the return along the ridge seems a lot longer then you might have thought as you skipped along it on the way out.
The drive is longer than usual for the Dub centric among us, giving a bit of time to appreciate the countryside and that fact that diesel hasn't hit 3 euro a litre yet.
Enda Cloake was racing against himself and the rest of us were back and forth for the minor places in the overall and the old man prizes. As everyone in my vicinity was an old man it was a good battle from start to about 2k from the finish. Up onto the first climb, Pól O Murchu went at it very hard, a Bell was both in front and behind and Bernard was on a line out to the left looking very focused, early in the race for him.
Along the ridge, splish, splash, slop, slip, slide, splash, hop, slip, run a little. Down a deceptively slippy grassy descent, past Mick Hanney, Hi Mick, a little climbing, John passes, and then onto the descending test of the day. Hi to Niamh and 4 girls. I had felt my slightly older runners weren't as sexy (or grippy) as John Bell's on the grassy stuff but this section was grand as no one had any grip :)
That was to be the high point for me, as then both John and Bernard put me behind them again and put themselves into a ding dong battle, which I could only admire from afar. Hi to Mick again and along the ridge the longer way :) Unfortunately for me the lads and the old man race went out of sight, I passed point Nora, Hi Nora, down some steep 4x4 track, vaulted onto a fireroad, failed to look to the right side for tape and continued left onto the inviting fireroad. .Boohoo.
I passed 2 juniors which convinced me I was on track but eventually I had a chat with a couple walking their dog and realised my mistake. Boohoo. Jogged back to the finish and came at it from the wrong direction. Sure I've done it before and I'll do it again but at the time it's disappointing. Well done to Paul Joyce and all the organisers and runners and I hung around just long enough for some amazingly tasty pizza, thanks to the Gap pub.
Winter league
13 March, 2022 - Peter Bell
2022 at long fecking last, Good-luck to the last two years! Its the winter league to start with and some great races in it this year.
First up Brockagh, its only 6km or so but a 6km that you are wrecked at the finish. John has gone and bought new trail runners, one pink and the other green (Alan Ayling has a lot to answer for,for starting this trend!) I'm just glad he's not wearing his short shorts too! I'm not sure who to blame for this so I will just blame Alan also! 3-2-1 we are off! Leading group heads off, too fast for me! Fire road start and I am struggling already and my shoelaces come undone. Luckily enough my race tag is holding it together just enough to keep going. In behind John and Ben,just trying to hang on. Finally get off the fire road and onto the mountain. start to feel good now so kick on past John and Ben. Sophie and Aubrey overtake and look strong on the climb. get to the top, strong head wind. You always think it's just you suffering from it. Nice decent on the grassy bank, love this bit, flat out as fast as you can and gain a couple of places. John is hot on my heels all the way to the finish. collapse with a big grin on my face. Well done Baz Mac and Sophie on their wins. Looks like Baz Mac and Enda had a great battle out front. Big thanks to Brian and his crew for putting on a great race. Nice to be back for afters and a big win in the raffle bags me a nice four pack to enjoy in the Hammock when I get home. Perfecto!
Next up, Ticknock. Looking forward to this one. Peter O'Farrell has come up with a new route so its bound to have it all. We arrive, good crowd. Rob has done well getting us into the gap. head off for a warm up with Jordan. We are talking and realize it is nearly starting so we have to leg it back to the start. Rob has us lined up like the grand national. Its going to be a stampede. Brilliant! 3-2-1 and we are off! I don't go out too fast as i nearly blew up on Brockagh. catch Warren and Greg, feel good so push on up the steep section. Greg comes back and overtakes,he looks strong. now down the bone shaker, Love this part! pass a couple, Greg is flying just in front. go for an over take and get lucky. Phew! Head into the mucky trail through the gorse. Energy zapping here. just keep going. Pop out onto the fire road, struggling now. Edward hot on my heels, sees I'm struggling and tries to give me some encouragement. "push on, keep going" nice finish from here all fast running, legs pooped! Great race. Rob and crew put on another great day out. Well done Enda and Sophie on your wins. Peters route was brilliant, had everything. Warren even found a swimming pool for some diving practise.
Trooperstown. I know this one well,no way I am getiing lost here. its a classic and its fast! Mike gives us the race brief and there is a good buzz at the start line. 3-2-1 we are off! up the fire road. the leading group fly off, no chance I am keeping pace with them. get to the open mountain feeling good now. trading places with Conor all the way to the top, its a good battle. out of no-where Peter O'Farrell powers past. I know Warren must be close too. I am going to have to go for it on the decent to try and stay ahead. catch Peter and Conor and get ahead, good fun this bit! No room for error. down through the trees for the finish, Warren arrives back after a bad fall, nasty cut to the knee. Enda and Deirdre take first.. well done! Thanks to Mike Long and crew for a great race, Loved it!
Annagh Hill Head down with John. hes back after his defeat on Brockagh and after 3 weeks of my slagging hes after revenge! he doesn't say it but i know! ha ha. I can be really annoying when I beat him. Its raining on the drive down. we get a great view of Annagh hill in all its glory sun shining on her, nearly tricking you into believing your welcome. Arrive at the GAP for reg and head up to start. its like an IMRA legends race. Theres Bernard, Peter, Becky, Vivian, Joe to name a few. This is going to be a good one. Paul gives us a quick briefing and 3-2-1 we are off! Like a rocket Enda has shot off, hes in a different league to the rest of us he is flying! Hit the wall up and its a killer.. so steep! i am feeling the burn in the legs here. Nora is at the top pointing us on and giving us encouragement, its needed! Nice running on the ridge the pond on the top has a new route around it so no wet feet yet. get to the forest for the decent, trying to stay upright here is the aim. you just have to go for it. Hit a branch and slid a bit but recovered well. That was a close one! glad of the xtalons. good shout of encouragement form the Hanney bros, Niamh and kids. Nice trails at the back section, like this new route. hit the wall back up. Jaysus its steep! slog up to the top and get going again. No sign of John, Thought he was going to spring a suprise on me here and whizz by. Decent the Zig Zags, look back, oh crap theres John! better speed up, finish just ahead! Poor old John..... HAHA! Enda is in ages. In the end I survived Annagh Hill finally. Its a true beast of a race. we all head back to the gap for good feeds and chats. its great to be back to the pub it adds to the race experience. Thanks to Paul and crew for a really enjoyable day out. well done Enda and Lisa on your wins!
Roll on the sunny Wednesdays.